Two thousand, three hundred and sixty-three.
That's the number of children legally killed each day in the United States, according to information from Guttmacher Institute, making abortion the No. 1 cause of death in America.
"Abortion is the gravest human rights abuse of our time," said Alison Centofante, director of external relations for pro-life organization Live Action. "It is the secret killer of the next generation."
Josie, a senior at Queens College in New York, believes that in today's polarized society, human rights have been set aside in favor of people's "wants issues." But she and her friends are actively trying to change that.
"If your life begins in the womb, your human rights begin in the womb," she said while participating in a Students for Life of America (SFLA) sidewalk outreach in front of a Planned Parenthood facility in Washington, D.C. "That's where we need to start. The right to life is central to everything."
Different March, Same Message
That's why over the span of 47 years, millions of pro-life advocates from around the world have gathered in Washington, D.C., to participate in March for Life. The annual event marks the anniversary of the Supreme Court's 1973 ruling in Roe v. Wade, which legalized abortion nationwide. But in the midst of a global pandemic, civil unrest and political tension, this year's rally, held on Jan. 29, looked noticeably different. For the first time in history, March for Life went virtual.
Yet this year's theme—Together Strong: Life Unites!—was on full display, with the help of technology. Thousands watched the livestream, while a small group of the nation's pro-life leaders marched from the Museum of the Bible to the Supreme Court on behalf of likeminded Americans across the country.
Police with riot gear and members of the National Guard lined the route behind barricades topped with razor wire—with authorities still mindful of the violence at the Capitol on Jan. 6. But this was a different kind of gathering. As leaders peacefully marched the empty streets of the nation's capital, an executive order rescinding the Mexico City Policy the previous day was at the forefront of their minds.
Pro-life leaders concluded the 48th March for Life by placing roses on the sidewalk at the Supreme Court to commemorate the more than 62 million babies lost to abortion since Roe v. Wade.
Biden may have overturned the Mexico City Policy, allowing U.S. taxpayer dollars to be funneled to overseas organizations that perform or promote abortion, but his order doesn't have the support of the majority of Americans, according to a January Marist College poll. The poll revealed that 77% of Americans oppose using tax dollars to support international abortion, including 64% of those who consider themselves to be pro-choice.
"America is increasingly a pro-life nation," said Mallory Quigley, vice president of communications for Susan B. Anthony List, the nation's largest pro-life political organization. "Not only how people are self-identifying in terms of whether or not they're pro-life or pro-choice, but if you just look at the numbers of unplanned pregnancies, women are increasingly choosing life in unexpected circumstances."
Law Impacts Culture
But Abby Johnson, a former Planned Parenthood clinic-director-turned-pro-life activist, warned that the next four years will require more action from the pro-life movement.
"Under pro-life administrations, people tend to become apathetic," she said. "They think, 'Well, I voted for the pro-life guy, and the pro-life guy is in. So, I did my job. I'm done.'"
But the Biden administration has already proven to be hostile to any sort of pro-life policy. Sitting idly by while pro-abortion legislators make sweeping decisions for the whole country is not an option.
"I think we're up for a big fight, a big battle ahead," said Live Action's Centofante. "But my hope is that the pressure from a pro-abortion administration will unify and reinvigorate the pro-life movement because people can get comfortable, and I think they have to realize how far and how fast the left moves."
For decades, the pro-life movement has excelled at the grassroots level, but in today's increasingly secular political environment, pro-life laws are needed now more than ever.
"Law impacts culture, and we need to make sure that every life is welcomed and protected under the law," Quigley said. "… Unfortunately, under this new administration and the unified pro-abortion government that we're facing, the very progress that we have made is in jeopardy."
Although Democrats have a slight majority in Congress, they don't have the 60 Senate votes needed to overcome the filibuster and get their bills to that chamber's floor to be voted on. So they aim to get rid of the filibuster altogether, meaning they could likely push through much of the radical left's social policies with a simple majority vote.
Specifically, Quigley worries that the removal of the filibuster would ease the passage of abortion-friendly legislation from the House through the Senate, where Vice President Harris is now the tiebreaking vote. Moreover, she is concerned that abortion-minded Democrats will try to expand the number of Supreme Court justices, which could devastate legal gains made by the pro-life movement over four decades.
"The removal of the filibuster is not on its face a pro-life issue," Quigley said, "but it would have very dramatic ramifications for the pro-life movement if we lose it."
Nobody should want a federal government that can steamroll over conscience, said Jeff Pickering, the policy communications director for the Ethics and Religious Liberty Commission (ERLC).
"As we're working toward making abortion unthinkable, working toward a day where Roe v. Wade is overturned and we're able to protect the dignity of the pre-born with the full force of the law, we're also working to have a place of agreement where the consciences of pro-life Americans are respected in policy as well," Pickering said. "We [at the ERLC] are interested in what we can do to get to a point where persuasion, not just raw political power, is a part of policy debates in Washington."
Looming threats aside, Kristan Hawkins, president of SFLA, believes there's a lot of momentum behind the pro-life movement.
"Despite what you may hear from the mainstream media or those who advocate for abortion, the majority of America is not with them," Hawkins said. "I know it's hard right now for so many Christians, and it's easy to fall into this feeling of despair about who's sitting in the Oval Office—the executive orders he's signing that are going to force each and every one of us to fund abortions. But I hope folks understand that despite what happens in Washington, D.C., this is a national and international movement. We actually are the pro-life generation; we have the majority."
The Battle Belongs to the Lord
But Jeanne Mancini, president of March for Life, said that at the heart of the matter is a spiritual battle.
"The battle is the Lord's," she said. "We're changing hearts and that's way more important—and much harder—than the politics of it. God has this, but we still have to work hard."
Dave Maggi from Maryland, who attended SFLA's Life Chain event along the Potomac River before the March, challenged pro-life Christians to remember that we don't depend on man but on God.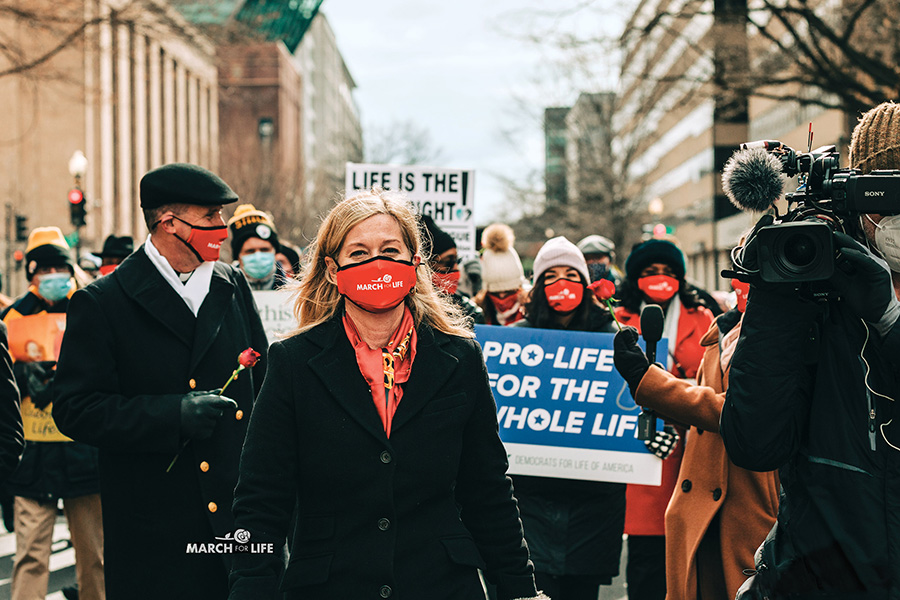 "Leading up to the election, I was reading the Old Testament about how God allowed His people to be taken away into exile because of their sin," he said. "I see a parallel with America, the country that I love. … I feel that God is very concerned about innocence, and how much more innocent can you get than an unborn child?"
Logan Horne, a mother of seven from Falls Church, Virginia, has been involved in the pro-life movement since she was a child. Now as a parent, she feels like part of her duty is to prepare her children for
the real world—a world in which abortion is often celebrated.
"I'm sure that everyone has their challenges raising children with certain values," Horne said as all of her children joined her in the Life Chain along the Potomac River. "And I think that I used to be afraid of that. I felt like I needed to protect my children and create a little bubble. But I don't feel that way anymore. I feel like I want to prepare them for the world—the actual world we're living in.
"… I think the message from the mainstream culture for your children is that you're an outlier if you're pro-life," she continued. "As a parent I really want to show my kids that we're not outliers. There's a lot of us."
Brendan, a senior at Cornell University in New York and a member of SFLA, said that though he's in the ideological minority on his Ivy League campus, the views he and his pro-life friends hold are representative of half the country.
And when feeling discouraged, Brendan said he often turns to Matthew 10:16: "I am sending you out as sheep in the midst of wolves, so be wise as serpents and innocent as doves" (ESV).
His friend Kat, also a student at Cornell, encouraged pro-lifers who feel ostracized on campus to find a good community.
"It's true that you're not alone. Finding that community really helps you understand your own beliefs, and community members can encourage you and strengthen you," she said. "I think the other thing is just praying for boldness and really praying for God to give you the courage to stand up for what is right, even if you are alone."
Prayer Changes Things
In addition to praying for boldness, Abby Johnson said we need to be praying for President Biden and Vice President Harris.
"We need to be praying that they fall in line with God's Word and His commandments on the sanctity of human life, on traditional marriage, on His plan for family—because they are out of sync on those issues," she said. "God's hand touched my life and my heart, and I know that He can touch theirs as well."
While Christians need to be praying for their leaders, they also need to be praying for the church. During the livestream before the in-person March commenced, BGEA's Cissie Graham Lynch offered this prayer: "Lord, I pray for the church that we would be united—we would be united with love, we would be united with truth—to face this issue because this issue breaks Your heart. And I pray that as a church our heart will be broken by the things that break Your heart."
Though the 48th March for Life may not have been what most people expected, pro-lifers proved that they're resilient and innovative no matter the circumstance.
"We often think we understand how things are going," said Mancini, "but we forget that this is all within God's plan. What's happening may not make sense to us, but we can pray for God to open our eyes and help us understand our role. Sometimes He works in ways that are so mysterious."
Photos: Courtesy of March for Life