Queen Elizabeth II, the longest-serving British monarch, who was known as a devout Christian and personal friend of Billy Graham, died Sept. 8 as family had gathered at Balmoral Castle in Scotland on news that she was declining. She was 96, having reigned 70 years.
Mr. Graham recounted in his book "Just As I Am" several memorable moments with the queen, whom he first met in 1955 while in London for a Crusade held at Wembley Stadium. From then on, she often met with him when he was in Britain and several times when she visited the United States. The queen invited him to preach before the royals on several occasions, including on Easter Sunday in 1995.
"No one in Britain has been more cordial toward us than Her Majesty Queen Elizabeth II," Mr. Graham wrote. "Almost every occasion I have been with her has been in a warm, informal setting, such as a luncheon or dinner, either alone or with a few family members or other close friends."
He also noted her keen Biblical knowledge.
"I always found her very interested in the Bible and its message," Mr. Graham recounted. "After preaching at Windsor one Sunday, I was sitting next to the queen at lunch. I told her I had been undecided until the last minute about my choice of sermon and had almost preached on the healing of the crippled man in John 5. Her eyes sparkled and she bubbled over with enthusiasm, as she could do on occasion. 'I wish you had!' she exclaimed. 'That is my favorite story.'"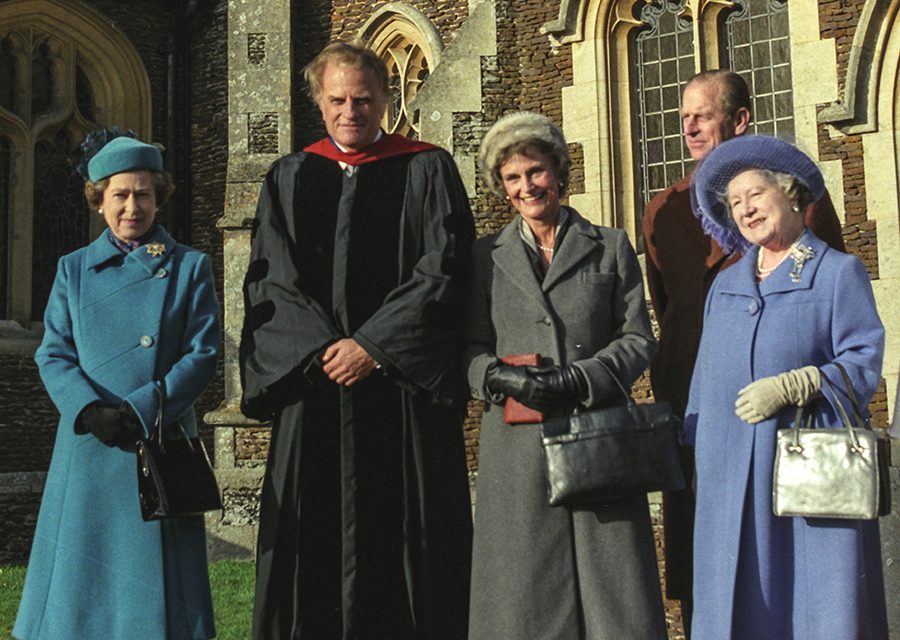 The queen remarked in her annual Christmas message in 2002: "I know just how much I rely on my faith to guide me through the good times and the bad. Each day is a new beginning. I know that the only way to live my life is to try to do what is right, to take the long view, to give of my best in all that the day brings, and to put my trust in God. … I draw strength from the message of hope in the Christian Gospel."
On news of the queen's passing, Franklin Graham wrote:
"Queen Elizabeth was a woman of sincere faith, and she found a steadfast friend in my father, the evangelist. They met at least a dozen times over … three decades in the U.K., the White House and California.
"Throughout the decades, my father rarely shared much about their meetings. When asked, he would respond: 'Good manners do not permit one to discuss the details of a private visit with Her Majesty, but I can say that I judge her to be a woman of rare modesty and character.'"
Franklin added, "I am profoundly grateful for Her Majesty Queen Elizabeth II, and I am confident her commitment to God and her dedicated service to the United Kingdom will have an enduring impact for generations to come."
The queen's reign began upon her father's death in 1952 when she was 25, and when Winston Churchill was still serving as prime minister. During her tenure, she advised 15 different British prime ministers. She was preceded in death by her husband, Prince Philip, who died in 2021.
As theologian Carl Trueman, a native of Britain, wrote: "Unlike most heads of state today, she was a person to whom one could point and say to one's children and grandchildren, 'When you grow up, you want to be like her.'"
Upon her 90th birthday, the Bible Society UK, whom the queen served as a patron, released a book about her faith called "The Servant Queen and the King She Serves." In the foreword, the queen wrote: "I have been—and remain—very grateful to … God for His steadfast love. I have indeed seen His faithfulness."

Above: Billy Graham and Queen Elizabeth II in 1989.
Photos: Russ Busby/BGEA Archives