Thirty years ago, Ruby Ridge—an 11-day standoff between the federal government and the Weaver family in Boundary County, Idaho—changed Sara Weaver's life forever. For years after, Sara thought she could find peace in the American dream. She had a baby and, along with her husband, began building their dream house. But she was haunted by depression after the trauma that she had been through, and her marriage ended in divorce. Through the witness of a friend and a Bible verse she had memorized as a child, she finally found peace in Christ. For the past 13 years, she has been happily married to her new husband Marc. They live in Kalispell, Montana.
Q. How did you deal with the trauma you went through at Ruby Ridge?
A. After the incident, we left Idaho for Iowa, and I took the weight of the world on my shoulders as far as being the protector of our family. Here I was, a 16-year-old, busted-up kid who had seen things no 16-year-old kid should have to see and process.
Being demonized in the media, I felt I had to prove that we weren't the crazy people we were made out to be. I was thrust into public schools, and there wasn't any counseling. But I set out to prove to the world my mom had done a good job. I worked really hard and became a 4.0 student.
I wanted to move my life into the American dream. I thought this would fix my problems. I married, started a family and built a house. I was suffering from post-traumatic stress disorder, but I had no idea that's what it was. I threw myself into being busy and proving to everyone that I've got this, that my past didn't define who I was.
I wanted to be Sara—not Sara from Ruby Ridge. Many times, I would run from that story: "Let me live my own life. Leave me alone." I achieved this and that, but I still wasn't happy. Then building our house, being pregnant with my son—the Lord knew what it would take to get me to the end of myself.
Building that house and living in a camper for two Montana winters did just that. My son was 2. I'd had a traumatic childbirth. I hadn't processed all the trauma. I found myself not wanting to live. I had a big, beautiful house under construction, and my son was healthy and happy—all the things that should make me happy, but I was just miserable. My husband at the time told me to write down what would make me happy. I had achieved everything on my list, and it scared the heck out of me.
My depression was so deep and dark, there were days I didn't want to live. But I didn't want to leave my son without his mom, because I had grown up without my mom. I refused to give up on myself, which would be giving up on him.
Q. Where did you find hope?
A. My best friend from Idaho, Maria, came to visit me in Montana one day when I was really struggling. We got on the topic of religion. I was mad at God, if there was a God. Religion was why all this happened to me in the first place. The church hurt my parents, and then we moved to Idaho, always digging into more religion, and it let me down and failed me.
Maria just looked me straight in the eye and said, "Sara, I know Jesus Christ is my Lord and Savior." She said it with such conviction. I trusted her. There weren't a lot of people in the world I trusted.
That statement would not leave me alone. I had not wanted anything to do with God. My parents were on this religious journey of their own. They had come to a conclusion that didn't align with what you would call mainstream Christianity. They had taught me that mainstream Christianity wasn't where it was at. They were living an Old Testament, works-oriented religion when Ruby Ridge happened.
They had left out the grace, the most important work, which is shown in John 3:16—what Jesus did on the cross. For me to think about flipping the switch in my brain and accepting that as something that was truth, wasn't something that I ever in a million years would choose for myself.
Q. Then you picked up a little New Testament and turned to John 3:16.
A. When I was 7, I memorized John 3:16 with my little Sunday school King James Bible. You would get a piece of candy if you brought your Bible, and if you memorized a verse, you'd get another piece. I've always been an overachiever, very competitive.
I had not thought of that verse again until one day in my living room when I was at the end one more time. I didn't know where to turn. I asked myself, What would my mom do? She would turn to her Bible. So I went and got her Bible. Then I remembered my little Sunday school Bible. I went and dug it out, and that verse came back to me.
I didn't know where to turn in the Bible. Even though my parents were very into the Bible, I hadn't wanted much to do with it. Then John 3:16 popped in my mind. It took me back to Sunday school, when I was 7 years old.
This time, when I read John 3:16, I met Jesus for the first time. I felt Him lift the burden I had been carrying for over 10 years off of my shoulders. I just broke down bawling. I knew He was real. I knew He was for me, and He wasn't a judgmental God just waiting to trip me up, which is what I had believed about Him. I knew He understood what I had been through, and He cared. Him setting me free in that moment was more real than all of the pain and heartache I'd been through on that mountain at 16.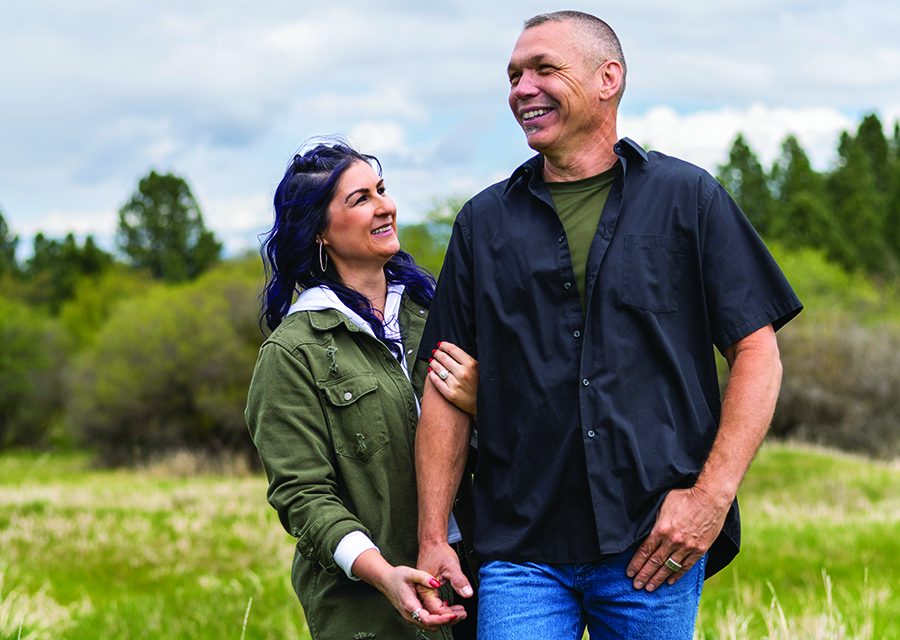 It was like a drink of water after walking in the desert. It was like a breath of air after being suffocated. It was seeing color for the first time. It was amazing. It was undeniable. No one could ever take that from me. It started a hunger in me to know Him. That began my journey of walking with Him, with Him peeling back layer upon layer and bringing healing to my heart, which I had built huge walls around.
Q. Jesus began a good work in you, and He continues. How did you begin to understand His forgiveness?
A. I knew in that moment, when I surrendered to Him, that He had forgiven me for all the things I had done in my past. I received that gift. I was so thankful. I had been what I considered the victim for many years—justifiably so. It took me going through a divorce to learn these lessons. That was very difficult. Any Christian who has been through a divorce can relate to what I'm saying. You lose friendships. You lose your church family. You lose so much on top of the loss of the broken relationships. But I wouldn't trade that for the gift that God gave me through it.
I was still clinging to the belief that I had to be perfect and do all these things right or Jesus wouldn't want me. I believed that divorce was an unforgivable sin. When I married, I married for life. But here I was, walking through this divorce even though I had become radically saved. God was changing me swiftly, and I was not the same person. I wanted to heal. I wanted more of Him in my life. But most of my friends and family, including my husband, were not born-again believers, so it created chaos in my relationships. It was a very difficult time, and I wrestled with it with God for a couple of years. He was silent, but He held my hand through it.
And He taught me some incredible lessons. When you've always been the victim, you have someone else to blame for everything. You have the perpetrator to blame for what's happened to you. Going through the divorce taught me that I had also become a perpetrator, because I had hurt people around me. The Lord showed me that it doesn't matter if we are the victim or the perpetrator. What matters is that we take it all to Him and let Him heal us. I was not meant to walk through life as a victim, because we are victorious in Christ.
I was able to see the perspective of people who have done things in their life that are terrible things that separate them from God. They have no one to blame but themselves. We are not meant to live with that identity. Our identity is not a victim or a perpetrator. He sets us free.
I finally understood the differences between being the victim and being the perpetrator—that I had been both, and I must forgive the men who had taken the lives of my mom and little brother.
I had a rubber-meets-the-road moment. I told God: "OK, I know You have forgiven me for my sins. Now, for my freedom, I have to extend that same forgiveness to the perpetrators in my life and pray for them."
In my travels, and at book signings, I have met grown men who cry over things they have done in war or in their personal lives. They think that they are unsavable, that they cannot go to God because of the terrible things they have done. That's just not true. It's a lie from the enemy. God wants them to come to Him, so He can heal them and save them.
Q. John 3:17 says: "For God did not send His Son into the world to condemn the world, but that the world through Him might be saved." What did that mean to you?
A. Our sin condemns us. I knew I was a sinner when I opened to John 3:16. But when I read John 3:17, that was the freedom and the release. That was the permission to come to God and say, "Yes, I am a sinner, but You didn't come to condemn me, Lord. People may condemn me, but You don't condemn me." There's so much power there.
People tell me the Gospel is just too simple. To me, it is the most powerful, wonderful, simple—yet complicated—thing.
Q. But you've found forgiveness in Christ through grace, and you've been able to extend that grace to others.
A. I had to come to that place in order to live fully free. People have the mistaken notion that forgiveness is letting the perpetrator off the hook. That is not the case. Forgiveness is for you. I believe there is also something that goes on in the spiritual realm for the perpetrator when you choose to forgive. I believe something is released for them. Forgiveness is not saying what happened is OK. It's not allowing someone to continue to abuse you. It's not about not setting healthy boundaries. But it is absolutely crucial in our spiritual walk. It deals with bitterness. Bitterness can take us out.
Q. I'm reminded of Corrie Ten Boom. She and her sister were in concentration camps. Her family died in the concentration camp. She was a firm believer. One time she was speaking in Germany about the Gospel, and afterward, a man came up who had been a German guard in that concentration camp, and he asked if she could forgive him. Corrie realized, If I can be forgiven, I have to forgive him.
A. Such a powerful story. I admire her greatly. That's what I had to do. When you go through something like this and you stare death in the face, and you accept that you might not make it—to live out your life, you have to get to the most important thing. What is the most important thing? What is the closest thing to God's heart? What is He after? And who am I to stand in the way of that, when He has done so much for me? If He's done this for me, why would He not do this for you?
If He went to such lengths to rescue me, how could I be so selfish as not to forgive?
The Scripture quotation is taken from The Holy Bible, New King James Version.

Interviewed by Jim Dailey, executive editor.

To learn more, visit RubyRidgetoFreedom.com.
Photos: David Morrison/©2022 BGEA