Chaplains from the Billy Graham Rapid Response Team (BG-RRT) responded quickly last month to help hurting people following two disasters: a deadly school shooting in Michigan, and a devastating outbreak of tornadoes that killed dozens in five states.
After the deadly string of tornadoes ripped through the South and Midwest on Dec. 10, chaplains deployed to northeast Arkansas and Mayfield, Kentucky, offering the hope of Christ and listening ears to survivors and others affected.
The storms spawned at least 44 twisters in Missouri, Illinois, Arkansas, Kentucky, Tennessee, Mississippi, Indiana, Ohio and Alabama. As of press time, at least 88 people were killed, with victims ranging from a 2-month-old girl in Kentucky to a 94-year-old man in Arkansas.
Mayfield, Kentucky, with a population of 10,000, suffered some of the worst damage. Much of the town was leveled, and state officials warned that people in the region could be without heat, water or electricity for weeks or longer.
"These families have lost fathers, mothers, sisters, brothers," Franklin Graham said in a Facebook post Dec. 12. "Buildings can be replaced or repaired, but lives are irreplaceable, and we need to pray for the grieving."
Kentucky Emergency Management Director Michael Dossett warned that recovery efforts will extend well into the new year and beyond.
This is not going to be a week or a month operation, folks," he said. "This will go on for years to come. This is a massive event."
Billy Graham Rapid Response Team chaplains will be there to listen and pray with people, said Josh Holland, the ministry's assistant director. "And to let them know that God is with them and loves them, even during this difficult time."
Michigan School Shooting
A week and a half earlier in Oxford, Michigan, chaplain Deb Keller sensed God leading her to approach a teenage girl who stood beside her mother at a memorial site set up near Oxford High School where, two days earlier on Nov. 30, a five-minute shooting rampage claimed the lives of four students and left seven people injured.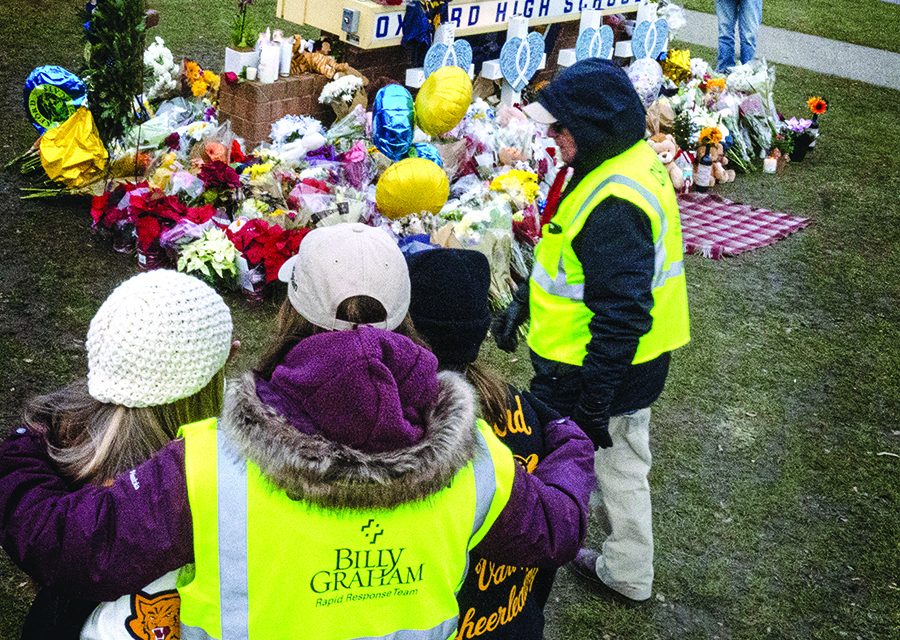 When Keller touched the shoulder of the ninth-grade student, the girl turned, fell hard on the chaplain's shoulder and broke down in deep sobs.
"How will I ever get the sound of gunshots out of my head?" she exclaimed through her tears. "They won't go away."
Keller, a chaplain from nearby Romeo, Michigan, said the student was hugging her so tightly that she could feel her heart pounding even though both of them were wearing coats in the frigid weather.
One of six RRT chaplains who deployed to Oxford Dec. 1 through Dec. 5, Keller and her colleagues offered a "ministry of presence" to first responders, students, parents and townspeople.
The shooting shook the close-knit community 45 minutes north of downtown Detroit, leaving many students, parents and teachers with a commonly voiced concern: How can we ever feel safe again in our schools?
The dead included Hana St. Juliana, 14; Madisyn Baldwin, 17; and Tate Myre, 16, who succumbed to injuries sustained the day of the shooting. A fourth student, 17-year-old Justin Shilling, died the next day.
The 15-year-old accused perpetrator faces charges of murder and terrorism after witnesses said he opened fire with a handgun in the middle of the school day. He was apprehended before he was able to fire all of his ammunition. His parents were charged with involuntary manslaughter.
Keller said she is praying that God would replace the students' traumatic memories of the shooting with "His love and His thoughts."
Photo: Joe Bulger/©2021 BGEA