Crisis-trained chaplains from the Billy Graham Rapid Response Team have ministered to thousands across the United States this winter in the wake of tornadoes, hurricanes, floods and fires.
On Dec. 10-11, dozens of powerful tornadoes tore across six states. Kentucky was hit particularly hard as one monstrous EF4 twister traveled about 165 miles, leaving thousands homeless. In all, the storms killed more than 70 people.
In the southwest corner of the state, much of the town of Mayfield was destroyed. Chaplain coordinators Frank and Jennifer Metallo arrived within hours to determine how best to provide emotional and spiritual care to those left homeless or grief-stricken over the loss of loved ones.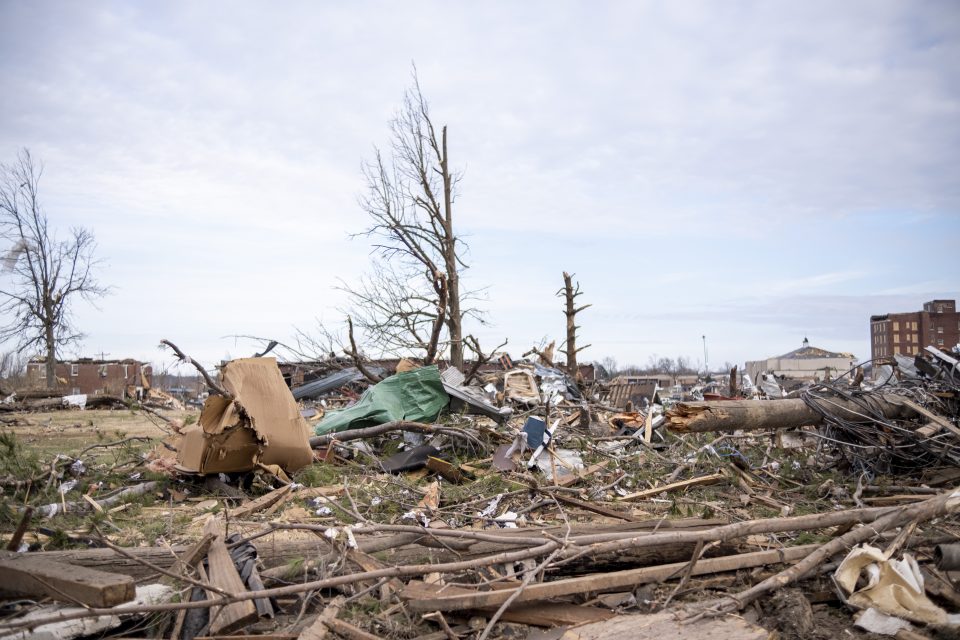 "Right downtown appeared to us the hardest-hit area," Frank said. "It looked completely destroyed—like a massive bomb had gone off in the city." Brick buildings seemed to have been pulverized, leaving nothing but huge piles of disconnected bricks. Power lines were strewn everywhere; a car was lodged in the branches of a tree.
Over the next few days, chaplains fanned out to minister everywhere they could find hurting people—first responders at the emergency operations center, people who came to a memorial site at the Graves County Courthouse, and those at emergency shelters and churches. The Rapid Response Team's Mobile Ministry Center parked close to the Multi-Agency Response Center, and chaplains were able to talk with both volunteers and needy residents. Chaplains also accompanied Samaritan's Purse Disaster Relief teams as they began to work on homes.
Many Mayfield residents told chaplains of harrowing and sometimes miraculous experiences during the tornado.
"We spoke with a woman who came for help, and both of her eyes had been blackened from the pressure of the storm," Frank said. "She has three children, and they were with her on her bed. The tornado blew their house apart, then picked them up on their mattress and threw them a couple hundred yards away. And they all survived! She said it happened so quickly—she felt them rising up, and then the next thing she knew, they were on the ground again."
Another couple reported that the tornado ripped the roof off their house and began to pull them off the ground, but then the wind subsided and they dropped back down to the floor, safe.
As chaplains talked and prayed with people, many said they wanted to put their trust in the Lord Jesus Christ.
"A significant number of salvations occurred because people realized how uncertain life is here on Earth," Frank said. "And having gone through this terrible experience, a lot of people recognized their need for a Savior."
Chaplains spoke with a mother and her two children who were originally from Mexico. They have relatives who are heavily involved in witchcraft, but the mother had refused to be drawn in and has had numerous illnesses that her relatives attribute to her rejection of witchcraft. The mother told chaplains that she was afraid she was going to die with no assurance of where she would spend eternity. The chaplains encouraged her to read God's Word for truth. They went through the "Steps to Peace With God" booklet with her and read a couple of psalms. The psalms seemed to break through the mother's defenses, and she asked to pray to receive Christ.
One homeowner said that he had been working at the local candle factory the night of the tornado, but he left just before the storm destroyed the building. A chaplain asked the man if he had a relationship with Jesus. "I'm working on it," the man replied. With that, the chaplain shared the Gospel with him, and he put his faith in the Lord as well.
On Christmas Eve, Samaritan's Purse hosted a lunch event at Graves County High School featuring roast turkey and baked ham. The lunch was followed by a message from Franklin Graham and Christmas music from country and bluegrass legend Ricky Skaggs. Bibles were donated by Solomon's Porch, toys by NASCAR teams and pillows by MyPillow. Rapid Response Team chaplains were on hand to speak with those who needed to talk or wanted to receive Christ.
"It was almost like the minute people entered those doors, they could push off the worries of the storm and were able for just a few hours to enjoy a festive event," Jennifer Metallo recalled. "And we know that 11 people gave their hearts to Christ that day."
As of Jan. 17, chaplains had prayed with more than 2,700 people, and more than 70 had received Christ.
Chaplains have also been serving in Dawson Springs, Kentucky—where 14 people were killed by the same tornado that devastated Mayfield—and in several Louisiana locations since September's Hurricane Ida. They deployed to Whatcom County, Washington, following November flooding that displaced hundreds, and to Boulder County, Colorado, following the horrific December wildfires there.
Chaplains are also sharing God's hope and praying with community members and first responders following a devastating apartment fire in the Bronx, New York.
"The Billy Graham Rapid Response Team is praying for all of those who are hurting and have suffered great loss," said Jack Munday, international director of the Billy Graham Rapid Response Team.
Photos: Joe Bulger/©2021 BGEA