When the staff and students of Robb Elementary School in Uvalde, Texas, woke up on the morning of May 24, they expected to spend the day celebrating the last Tuesday of the school year. They picked out their fanciest outfits, as the day's theme was "Footloose and Fancy," went through their normal morning routines and headed to school, knowing that they just had two more days before the freedom of summer break.
But a few hours later, excitement turned to fear and horror as 19 fourth grade students and two teachers were killed in a mass shooting.
According to the Associated Press, the attack began around 11:30 a.m., after the 18-year-old shooter—a former student of the school—gained entrance to the school building and barricaded himself in a classroom filled with students.
"[The shooter had] no regard for human life," Lt. Christopher Olivarez of the Texas Department of Public Safety said. " … Just began shooting anyone that was in his way."
The shooter began his rampage by shooting his grandmother in the face, crashing his pickup truck, then entering the school wearing tactical gear and carrying an assault rifle, authorities said. His grandmother survived and is in stable condition but may never be able to speak again, according to a family member.
As law enforcement officers attempted to enter the building, they were met with a barrage of gunfire. They resorted to breaking windows to evacuate as many children and staffers as they could. The shooter was eventually fatally shot on the scene.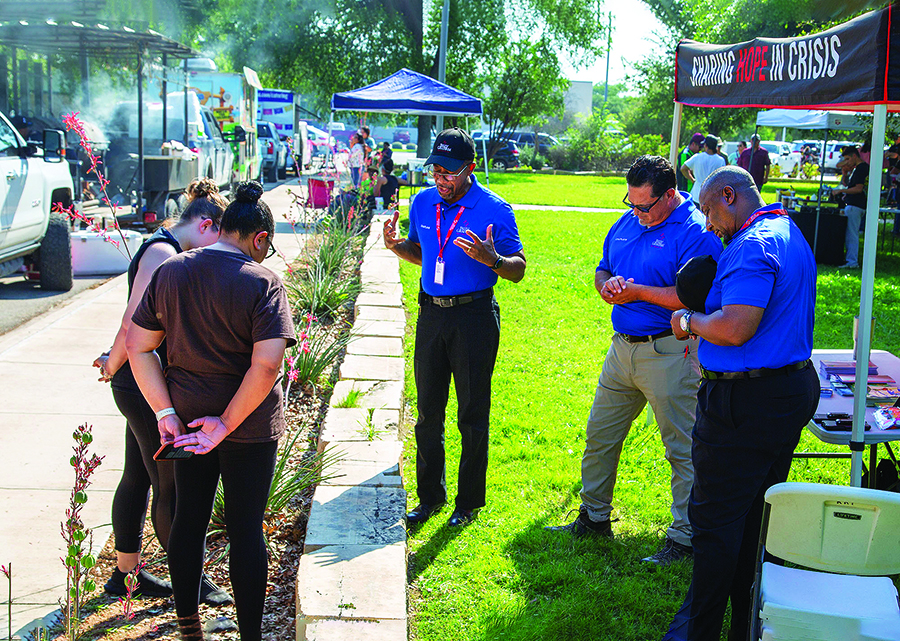 Crisis-trained chaplains with the Billy Graham Rapid Response Team (BG-RRT) quickly deployed to the city of some 15,000 residents in south Texas.
"As a father of four elementary school-aged children myself, this is incredibly painful," said Josh Holland, international director of the BG-RRT. "The whole world is mourning what happened here. In the midst of situations like this, there are no words to say, but we do affirm that God is our refuge and strength, He is a very present help in time of trouble (see Psalm 46:1).
"… The Billy Graham Rapid Response Team will be here for days to come," he continued, "to share the love and the hope and the compassion of the Lord Jesus Christ to parents who are walking through their worst nightmare, to a community that is shaken to the core."
As of press time, 18 BG-RRT chaplains had been able to pray with 908 people in Uvalde.
One such person was Cody.
Cody had visited the memorial set up in Uvalde's town square, where white, wooden crosses with the names of each of the victims had been placed. As he stood in front of the cross for 9-year-old Ellie García, Chaplain Jose Mena approached him.
"He told me he worked at a grocery store here locally and that Ellie was the daughter of his friend of 20 years," Mena said. "I listened to him for about 40 minutes. He unloaded his feelings, and he had a lot of anger inside. After a while, he started to cry, and I asked him if I could pray for him. He told me that he never prays, but he allowed me to pray for him, so I prayed the Gospel over him and asked the Holy Spirit to work in his heart."
Mena shared that following his conversation with Cody, he felt burdened to continue to pray for anyone affected by the death of Ellie García.
Three days later, Mena was praying with people outside Robb Elementary School when a police officer approached him.
"Chaplain, would you talk to my partner?"
"Sure," Mena replied. "What's going on?"
The officer explained that he and his partner work for the University Health System in San Antonio. As a matter of protocol, his partner, Officer Ramirez*, was at the hospital to receive Ellie García following the shooting.
Mena went to talk to Ramirez and soon realized that he was in need of emotional and spiritual care.
"He kept saying 'I'm OK, I'm OK,' but I could tell he was trying to hold it together," Mena said.
"Suddenly he said, 'I thought she was alive,' and began to cry. He then asked me, 'Why would God allow this to happen?' I told him, 'I don't know why God would allow this to happen, but I know that God is very familiar with suffering, so much so that He saw His own child die.'
"I knew it was God who gave me that answer," Mena added.
The massacre marks the deadliest school shooting in Texas history and the deadliest shooting at a U.S. school since a gunman killed 20 children and six adults at Sandy Hook Elementary in Newtown, Connecticut, in December 2012.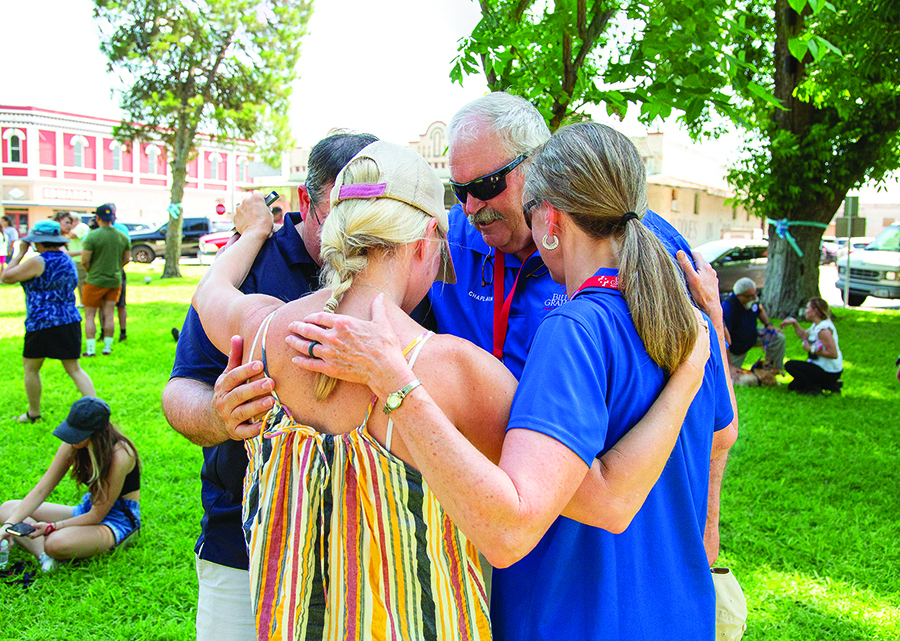 At press time, chaplains were serving at three locations—the school, the civic center and the town square. On May 26, the BG-RRT Mobile Ministry Center was parked outside the school. As the school was still an active crime scene, chaplains had the opportunity to welcome law enforcement, government agents and first responders onto the truck to talk and pray with them in a quiet, safe place.
"The law enforcement in Uvalde is hurting and grieving too," said Edward Graham, son of BGEA President Franklin Graham. "We have a lot of former and active law enforcement that serve as chaplains, and they're there to pray and share the hope of Jesus Christ."
Chaplains also partnered with law enforcement to deliver death notifications. One couple in particular had just found out that their child had been killed in the massacre. They asked two BG-RRT chaplains to help them tell their other children that their sibling was dead.
Escorted by Texas Rangers to the house, the chaplains prayed on the ride there that God would give them the words and the strength to tell these children the horrific news. The chaplains reported that they were able to comfort and show love to the children, and the Lord had given them just the right words to say.
The day after the shooting, over 5,000 people attended a prayer vigil at the Uvalde County Fairplex. Chaplains were on hand to minister during the vigil.
"When a man-made disaster happens, there isn't really anything you can do to meet people's immediate needs other than to be there to pray with them," Edward Graham said. "And when people ask why this happened, the only answer we have is sin. … The only hope and solution for this is Jesus Christ our Lord and Savior."
As the media hype dies down and residents of Uvalde have to bury and grieve their children, grandchildren, nieces, nephews and spouses, Hal Harrell, superintendent of the Uvalde Consolidated Independent School District, urges the world to keep praying.
"We're a small community, and we're going to need your prayers to get through this."
* Name changed to protect anonymity.
With additional reporting by Giselle Seidel.
Photo: Earl Davidson/©2022 BGEA