Grieving residents of Boone, North Carolina, and others who traveled from across the country lined the streets on May 6 to pay respects to two fallen law enforcement officers. As a large American flag hanging between two parked firetrucks flew overhead, the bodies of Sgt. Chris Ward and K-9 Deputy Logan Fox were carried by horse and carriage down River Street to the Holmes Convocation Center on the campus of Appalachian State University, with their loved ones walking closely behind.
Inside the convocation center, thousands stood in solidarity for nearly an hour watching the livestream of the officers being escorted one final time. The somber silence was broken only by the faint sound of sniffles from many waiting to pay their respects to these fallen heroes.
At 9:44 a.m. on April 28, Ward and Fox were dispatched to a home in Boone for what they thought was a routine wellness check.
According to authorities, when the officers entered the home, they were both hit by gunfire. Other officers were able to remove Ward, 36, from the house, but he succumbed to his injuries at Johnson City Medical Center in Tennessee. Fox, 25, remained inside the home throughout the ensuing 13-hour standoff and eventually died at the scene.
Watauga County Sheriff Len Hagaman identified the gunman as Isaac Alton Barnes, 32, who died by apparent suicide after fatally shooting his mother, Michelle Annette Ligon, 61, and his stepfather, George Wyatt Ligon, 58.
A Ministry of Presence
In the aftermath of the shooting, the Billy Graham Rapid Response Team (BG-RRT) deployed crisis-trained chaplains to Boone to offer emotional and spiritual care to the grieving community leading up to and during the memorial service at the convocation center.
"They've been a godsend to us and the public," Hagaman told Decision. "It's so refreshing; I can hardly put it into words. They've filled a void that we can't. They are positive, hopeful and loving. Billy Graham couldn't have sent better people."
"Boone is a small community where everybody knows everybody and we love each other," said Melissa Strickland, senior director of communications for Samaritan's Purse, which is based in Boone. "This is not just a loss for the families or law enforcement, although they are impacted the most. This is a loss for our community. Our community is grieving. We're all shell-shocked by what's happened, and the goal of our community now is to support these families and our law enforcement."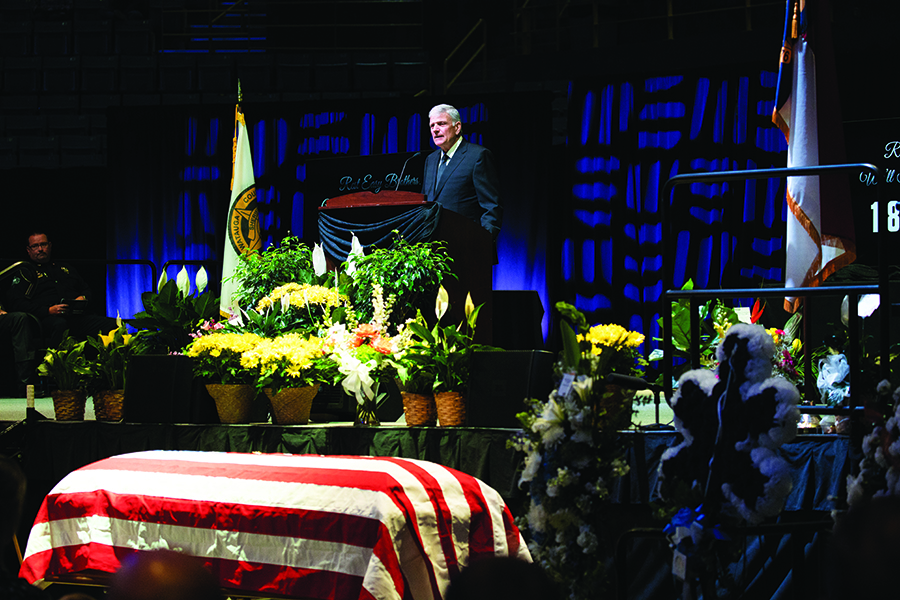 At the memorial service, Franklin Graham offered brief remarks, telling those gathered: "We've come here today to honor two great heroes, Logan Fox and Sgt. Chris Ward. These men gave their all for our community and I thank God for them. …
"I'm asked from time to time, 'Why? Why does God allow pain? Suffering? Why do bad things happen to good people? Why?'" Graham said. "I don't know. I can't answer that question. But I do know this: I know that God loves us. I know that for sure. The Bible tells us right here, [in] God's Word. And I believe God's Word, I believe the Bible, from cover to cover. I don't understand it all, but I do believe it all. … God loves you. And Jesus understands suffering. He was acquainted with grief."
Small Town Shows Big Support
From local and state law enforcement to community leaders to out-of-town visitors, like the grandmother of a Watauga County deputy who drove from West Virginia, people came to honor the fallen officers and show support for their families.
"We're all here for a common purpose," said Chief Chris Hatton of the Sylva, North Carolina, police department. "Today, we are all members of the Ward and the Fox family, and we're all members of the Watauga County Sheriff's Office family. So today, we are all family."
Commit to Care and Prayer
"Every single one that has taken that oath are heroes and are to be appreciated and loved," Ward's father, David Ward, said as he stood with Fox's father at the funeral. "Now folks, listen, please. We need them. We need them. Our law officers. And they need us. They need encouragement and support from the White House to the church house and to our house. We should commit to pray for them and their families every day. But the greatest need of all today is found in John 3:16. The Bible says, 'For God so loved the world that He gave His only begotten Son, that whosoever believeth in Him should not perish.' Our sons were taken, but God gave His Son …
"America, don't wait until this happens to show our law enforcement we care."
Josh Holland, assistant director of the BG-RRT, told Decision, "There's never been a more challenging or difficult time to be in law enforcement than right now. At a time when many law enforcement officers are being misjudged and accused and belittled, we feel it's important to honor what we believe is a God-given calling."
Above all, law enforcement officers need prayer.
"Pray for their protection, for God to just reveal to them, or remind them if they already know it, that this is a call on their lives," Holland said. "Pray that they would find their peace from Him alone. And pray for their families, too."
The Scripture quotation is taken from the Holy Bible, King James Version.
Above: Billy Graham Rapid Response Team chaplains pay their respects to the fallen police officers.
Photo: Paul Sherar/©2021 BGEA