The Billy Graham Evangelistic Association and Samaritan's Purse are jointly responding to the spiritual and medical needs of Ukrainians forced to flee their country since the conflict with Russian forces began on Feb. 24.
"We are seeing the expression of what the human heart is all about," said Viktor Hamm, BGEA's vice president of Crusade Ministries, who has been working with both ministries on the ground in Ukraine. "It's evil. It sows evil. It sows hate. And this is the time where the Body of Christ needs to really speak about the Lord Jesus Christ and present the message of hope. … Though it is dark here, the message of hope is bright."
To help equip Ukrainian Christians to share that message of hope, the Billy Graham Rapid Response Team (BG-RRT) has provided training for local pastors and church leaders on ministering amid crisis.
Josh Holland, international director for BG-RRT, spent a few days in Ukraine ministering to and training local Christians.
"Going into the situation in Ukraine was unlike anything I've done before," Holland said. "I've been to all different kinds of deployments, from floods to fires to earthquakes and tornadoes and hurricanes, but nothing like that. … What I saw and what I heard—I don't think I'll ever be the same. …
"It was deeply moving that these pastors and leaders, while they're going through this crisis themselves, would want to also serve people who could really just use a shoulder to cry on, a listening ear and the ministry of prayer and support," he added. "To see the church being the church and taking in individuals, all while operating in the love of Christ, is something I'll never forget. I couldn't help but think how many people, even going through the worst thing they've probably ever been through, are encountering the love of Christ through the churches being the hands and feet of Jesus."
To come alongside Ukrainian Christians caring for their fellow citizens, the BG-RRT also deployed crisis-trained chaplains to offer emotional and spiritual care to those in need.
"It's my calling to be a chaplain, and since it's my calling, I'm always ready to go wherever the Lord sends me," said one of the first BG-RRT chaplains to deploy to the region.
"And right now He's calling me to go to Ukraine to reach out to the people there who are hurting.
"My hope is to listen to people's stories and then allow the Holy Spirit to lead me to tell them what they need to hear, which is to put their hope and faith and trust in the Lord Jesus Christ."
To help with this, BGEA is translating into Ukrainian the "Steps to Peace With God" booklet, which clearly explains the Gospel, along with the discipleship book, "Living in Christ." And local churches have made commitments to follow up with new Ukrainian believers.
"These chaplains are ministering to people who are hurting and have lost everything," Franklin Graham said. "They're able to share the hope we have in Jesus Christ and remind people that God hasn't forgotten them and He loves them."
Helping remind Ukrainians of that truth, Samaritan's Purse deployed a team of disaster response specialists to Poland, Romania and Moldova, as many are crossing borders into these neighboring countries for refuge. In addition, Samaritan's Purse sent an Emergency Field Hospital to Ukraine and set up a medical clinic at the train station in Lviv, one of the largest cities in the country.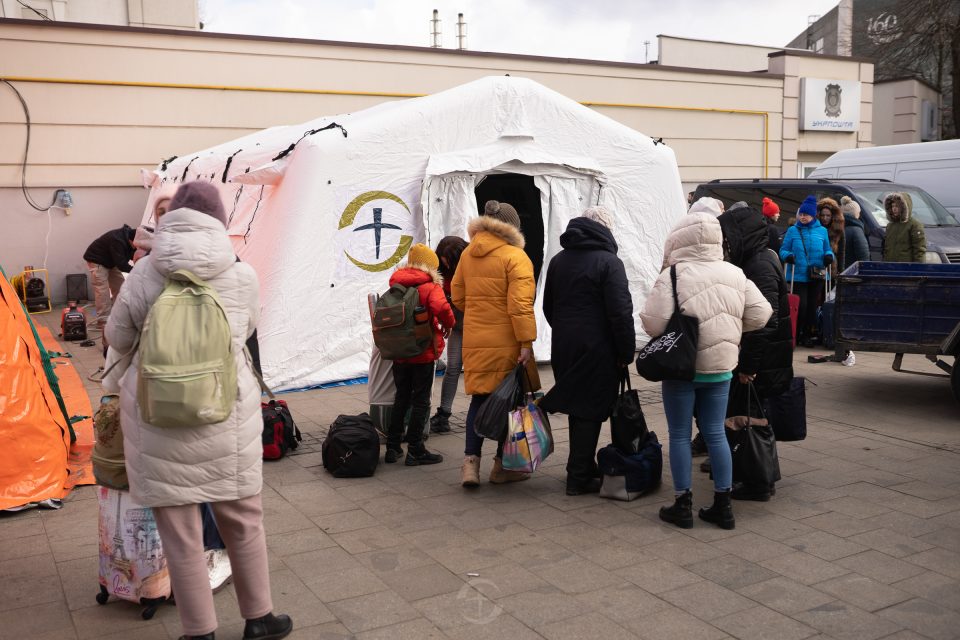 The Field Hospital has two operating rooms, with capacity for 14 major surgeries or 30 minor surgeries per day. There are nearly 60 total inpatient beds, including four intensive care unit beds and four intermediate-care beds. The emergency room can handle 100 patients per day. The facility also has a pharmacy and its own water and sanitation system.
The initial patients arrived on March 14. The first to be seen was a woman named Marina, from Malyn, a city northwest of the capital of Kyiv. The woman had fallen and injured her arm while escaping into a bomb shelter and had suffered for nine days before arriving at the Field Hospital after her travels. She cried tears of relief as one of the Samaritan's Purse doctors told her: "We can fix this for you."
Samaritan's Purse has long partnered with more than 3,200 churches inside Ukraine. As war erupted, they were in the process of distributing 600,000 Operation Christmas Child gift-filled shoeboxes.
"God calls us to go into crisis areas to help those who are most vulnerable," Franklin said. "As the conflict escalates in Ukraine, our international disaster response teams with doctors, nurses and other specialists are equipped and ready to help people in Jesus' Name."
Above all, the need for Christians around the world to unite in prayer for Ukraine is critical.
"We are asking all of you to pray as you have never prayed before," Hamm urged, "so that the light of Christ through this effort of BGEA and Samaritan's Purse will really point people to the foot of the cross, and bring people to repentance and faith in Jesus."

Above: The first patient, Marina, is treated at the Emergency Field Hospital in Ukraine.
Photos: ©2022 Samaritan's Purse