Decade Highlights
In 2000, Mr. Graham relinquished the helm of the Billy Graham Evangelistic Association into the hands of his son Franklin Graham, who later moved the BGEA ministry headquarters to Mr. Graham's hometown of Charlotte, N.C. Mr. Graham addressed his fourth and final international conference for itinerant evangelists in Amsterdam via video, due to ailing health, and he addressed the nation after 9/11. He continued his Crusade ministry, making stops in Tennessee, Florida, Kentucky, California, Ohio and Missouri before returning to Los Angeles for his ninth campaign in that city, and then to Queens, N.Y., for his final public Crusade.
The Greater Los Angeles Crusade, held at the Rose Bowl in November 2004, brought Mr. Graham's ministry full circle. The four-day event was held 55 years to the weekend after the historic "Canvas Cathedral" tent revival that launched him into worldwide prominence.
More than 312,000 people attended the event, with 12,539 coming forward to inquire about a relationship with Christ.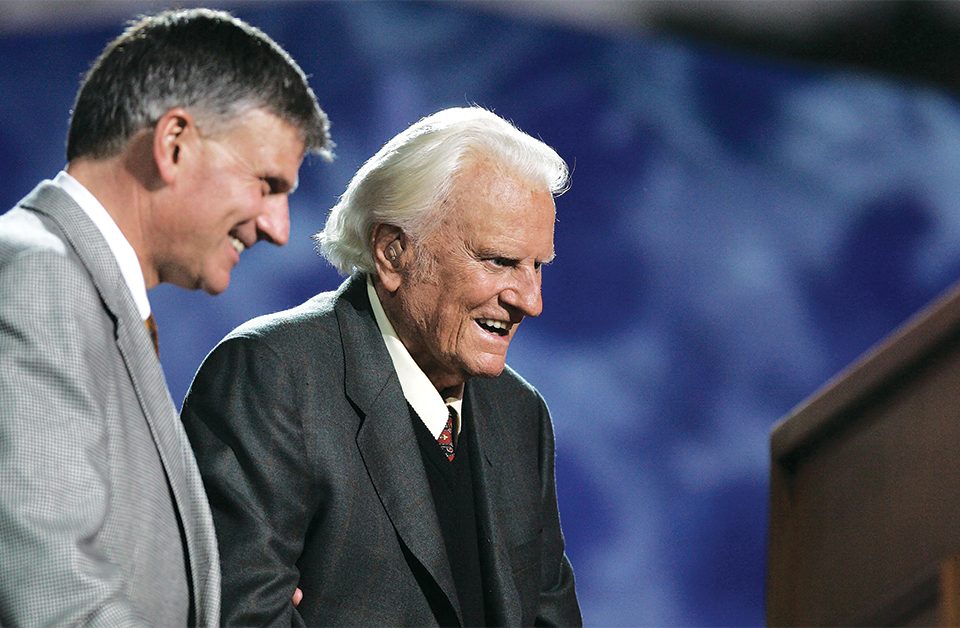 Seven months later, Mr. Graham concluded his public Crusade ministry at Flushing Meadows-Corona Park in Queens, N.Y., in June 2005. For two days, the 86-year-old evangelist preached to crowds spread across 93 acres, filling a vast lawn and overflowing into three additional sites. His messages, during his eighth campaign in New York City, were simultaneously translated into 13 different languages.
The event drew crowds up to 242,000, with more than 9,000 making decisions for Christ.
Not ready to leave the podium permanently, Mr. Graham later appeared at two additional Festival events with Franklin: He spoke to residents of storm-ravaged New Orleans in March 2006, six months after Hurricane Katrina devastated the city. And in July 2006, he traveled with  Franklin to the Baltimore Orioles Stadium for the Metro Maryland Festival, where he preached the Sunday afternoon sermon and was accompanied on the platform by longtime ministry associates George Beverly Shea and Cliff Barrows.
In 2007, he traveled from his mountain home in Montreat, N.C., to his home city of Charlotte to attend the opening of the Billy Graham Library and was joined by former U.S. presidents George H.W. Bush, Jimmy Carter and Bill Clinton.
Mr. Graham's beloved wife, Ruth, died on June 14, 2007, and is buried on the Library grounds, which also include Mr. Graham's homeplace. Bev Shea, who died in April 2013, and Cliff Barrows, who died in November 2016, are buried on the Library grounds as well.
Mr. Graham continued to communicate the Gospel as his strength allowed. He delivered powerful messages in several My Hope films available at MyHopeWithBillyGraham.org.
Thousands of Christians invited friends and family into their churches and living rooms and to theaters to watch the films. Thousands accepted Christ after watching one of these videos featured in the My Hope outreach.