The Supreme Court, during oral arguments March 20, appeared poised to rule in favor of the free speech rights of pro-life centers, known widely as crisis pregnancy centers (CPCs).
The case before the high court, National Institute of Family and Life Advocates (NIFLA) v. Becerra, challenges a 2015 California law requiring pro-life pregnancy centers to notify clients of available abortion services. The suit was brought by 110 pro-life pregnancy centers contending that the law compels them to advance the abortion cause by notifying clients, in up to 13 different languages and in large type, how they can obtain free or low-cost abortions through a state program for low-income women.
The law also requires CPCs that offer no medical services, such as ultrasounds or pregnancy tests, to post conspicuous signs in large type near entryways and in waiting areas stating they are unlicensed, have no medical provider on-site, and offer no such services.
In his opening statement, Michael Farris, general counsel and CEO of the Alliance Defending Freedom, which represents NIFLA in the case, told the nine justices: "California took aim at pro-life pregnancy centers by compelling licensed centers to point the way to an abortion and by imposing onerous advertising rules on unlicensed centers that do not provide ultrasounds or any other medical services. The state then provided exemptions for all other medical providers who serve pregnant women. This law targets a particular topic of discussion, employs compelled speech, and is directed at disfavored speakers with disfavored viewpoints."
Despite attempts by attorneys for the state to defend the merits of the law, AB 775, Farris seemed to find sympathetic ears among several of the liberal justices on the court and in Anthony Kennedy, a moderate who has often been the swing vote in such cases.
Even Elena Kagan, an Obama nominee solidly on the ideological left, seemed frustrated by the law's narrow focus on only nonprofit pregnancy centers that oppose abortion.
Farris argued that AB 775, also called the Reproductive FACT (Freedom, Accountability, Comprehensive Care and Transparency) Act, unfairly targets the pro-life viewpoint on several levels. Most egregiously, only nonprofits espousing the pro-life message are required to post the state's notice promoting its abortion services. Other nonprofits that serve pregnant women are exempt.
Also, the law says it is intended to "ensure that California residents make their personal reproductive health care decisions knowing their rights and the health care services available to them." Farris argued in court that the message itself is "gerrymandered" to include only the state's family planning services and abortion services but no other options.
Kagan, in questioning one of the state's attorneys, Joshua Klein, said: "There is a sense when you read this statute, Mr. Klein, there's at least a question that arises as to whether this statute has been gerrymandered. So would you speak to that? Because if it has been gerrymandered, that's a serious issue. In other words … we have these general disclosure requirements, but we don't really want to apply them generally; we just want to apply them to some speakers whose speech we don't much like."
Justice Kennedy seemed especially bothered by the advertising requirements that non-medical pro-life counseling centers must post, in as many as 13 languages, a 29-word disclaimer that they don't provide medical services and aren't licensed to do so, in 48-point type. The disclaimer is required in the entryway and in waiting areas, as well as digital and print copies of the same content for clients.
At one point, Kennedy asked Farris if a billboard merely stating "Choose Life" but paid for by an unlicensed crisis pregnancy center would fall under the same requirements. Told yes, Kennedy remarked, "It seems to me that that means that this is an undue burden in that instance and that should suffice to invalidate the statute."
Under AB 775, medically licensed CPCs are required to post the following message in 22-point type, in entryways and waiting areas: "California has public programs that provide immediate free or low-cost access to comprehensive family planning services (including all FDA-approved methods of contraception), prenatal care, and abortion for eligible women. To determine whether you qualify, contact the county social services office at [insert the telephone number]."
Non-medically licensed CPCs, meanwhile, must post the following: "This facility is not licensed as a medical facility by the State of California and has no licensed medical provider who provides or directly supervises the provision of services."
Failure to comply with the requirements is punishable by a $500 fine for the first offense and $1,000 per offense thereafter.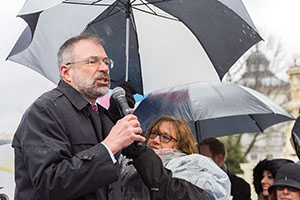 Denise Harle, an ADF attorney who assisted Farris on the case, told Decisionthat while it is "always dangerous to speculate" on how the high court might rule, the questions the justices asked and the remarks they made left the ADF legal team "very encouraged."
The outcome of the case will have bearing on other similar cases, such as a contested ordinance in San Francisco that places additional burdens on CPCs beyond what AB 775 does, and an Illinois law, which ADF has fought and gained injunctions against, that requires pro-life centers to provide abortion referrals. Meanwhile, laws targeting CPCs in cities such as Austin, Texas, New York City and Baltimore have been invalidated.
The battle against CPCs seems to be the latest strategy of the abortion lobby.
In the last decade, laws targeting CPCs have popped up mostly in cities, but also in state legislatures such as California, where pro-lifers are heavily outnumbered, even across party lines. Abortion organizations such as NARAL Pro-Choice America have been open about their disdain for CPCs. In 2017, NARAL published a 13-page paper titled "The Truth About Crisis Pregnancy Centers" accusing CPCs of using "deceptive" tactics, intimidation, "anti-choice propaganda" and fraudulent advertising to trick unsuspecting women into keeping their babies.
Left-wing media outlets have joined in. The online magazine Slatein 2013 published an article titled "Crisis Pregnancy Centers: 3 Legal Strategies for Bringing Them Down," and in March, another hit piece appeared online with the headline: "Crisis pregnancy centers, and why liars need lawyers, too."
The effort is concerted and venomous, and Harle believes it is partly driven by the desperation of an abortion lobby losing credibility among the public because of medical technology making the baby in the womb difficult to ignore or devalue as mere tissue. And CPCs continue to grow in popularity, outnumbering abortion clinics by about a 3-to-1 ratio, according to multiple sources.
Heidi Matzke, executive director of Alternatives Pregnancy Center in Sacramento, said the ministry helped 1,386 clients last year with counseling, prenatal care and a host of other practical helps, motivated by Christian love and led by a volunteer force that is dominated by women who are either post-abortive or have been directly impacted by abortion. The ministry is Gospel centered, and each person who visits the clinic receives a Bible in addition to physical and practical helps.
"The women who work here have had firsthand experience with abortion and have been traumatized by it," Matzke said. "We're not just a bunch of people here saying you need to choose life. We're people here who have been broken by this and [whom] God has restored."
Matzke said she pays little heed to charges by abortion rights activists that CPCs use trickery and deception to deprive women of health care, adding that each person who visits Alternatives receives a detailed survey. To date, their satisfaction rating is around 98 percent, she said, with the only negative surveys turned in by abortion activists who were there to get information on the clinic.
Among the things Alternatives provides to clients are ultrasounds, which Matzke said are powerful because they bring to light the truth about the tiny person in the womb.
ADF's Harle, who in addition to her work as an attorney serves on the board of a crisis pregnancy ministry, said the rising generation is more aware of the scientific reality of life in the womb than previous generations, and seems more open to the pro-life message.
"I went to the March for Life in D.C. and Evangelicals for Life this year for the first time ever, and I was able to see with my own eyes just how many young people believe in the pro-life cause and the sanctity of life," Harle said. "And I think we see that in polling numbers, too. The Gospel is still true, and it changes minds and hearts and lives, and it's winning. And this is one social, cultural issue in which truth is winning also."
Harle said the Supreme Court's decision in the California case, expected in June, will have free speech implications far beyond the abortion context.
"And really beyond that," Harle said, "there's a broader question: Can the government require private speakers to say a government script?
"If this disclaimer were upheld here, there would be no principled reason why the government couldn't do the same thing and impose these sorts of onerous burdens on our speech, on other non-profits and charities and churches and religious schools—places where we should be most protected to speak our mind and live according to our conscience."