Moldova is a fascinating country, blessed by beauty and beset by tragedy. A former Soviet socialist republic that suffered under decades of Communist rule, the modern iteration of the nation was born in 1991, making it one of the youngest in the world. Its capital of Chișinău, however, is centuries old, with the first documented mention dating back to 1436.
Through history, this small corner of the world has been part of the Ottoman Empire, Russia, Romania and the USSR. Many of its inhabitants speak Romanian or Russian, often both. Some joke that if you can speak a little Russian and a little Romanian, you're speaking Moldovan.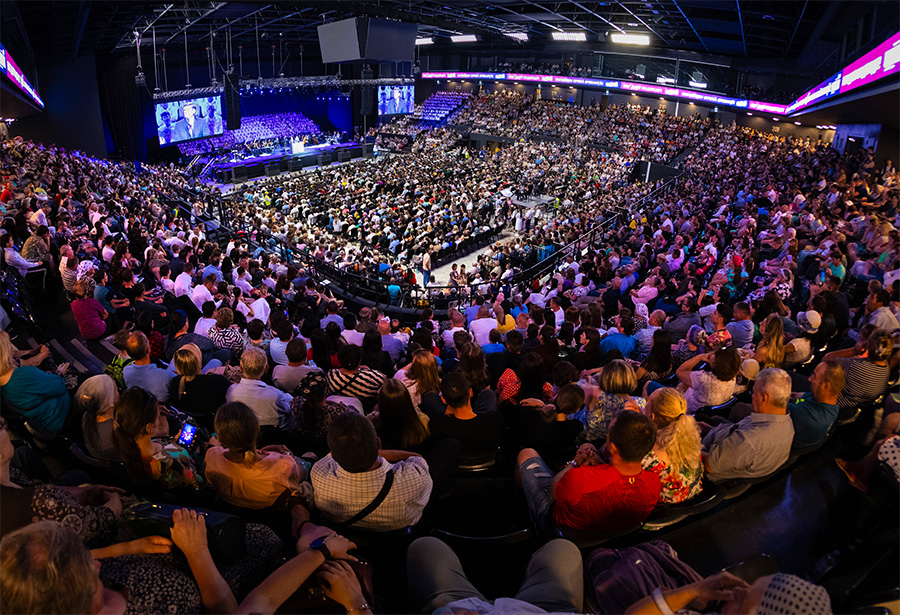 Economically, Moldova is among the poorest nations in Europe, and many families face serious financial struggles. Add the war in neighboring Ukraine (which borders Moldova on three sides), the influx of refugees fleeing the conflict and the constant irritation from the neighboring breakaway republic of Transnistria, and the fledgling country does not feel overly stable.
Perhaps that's why overflow crowds totaling some 19,000 people filled Chișinău Arena July 15-16 for the Celebration of Hope with Will Graham, eager to hear about the firm foundation of Jesus Christ.
"Jesus is the only One who can give you hope in this world, and when you make the decision to follow Him, you'll never regret it," Will said on the second night of the Celebration, sharing the parable of the Prodigal Son from Luke 15. "He'll give you more than hope—He'll give you joy. He'll give you peace. He'll give you purpose.
"My friends, if you don't have that joy and peace in your life, tonight you can have it. Like the Prodigal Son, it's time to come home."
Each evening when Will gave the invitation to make a decision for Christ, people poured forward from every corner of the arena—more than 1,100 in all—some with tears in their eyes, others beaming with wide smiles.
Ana*, an elderly woman (affectionately and commonly referred to as a babushka) with a deeply creased face and a thin blue scarf knotted on her head, slowly made her way forward. She grabbed hold of the counselor who was there to pray with her and began to share her story.
Mourning the loss of her husband, Ana was desperately seeking the hope of Jesus Christ. Indeed, she had already made the decision that she wanted to place her eternity into His hands. Her children, however, forbade it, citing traditions and requirements tied to her family's Orthodox adherence.
Ana managed to sneak away from her family and blend into the crowd at the Celebration of Hope. And when Will provided the opportunity to begin a relationship with Jesus and embrace Him as Savior and Lord, Ana could wait no longer. With relief on her weary face, Ana prayed a sweet prayer of repentance and surrender.
"God is great!" said the counselor who prayed with Ana. "She was happy. In her pain, in her loss, she found Jesus. She found hope." ©2023 BGEA
Erik Ogren is media relations manager for BGEA.
Photo: Ron Nickel/©2023 BGEA