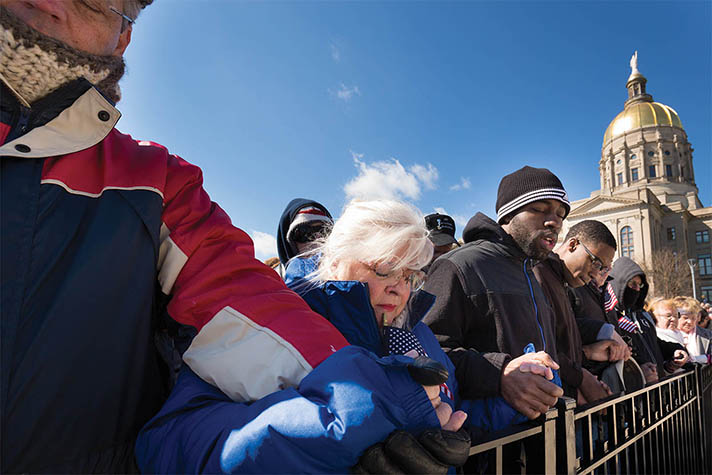 A businessman named Bob was skeptical of my claim. I had told church members the night before that God is working all around us, but we need to open our spiritual eyes so we recognize His activity. Bob had worked at his company for 12 years and had never witnessed God do anything, he said. Yet, feeling guilty that he had failed to be a Christian witness over all that time, Bob prayed that he would see where God was working.
All across our rotting culture, God has providentially planted His people in offices like where Bob works, in factories, in coffee shops, along the sidewalk in your neighborhood, in the halls of power and in the hallways of schools.
God wants to transform our nation by transforming hearts, and He wants to use you and me and folks like Bob to do it by joining Him in His redemptive work.
During lunch on the Monday after I spoke at his church, Bob decided to eat at a table in the staff lunchroom where a man was sitting alone. Bob discovered the man was going through marital turmoil. That morning he had engaged in a horrible argument with his wife. As he left the house, he told his wife that when he returned that evening he was going to leave her. The man was in anguish because he had a 7-year-old son he would also be separating from.
Bob invited his new friend to attend a church service with him that evening. To his surprise, the man agreed to go. In reality, the man wanted to delay going home until after his son was asleep so he could avoid a tearful confrontation.
Throughout the service, Bob prayed fervently for his friend. Yet at evening's end, the man had not made a decision for Christ. Bob drove the man back to the company parking lot to retrieve his vehicle. As the man was about to leave, Bob asked him if he had heard anything at church he would like to experience in his life. The man said he wanted the forgiveness and the new beginning mentioned in the sermon that evening. Parked in the otherwise empty parking lot, Bob led his colleague to faith in Christ. Then the man eagerly made his way home to introduce his wife to her transformed husband.
I heard Bob's story the next morning. He was ecstatic! Then it dawned on him that God had been working throughout the 12 years he had been employed at his company. He just hadn't recognized it.
On the night Jesus was arrested, He took His disciples to the Garden of Gethsemane and said, "My soul is exceedingly sorrowful, even to death. Stay here and watch with Me" (Matthew 26:38). Sadly, the disciples fell asleep. Jesus exclaimed: "Could you not watch with Me one hour?" (Matthew 26:40). Interestingly, though this passage is often used as an encouragement to pray, Jesus only mentions "prayer" to His disciples once (Matthew 26:41). However, He speaks of "watching" three times (Matthew 38:40-41).
While we generally understand what it means to pray, do we know what it means to "watch"? Our problem is that, after we pray, we often fail to watch what happens next.
Prayer is not designed for us to convince God of what we think He should do. Prayer is the method God uses to lay His heart over our heart. Jesus once chastised His disciples by saying, "Having eyes do you not see?" (Mark 8:18). Our spiritual senses must be developed just as our physical senses. This is best done through prayer.
My father and I work with Christian CEOs of major companies. We teach people how to see what God is doing in the marketplace and then to join Him. One day my father was teaching that we must rise early in the morning to spend time with the Lord so He can alert us to His activity. A CEO exclaimed, "But Henry, you don't know how busy I am!"
My father replied, "Apparently you don't realize who you are going to meet!"
The man began rising at 4:30 each morning to spend time in Bible study and prayer. He later shared how meeting with God had transformed his day. Each morning God prepared him for what he would encounter. By having his spiritual eyes opened each morning, he led an employee to faith in Christ.
Churches, as well as individuals, must learn how to watch and pray—and also to obey. During the early 1990s, a church was dying because its community had transitioned and the aging congregation could no longer maintain its property or pay a pastor's salary. The remnant decided to do one final 12-week Bible study together before it disbanded. They soon encountered the truth that God was at work all around them. They struggled with this reality, for none of them had seen God do anything around their church for many years. Nevertheless, as they prayed together, they sensed God inviting them to open their spiritual eyes and see where He was working.
That week an apartment manager approached one of the church members, asking if the church could do anything for the unsupervised children in the apartment block who were constantly getting into mischief. The church member shared this request with the others and they decided to undertake one final ministry project before they disbanded. As they began ministering to the children, several single moms approached them in need of help. Over the next few weeks, the church members came to know some drug addicts, a prostitute, and various other broken individuals who lived in that complex. God began changing lives.
When the group came to the end of their 12-week study, they realized there was now far too much happening in their church for them to disband! What had happened? As the church prayed, they also learned to watch. As they did, they saw God working throughout their neighborhood. Many lives were changed as a result.
God is mightily at work in our world today. If you will pray and watch, you will discover He is not just at work internationally or in megachurches or in prominent ministries. He is also at work all around your life. Why don't you open your spiritual eyes and see?
©2016 Richard Blackaby
Richard Blackaby is the president of Blackaby Ministries International and the co-author of Experiencing God.