The free exercise of religion, enshrined in the First Amendment of the U.S. Constitution, is a fundamental human right that should extend beyond national borders and governmental edicts, says Tony Perkins, the newly elected chairman of the U.S. Commission on International Religious Freedom (USCIRF), an entity established with the passage of the 1998 International Religious Freedom Act.
Perkins is known more widely among evangelicals for his position as president of the Washington, D.C.-based Family Research Council, which not only advocates for religious liberty but also the preservation of the traditional family and Biblical values. He says Christians in the U.S. must realize that religious freedom should not merely be considered a constitutional entitlement but the result of a Biblical worldview that sees each person as unique and valuable before their Creator.
In an unstable world in which religious freedom and the value of human life are diminishing both domestically and abroad, Perkins warns that Christians should "not grow silent and shrink back into the shadows of society, but be bold and courageous, even if it means we're swimming upstream against the cultural forces."
As USCIRF chairman, Perkins says his Biblical worldview compels him to defend religious freedom for all as ardently as he defends the rights of Christians to follow the dictates of their conscience.
"As believers, we understand that God has given man a freedom of choice," he says. "It goes all the way back to the Garden of Eden. We have a choice to follow God or not, to obey God or not. And so, as followers of Jesus Christ, we extend that same choice to people. We can't force people to follow God, but we can fight for the right for people to make that choice for themselves."
The global mission of USCIRF, Perkins says, "is not advocating a particular religion, but recognizing that God-given right to make a choice." 
Perkins says he is grateful for President Trump's recent pledge before the United Nations in New York of $25 million in U.S. funding to protect religious sites and relics from criminal attacks.
"That's a very tangible step, to go beyond just talking about religious freedom to provide practical steps that can preserve the fundamental human right to protect people when they gather to worship," he says.
USCIRF has identified 16 nations in 2019 as "Countries of Particular Concern" (CPCs) for U.S. State Department monitoring because their governments engage or tolerate "systematic, ongoing and egregious" religious freedom violations.
For example, Perkins says the Chinese government has detained more than 1 million Muslim Uighurs and subjected them to Communist Party indoctrination, forced labor and torture, not to mention its treatment of evangelical Christians. He says the United Kingdom has received reports of involuntary organ harvesting among the Uighurs to supply organ transplant procedures by other Muslim nations.
In Saudi Arabia, where Christianity is forbidden by the government, Perkins says children's textbooks aimed at radicalizing students are being published and distributed throughout the Middle East.
Nigeria, the most populous African nation, has about 200 million people, of whom about half are Muslim and half are Christian. Two Christian aid workers were executed there, according to a video posted Sept. 22 on ISIS' Amaq news agency site. Perkins says the Muslim herders and Christian farmers are in continual conflict over coveted farmland in Nigeria.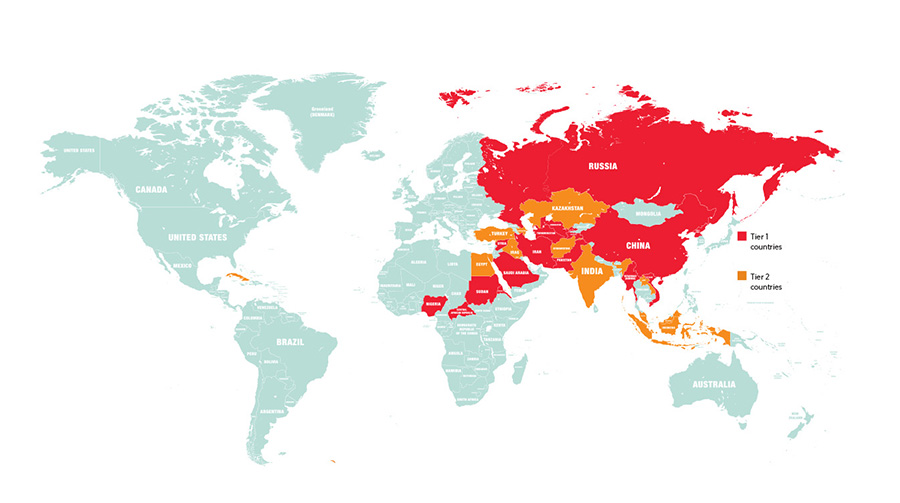 Other Tier 1 CPCs identified by USCIRF include: Burma, Central African Republic, Eritrea, Iran, North Korea, Pakistan, Russia, Sudan, Syria, Tajikistan, Turkmenistan, Uzbekistan and Vietnam.
Tier 2 CPCs are nations whose religious freedom violations are characterized by at least one of the CPC "systematic, ongoing or egregious" standards and include: Afghanistan, Azerbaijan, Bahrain, Cuba, Egypt, India, Indonesia, Iraq, Kazakhstan, Laos, Malaysia and Turkey.
"There is an unprecedented level of religious persecution that is taking place," Perkins says. "There's growing hostility toward Christianity, in particular, but also many people of other faiths. And the United States is in a key position to play a leadership role."
Yet that leadership role in the world is threatened daily by attempts to mute religious expression at home. 
Many cultural, media and political elites believe public officials should "check their faith at the door before entering the public square," Perkins says, pointing to a New York Times article in late March that assessed U.S. Secretary of State Mike Pompeo's Christian faith as a detriment to U.S. foreign policy. 
In July, Pompeo's State Department hosted about 1,000 attendees from 100 nations for its second Ministerial to Advance Religious Freedom.
The First Amendment, Perkins contends, was not written to erect a "wall of separation between all expressions of faith in God and all aspects of public life." He said political attempts to reinterpret the free exercise clause to mean "freedom of worship" only within the walls of churches must be challenged.
"We have great protections under the First Amendment to not just believe in our head, but to exercise with our feet, to walk out our faith in such a way that it influences the world around us," Perkins adds. "The Great Commission is to not just believe. Jesus didn't call His disciples into an upper room to stay there but to go therefore and make disciples. And the end of that is 'to teach them all things that I have taught you.' And so, as Christians, we should be bold and courageous and living out our faith."
Jesus' call "to take up your cross, deny yourself and follow Me" (see Luke 9:23) is as relevant today as it was when He commissioned His first disciples. 
"I think we need to begin challenging the church and teaching young people that following Jesus comes with a great cost," Perkins says.
Fear of political correctness and attempts by liberal politicians, media, academia and LGBTQ advocates to shame or discredit Bible-believing Christians should not diminish our Biblical convictions.
"The vast majority of true believers are troubled and know it's not right that schools are teaching our children that they can define their own gender and that boys can go into our girls' locker rooms and showers," Perkins says. "Even the secular-minded person knows it's not right."
A return to a holy fear of God among believers would squelch any fear of public backlash. 
"We need to be gripped by a reverence for God that will cause us to have the courage to stand in the face of the cultural forces that are moving in the opposite direction of the Word of God," Perkins says. "If the Word of God offends, it's not our word. It's His Word, and we can't make apologies for the Word of God. We need to defend it. We need to speak it. We need to embrace and uphold it."
Perkins, an ordained minister, Marine Corps veteran, former police officer and Louisiana state legislator, says he covets the prayers of fellow brothers and sisters in Christ as he and others defend religious freedom here and abroad.
"Pray that the Lord would be our rear guard, as we can't always see what's coming," he says. "We just need the Lord's protection spiritually, emotionally, physically. And just for the joy of the Lord, because that is where we find our strength—in the joy of the Lord."
Equally significant, Perkins says, is the responsibility that American Christians have both as citizens and followers of Christ to steward their God-given rights and freedoms.
"The First Amendment is something that is so unique, so precious, and of such immense value, but it's not one of those things that you lock away for security" he says. "It's something you use so that its full potential is experienced. We can't safekeep it for future generations if we don't use it today."