Seventy years ago, 27-year-old Elizabeth Alexandra Mary Windsor became the 39th British monarch to rule the United Kingdom. Known for her sense of duty and her devotion to a life of service, Queen Elizabeth II has ruled longer than any other monarch in British history. Last year, while not able to attend the General Synod Service and Opening Session of the Church of England in person, the queen asked her youngest son, Prince Edward, to relay a message: "None of us can slow the passage of time," she wrote, "and while we often focus on all that has changed in the intervening years, much remains unchanged, including the Gospel of Christ and His teachings."
The Limits of Earthly Time
Franklin Graham, who turned 70 on July 14, shared similar insight with the 7,600 people gathered at the ExCeL London for the final stop of the God Loves You Tour UK on July 16.
"I had a birthday this week, so I think about time. I've lived 25,550 days. That's 613,200 hours, and 36,792,000 minutes. I'm running out of time. I'm 70 years old.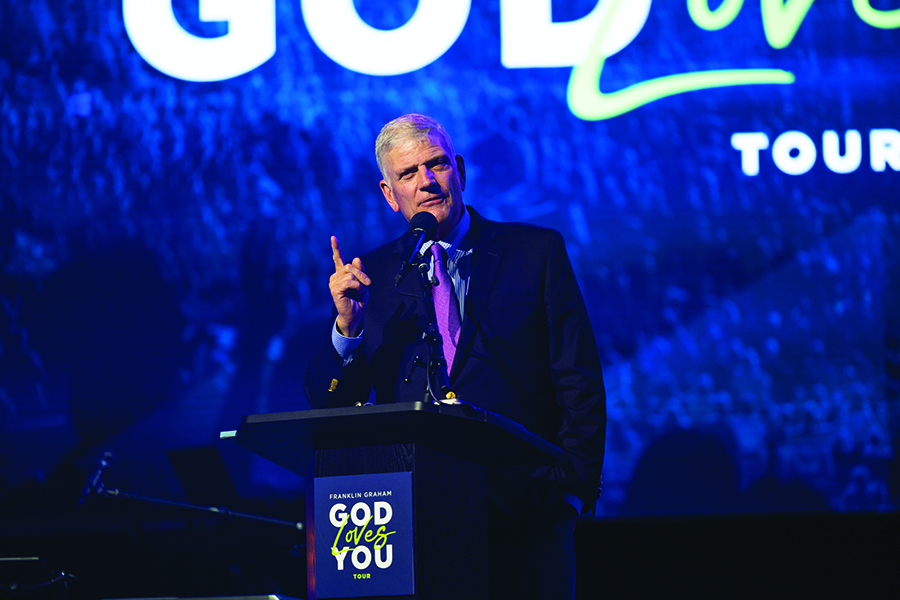 "But all of us are running out of time. How much time do you think you have? …. If your world came to an end, and your time stopped tonight, would God welcome you into His presence?"
A Rebellious King
Franklin went on to tell the story of King Belshazzar, a Babylonian king who scholars believe was around 41 years old at the time of the Biblical account. Although his grandfather, King Nebuchadnezzar, eventually humbled himself before the Lord, Belshazzar knowingly rebelled against God.
One night, the fingers of a man appeared and wrote a message on a wall in the king's palace.
Daniel was called to interpret the message, which read "MENE, MENE, TEKEL, PARSIN."
Daniel never revealed what language the message was written in, but he did give the meaning of each word:
"Mene: God has numbered the days of your reign and brought it to an end. Tekel: You have been weighed on the scales and found wanting. Peres [the singular of parsin]: Your kingdom is divided and given to the Medes and Persians" (Daniel 5:26-28).
That night, Belshazzar was slain.
A Nation in Trouble
Much like Belshazzar, many in the United Kingdom have chosen to live life separate from God. According to a recent survey from Talking Jesus, a partnership among several evangelical groups, only 6% of adults in the U.K. identify as practicing Christians.
"The spiritual culture in the U.K. has declined in the last 20, even 10 years," said Aaron, a prayer counselor at the event. A pharmacist by profession, Aaron has seen the consequences of sin at his previous job in a prison and now his current job in a juvenile detention facility.
"The world we live in is broken, and it's getting worse," he said.
In a recent interview, Franklin was confronted with the question, "Why is religion going out of fashion?"
"I was on Piers Morgan the other night," Franklin told the crowd at the ExCeL London, "and Piers was fussing at me. I kept reminding him that the Word of God is true from cover to cover. He didn't want to accept that. He told me that things have changed—that the world is changing and that the church is basically out of fashion. I said to him, 'Piers, God doesn't change. His Word doesn't change—His Word is the same yesterday, today and a million years from now. God's law doesn't change.'"
Let the Little Children Come
Seven-year-old Jacob isn't from a Christian home, but he's been attending a youth club at a local church. When the club leaders announced that they would be taking a group to attend Franklin Graham's God Loves You Tour in London, Jacob jumped at the opportunity to spend more time with his friends. But as Franklin spoke, Jacob felt something he had never felt before.
At the end of his message, Franklin invited those who were unsure of their eternal salvation to come forward and put their faith and hope in the one true God.
"By coming, you'll be saying to God, 'I'm a sinner, and I'm sorry, and I want to trust Jesus Christ as my Savior. I want Him to come and to cleanse me and forgive me,'" he explained.
"If you're willing to pray that prayer tonight, I'm going to tell you right now, your time will not run out because a new clock will start in your life, and it's an eternal clock. You'll be in the presence of God forever and ever and ever and ever."
Jacob turned to one of his club leaders and asked if she would go forward with him.
Abby, a 21-year-old prayer counselor, met Jacob and the club leader in front of the stage. She told Jacob that "something" he was feeling was the prompting of the Holy Spirit.
"I encouraged him that even though it's going to be hard coming out of here and trying to live a different life, putting Jesus first is the best decision he's ever going to make and it will be so worth it," she said.
Abby led Jacob in a prayer of salvation and welcomed him into the family of God.
A Second Chance
Walking around London, 24-year-old Suzanna saw a poster for the God Loves You Tour with Franklin Graham.
"I was like, 'Who is Franklin Graham?' So I went home and looked him up."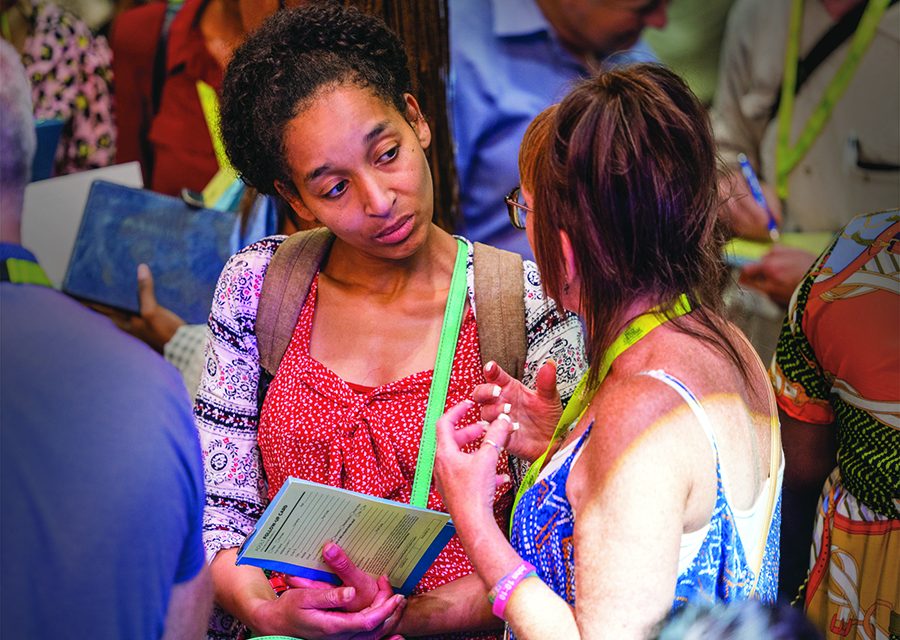 After learning that Franklin is the son of Billy Graham and an international evangelist, Suzanna decided to go check him out.
Suzanna had grown up in the Catholic church but had never felt the presence of God there. As a teenager, she discovered that she could have a personal relationship with God and she prayed to receive Christ as her Savior. But over time, she reverted back to her old ways and fell into sinful patterns again.
"I've been trying to find my way back for years," she said.
When Franklin invited those unsure of their salvation to make their way forward, Suzanna knew she had to go.
"This was an opportunity to rededicate my life to God and be sure of my eternity with Him."
Suzanna plans to get involved in a local church that will help nurture and grow her faith.
A Year of Jubilation
This year, the year of Queen Elizabeth's Platinum Jubilee, there is much jubilation as more than 1,400 people across the U.K. made decisions for Christ during the God Loves You Tour. From Liverpool to South Wales to Sheffield and finally London, more than 18,000 people heard the Gospel of Jesus Christ.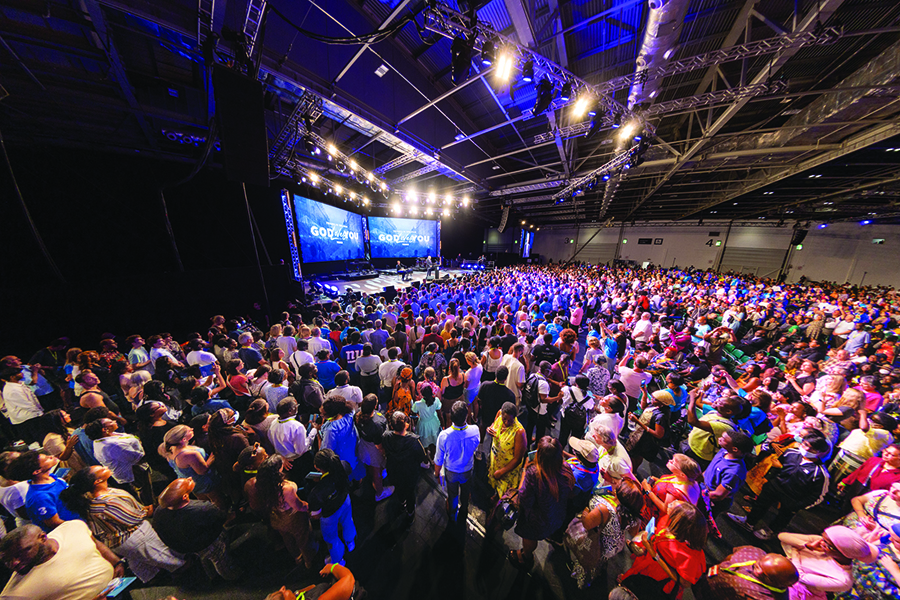 Originally scheduled for 2020, the Tour has been a long time coming. It was postponed in the face of the COVID-19 pandemic and challenges to religious freedom in the U.K. But with COVID restrictions eased, the benefit of an April 2021 landmark religious liberty ruling in Blackpool, England, as well as several favorable resolutions with venues that had previously canceled, God's Word was proclaimed.
"I've been praying for a revival, and based on tonight, I believe it's coming," said prayer counselor Aaron after he witnessed more than 700 Londoners embrace the gift of eternity with God. "We just need to keep sowing seeds and preaching the unchanging Word of God." ©2022 BGEA
The Scripture quotation is taken from The Holy Bible, New International Version.
Photo: Logan Ryan/©2022 BGEA