The box office success over the past two decades for Christian filmmakers Alex Kendrick and younger brother Stephen is a story not even Hollywood could fathom nor industry executives explain.
Two south Georgia ministers—with no professional training, experience or connections to the movie industry—launch their cinematic journeys more than 2,200 miles from Tinseltown and then watch their Gospel-themed movies captivate audiences around the world for God's fame.
"God still does big things out of small places like Nazareth, and Bethlehem and Albany, Georgia," Alex says. "He still uses our five loaves and two fish to feed thousands, and we love that because He gets the credit for it."
While Alex, 51, and Stephen, 48, readily admit that honing their scripting, directing and producing skills on each of their eight theatrical releases has been both humbling and gratifying, it's their faith that has flourished the most in the midst of God's faithfulness.
"The Lord can put a dream or a vision or a desire in our hearts and then, with us trusting the Lord and obeying Him and believing that something can happen, we can start walking in that direction," Alex says.
And that's exactly how each of the Kendricks' movie projects was conceived, beginning in 2003 with "Flywheel," about an unscrupulous owner of a used car dealership, portrayed by Alex, who surrenders to the Lordship of Christ in his life.
With an all-volunteer cast and crew from Sherwood Baptist Church in Albany, Georgia, where Alex and Stephen served on staff—and $20,000 in unsolicited donations that funded the movie's production budget—"Flywheel" ran for six consecutive weeks in the local Carmike theater. The low-budget film, written and directed by Alex and shot with a single digital video camera, has sold more than one million DVDs and garnered seven film festival awards.
Partnering again with their church, the Kendrick brothers released their second film, "Facing the Giants," in 2006, about overcoming fear with faith. Major film distributors passed on the project because of the movie's overtly Christian plot about a high school football team and its coaches who are committed to honoring God, win or lose.
Disheartened by the repeated rejection of Hollywood executives, the Kendricks and Sherwood Church staff and volunteers prayed fervently that God would make a way for the film to be released beyond its hometown theater.
Then while retroactively seeking licensing permission to use a song already in the film by contemporary Christian band Third Day, the Kendricks were shocked by the music label's response.
Not only was permission granted to use the song but the band's Provident Label Group shared the movie with its parent company, Sony, which agreed to release the movie in 441 theaters across the country. The film quickly grossed more than $10 million in ticket sales—more than 100 times the project's production budget of $100,000. The following year, "Facing the Giants" became the bestselling Christian DVD of 2007 and was released in 57 countries, generating more than $41 million in sales. Capitalizing on the movie's popularity, Thomas Nelson Publishers released successful novelizations of both "Flywheel" and "Facing the Giants."
More important, the Kendricks say, Sherwood Church has received thousands of emails and phone calls about people coming to faith in Christ after watching their first two films.
In 2008, Sony's Provident Films released the Kendricks' third movie, "Fireproof," about the reconciliation of a firefighter's failing marriage. The movie debuted in fourth place at the weekend box office and became the highest grossing independent film that year at $33.4 million, despite its meager $500,000 production budget and 1,200-volunteer cast and crew. And "The Love Dare," a marriage devotional featured in the movie, remained on The New York Times bestseller list for 131 weeks, reaching No. 1 twice.
In 2011, around the time Alex and Kendrick stepped away from their full-time church staff positions, their eldest brother, Shannon, 54, left his 20-year career as a software engineer with IBM to join his brothers as their newly founded movie production company's full-time director of operations.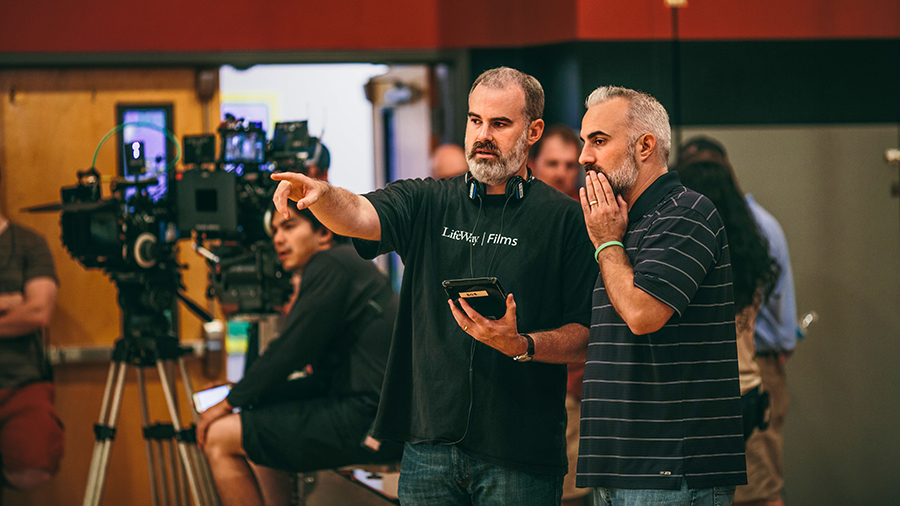 Fast forward and the Kendricks have four more box office sensations to their credit—including "War Room," a 2015 movie about fighting one's battles in prayer, which peaked at No. 1 in its second weekend in theaters.
And now their first film based on a true story, "Lifemark," is scheduled to premiere Sept. 9 in 1,300 theaters across 48 states. The movie, which celebrates adoption, chronicles a young man's journey to find his birth parents.
Yet while multimillion-dollar production and marketing budgets have followed the critically acclaimed Kendrick Brothers Productions label, their prayer-bathed process for making movies hasn't changed.
"Holy Spirit prompts with an idea and direction," Stephen says. "God's Word confirms. There's peace. There's provision. There's open doors. And then we can't take credit for it, because we didn't manufacture it. We just moved forward and saw God laying tracks in front of a moving train. We don't just make prayer the spare tire, we make it the steering wheel in our decisions."
That's why, when 12 Sony executives in California didn't enthusiastically embrace the Kendricks' "War Room" pitch about an elderly woman and her prayer closet, the Georgia natives weren't about to rewind what God had put on their hearts.
"It doesn't make sense to me either," Alex admitted during his meeting with Sony's top brass. "Closets aren't cinematic. Prayer is not highly entertaining. But I'm going to honor the Lord."
After "War Room" grossed nearly $70 million, making it the sixth-highest-earning Christian film of all time, one of the Sony executives committed his life to Christ.
A Kendrick Brothers movie about the power of prayer might seem destined for success when you consider their homespun inspiration.
During their early childhood years, the Kendrick family didn't own a television, but when their mother retired as an elementary school teacher, she bought her sons a VHS Quasar video camera to film their "chasing down and beat them up backyard adventures," Stephen says. Instead of doing oral book reports at school, the boys would often bargain with their teachers for a video project instead. And while "Star Wars" and "Raiders of the Lost Ark" arrested their attention in theaters, so did Christian movies like "The Cross and the Switchblade" and BGEA's "The Prodigal."
"People sometimes tell us we are the innovators of Christian filmmaking," Stephen says. "But we were handed the baton from other believers who were leveraging film in previous generations, including all that God did through Billy Graham and Worldwide Pictures."
Alex and Stephen both professed Christ as their Savior and Lord when they were teenagers and credit their parents, Larry and Rhonwyn, with teaching them how to pray big prayers and trust for God's provision.
They had watched their parents do the same when they started a private Christian school in Smyrna, Georgia, in the late 1980s after faithfully persevering together through Larry's multiple sclerosis diagnosis and subsequent bouts of depression.
"We saw them—in the midst of human suffering and weakness—launch a school," Stephen says. "And so, we saw the Lord, in turn, launch a movie ministry that would ultimately go to 80 countries from a Baptist church in Albany, Georgia, surrounded by farmland, gnats and heat."
And it's that same Baptist church in Albany, Georgia, where Alex and Stephen's cinematic journey began, that they still attend with their wives and children, alongside Shannon and his family. And where Larry and Rhonwyn live just 10 minutes away, but whose indelible marks of faith shine in every one of their movies.
"We've just seen that God's plans are better than ours," Stephen says. "His thinking is higher than ours. God's a better writer and director than anyone in Hollywood. We say a God idea is better than a good idea, so let's just keep trying to stay in sync with Him, not run ahead of Him, not lag behind. Let's try to stay in the center of His will."

Above: Stephen Kendrick, left; Alex Kendrick, right.
Photo: Kim Russell