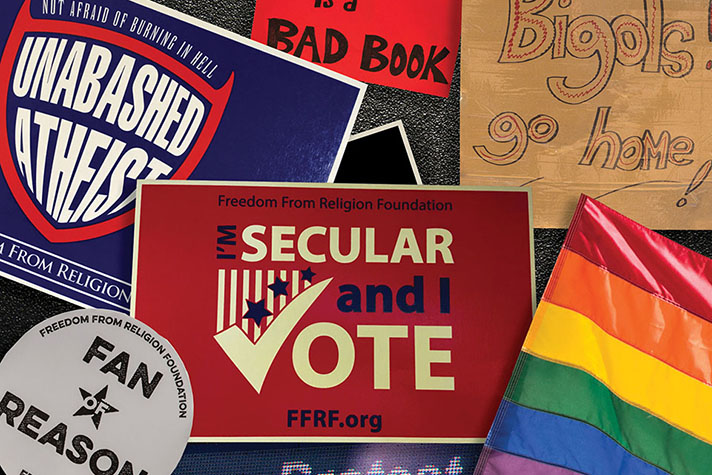 Like a boxer ferociously trying to finish off an opponent, those who oppose the Biblical worldview are ruthlessly rushing in for the knockout.
This is unfolding in the executive, legislative and judicial branches of government, in academia—from elementary schools to college campuses—and in the legal profession and beyond.
Buoyed by the U.S. Supreme Court decision last summer in favor of same-sex marriage, LGBT activists are spearheading the charge, setting a bullying tone that has been widely adopted by their growing list of allies throughout secular society and even in parts of the church.
Their end game is "to annihilate Biblical, genuine Christian faith," says pastor Dwight McKissic of Cornerstone Baptist Church in Arlington, Texas.
"They clearly want to remove Christ from the psyche and conscience of the American public," McKissic said. "They don't want Christian values in the marketplace or in the political realm or in the public school system."
The most rabid arena appears to be in higher education, especially at law schools.
A May 6 blog by Harvard Law School professor Mark Tushnet captured the essence of the drive to vanquish conservative Christian values, which he considers bygone.
"The culture wars are over; they lost, we won," wrote Tushnet, a professed progressive scholar. "For liberals, the question now is how to deal with the losers … My own judgment is that taking a hard line ('You lost, live with it') is better than trying to accommodate the losers. … Taking a hard line seemed to work reasonably well in Germany and Japan after 1945."
That comparison of today's social conservatives to post-World War II Nazis is startling, but Tushnet's general perspective is hardly isolated.
"We are at an age in this culture when traditional Judeo-Christian ethics are deemed unacceptable and harmful in a tolerant society," said Liberty University Law School professor and Associate Dean Rena Lindevaldsen. "What the Nazis did was atrocious, and for folks who hold traditional views to be essentially equated with that kind of hate, it's the first step [liberals] have to take to suppress and silence us."
At the Columbia University Law School, a panel of professors is lobbying President Obama to remove an exemption for religious non-profits that receive federal grants, which would dramatically alter their hiring practices and force them to provide services and products that violate their beliefs, such as abortion-causing drugs.
Lindevaldsen warned that believers in general have been far too lax about responding to attacks on their religious freedoms.
"The church is really not responding to the red flags that are taking place in this country," she said. "We've got wonderful individuals, like Franklin Graham and others, who are really speaking out and trying to wake up the church. But it's not happening in large enough numbers fast enough—and it needs to start happening if we want to stop this snowball that's forming so swiftly."
The liberal full-court press is getting at least some pushback from within its own ranks. In May, one day after Tushnet's blog post, the New York Times published the first of two op-ed columns on the subject by Pulitzer Prize winner Nicholas Kristof, who cited "liberal arrogance" that discriminates against conservatives.
"Universities risk becoming literal echo chambers and hostile environments … especially for evangelical Christians," Kristof wrote. "As I see it, we are hypocritical: We welcome people who don't look like us, as long as they think like us."
Kristof indicated that his rebuke mostly fell on deaf ears, writing that "almost every liberal [said] I was dead wrong."
As hard as it may be to fathom, academia and culture are trying to reimage God Himself, says John Stonestreet, president of the Colson Center for Christian Worldview.
"It's like remaking God in our own image, instead of us being made in His image," Stonestreet said. "That not only changes who God is; it changes who we are. That's kind of the chronic problem in the church and out of the church—refusing to take God on His own terms."
Particularly disturbing is that many children are being indoctrinated in schools.
The Gay, Lesbian and Straight Education Network (GLSEN) advocates championing LGBT issues starting in kindergarten. The group has widely distributed student literature and activities such as "Deconstructing Definitions of Family" and "Discovering Your Inner Trannie."
In an example of just how deeply this abhorrent doctrine has penetrated mainstream culture, GLSEN recently announced its collaboration with the National Basketball Association to market T-shirts with rainbow-colored logos for each of the league's 30 teams. All proceeds benefit GLSEN, and the campaign coincided with June being LGBT Pride Month.
The NBA previously threatened to move its 2017 All-Star game away from Charlotte, N.C., unless government officials in the state reversed conservative legislation regarding public bathrooms.
President Obama's administration has taken a leading role in the onslaught, especially when U.S. Attorney General Loretta Lynch announced a nationwide directive in response to the North Carolina controversy. The directive sought to give transgender people in all 50 states the right to use whatever bathroom matches their "gender identity," rather than their biological sex.
In doing so, Lynch equated transgender issues to the former Jim Crow laws that discriminated against African-Americans until the Civil Rights movement of the 1960s.
That comparison is an appalling insult to blacks, say McKissic and Bishop Wellington Boone, Christian pastors who have been among the nation's most prominent defenders of the Bible's positions on marriage, family and sexuality.
"I'm highly disappointed in the attorney general and anyone else for making such a wrong-headed, illogical comparison," said McKissic, an African-American. "There is absolutely no connection."
Boone, a speaker, author and founder of The Father's House Church in Atlanta, Ga., wrote a pamphlet on the subject for a Family Research Council meeting. In it, he said: "What blacks have gone through to gain their freedom is related to their culture and race. What gays are dealing with is related to their behavioral preferences and a desire for sex."
Just as culture has sought to redefine discrimination, marriage, sexuality and gender, words like love and hate have been assigned new meanings to fit secularist agendas. And the rainbow—God's sign of promise to His people—has been hijacked by the LGBT community to serve as its symbol.
"The ploy is if you can control the messaging and what words mean, that's a big step toward achieving your goals," said Lindevaldsen, the Liberty Law School professor.
Some state legislatures and courtrooms are also part of the conspiracy.
On June 1, the Massachusetts House of Representatives voted 116-36 to pass a bill with sweeping new gender identity rights. If signed by Gov. Charlie Baker as expected, it not only would open up bathrooms, but also would replace the word sex with gender identity in numerous areas of Massachusetts law—another action clearly violating God's created order.
Not only have heavy-handed activist judges advanced the liberal agenda, the tenures of conservative Christian judges are being threatened.
Alabama Supreme Court Chief Justice Roy Moore was suspended in May for alleged ethics violations after he instructed the state's judges not to issue same-sex marriage licenses despite last summer's U.S. Supreme Court ruling.
And in Wyoming, attempts are underway to oust Ruth Neely, a small-town circuit court judge and part-time magistrate who said her Biblical convictions precluded her from officiating a gay wedding.
Jonathan Cahn, a Messianic Jewish rabbi, best-selling author and featured speaker at the May 5 National Day of Prayer event in Washington, D.C., said America's turning away from God has reached epidemic proportions reminiscent of the defiance that led to the demise of ancient Israel.
"The [Biblical] prophets warned that those who call evil good will end up calling what is good evil—just as America's apostasy from God is now crystallizing into a brazen intolerance of anything Christian or Biblical," Cahn said.
"Evil is never content to be tolerated. Once it finds a foothold, it seeks to stamp out anything and anyone who stands in its way or refuses to condone it. The priests of Baal were not satisfied until everyone bowed down to their god."
Cahn said we indeed are living in days much like those Biblical times, requiring truth-tellers to boldly rise up like Elijah against those who flagrantly oppose God and His ways.
"If the dark is growing darker, then the light must increase its intensity to shine all the brighter," he said. "These are the days that produce the greatest testimonies, witnesses and people of God—if we will stand.
"We must remember that even with all we face, God is greater and stronger. We remain on the winning side, and the eyes of the Lord are searching throughout the entire earth looking for the one whose heart is completely His. Regarding that one, God will show Himself mightily. We each must resolve to be that one."  ©2016 BGEA