Since Russia began its "special military operation" in Ukraine in early 2022, millions have lost jobs, homes and loved ones. Some fled to other countries for safety, but others stayed, either to serve in the armed forces or to provide aid to those who were experiencing loss and trauma.
One who remained is Vitaliy Tkachuk. After evacuating his wife, Maria, and daughters Maya and Emma, to western Ukraine, he began volunteering at a Samaritan's Purse Emergency Field Hospital in Lviv. There he helped to lead a number of people to faith in Christ, and now he serves as a chaplain coordinator for the Billy Graham Rapid Response Team (BG-RRT). He and his family were reunited this past January, and Maria now serves with BGEA as well.
Here, Vitaliy explains how he remains thankful to God even in this difficult time.
When I was taking my family to safety, it looked like the end of the world. We had a full tank of fuel in our small car, but all along the highway, people were running out of fuel and, leaving their cars behind, they were walking with their suitcases.
From news reports, it looked like our city, Irpin, was half destroyed. It had been a well-to-do area, but now people had lost everything. No one knew what to do at that moment. You are living a normal life, and naturally you imagine that your life will continue to be successful. Then you wake up one day and realize you are at rock bottom.
But as Christians, we know that God's presence can bring healing. When I was in Lviv, separated from my family, I saw many people coming every day to the train station. I remember thinking, We Christians have something that distinguishes us from other people—even in the hardest periods of life, we have a peace. Even now, I don't hear believers talking about what they have lost; I hear them saying how God has worked and blessed during this time.
I prayed that God would give me an opportunity to serve people who were struggling. God answered my prayer, and I now serve as a chaplain coordinator for the Billy Graham Rapid Response Team. We now have 73 BG-RRT chaplains in Ukraine, and I am thankful for the opportunity to be there to serve our Lord.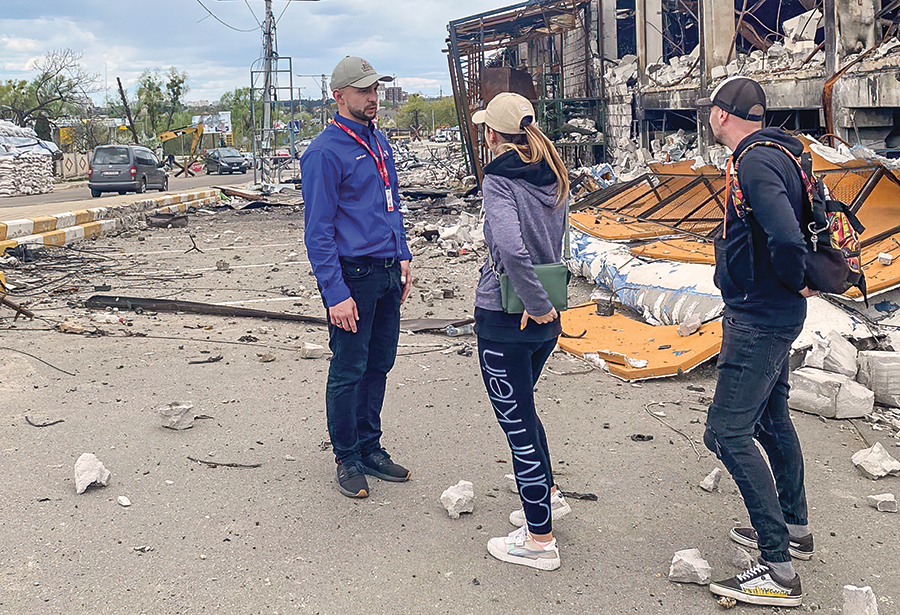 When people have comfortable circumstances, they can forget to thank God. They start to think that this is something they accomplished themselves. That's how it was in our city of Irpin. Before the war, the church wasn't growing much; it was hard to tell people that they need God. Why do they need God if they have success, money, beautiful houses?
But now everything has changed. It's the most important time for us as Christians to tell people about God. I don't want to waste this time—it won't last forever. It's very important to use this time to tell people that they need God, that they need to repent and that they need to accept Christ as their personal Savior. And during the crisis, people are open. They are looking for help. We are thankful for that openness.
Looking back, I learned thankfulness from my parents—and to be thankful not only in good times, but also when you struggle.
Just before the war, Maria and I started to help our youngest daughter, Emma, learn how to be thankful. And now, every time I pray with her, I ask her to think about what we can thank God for—especially for small things at first. So Emma and Maya see that we are thankful for the new day, for the sunshine, for rain that helps plants grow. And then we show them how we can be thankful for bigger things, like our family, the opportunity to be here, the fact that we are alive.
So thankfulness is very connected with prayer for me—it's constantly in my thoughts. For Maria and me, our main prayer now is not only for the war to end and the death to stop. I understand that we could win the war and still lose, morally and spiritually. That's why we are praying for our nation and trying to help people with the moral and spiritual challenges they are dealing with and will face after the war.
For us, the main question is how the church will help. People will be dealing with lots of trauma. The amount of divorce is already huge, and it will only grow because people will be changed by the war. So our church is involved in creating a veterans' center, and we are training new chaplain volunteers to serve veterans and military families.
Even now, during the war, I believe God is trying to teach us to be thankful and to see His blessings.
It's very important to learn how to be thankful during small difficulties. Then, if you experience something hard, it will be easier to remain thankful. And when we're thankful to God through hard circumstances, we become stronger. ©2023 BGEA
The Scripture quotation is taken from The Holy Bible, English Standard Version.
Photo: Thomas J. Petrino/©2023 BGEA