Tim Tebow remembers the day it all came into focus. He was 15—an ambitious, lionhearted young athlete whose fiery competitiveness was tempered by a tenderness toward God. There had been a handful of other "a-ha" moments, but on that day, he saw clearly what the possibilities were. How things could and should be. And he was all-in.
For Tebow's fans, his journey to American sports icon is familiar, and his seminal moments are legendary. If there's a poster illustrating the quintessential "all-in" team player, Tebow's image—bearing John 3:16 eye black—surely graces it.
There was his unforgettable "I promise" post-game speech as Florida's Heisman-winning quarterback after an early season loss to Ole Miss in 2008. Thereafter, the Gators disposed of every opponent en route to their second college football championship in three seasons. In that title game against Oklahoma, Tebow wore eye black with "John" under his right eye and "3:16" under the left. Some 90 million people googled the reference.
There was the 2011 iteration of the Denver Broncos, rallying from a 1-4 start to make the AFC playoffs as an 8-8 wild-card team with Tebow at quarterback and the Mile High City engulfed in "Tebowmania." In a thrilling playoff win against the Pittsburgh Steelers—three years to the day after Florida's 2009 national championship—Tebow threw for a season-high 316 yards. His completions averaged 31.6 yards. The TV ratings share for the final quarter, which included the winning touchdown throw by Tebow in overtime, was 31.6%. And the Steelers' time of possession for the game was 31:06. Skeptics said it was an interesting coincidence. Tebow credited "a big God."
Even Tebow's five-year run at pro baseball in the New York Mets organization had a few such moments. The outfielder hadn't swung a bat in a game since high school. But off the very first pitch thrown at him in MLB's instructional league, Tebow hit a home run. He did it again during his first at-bat in Low A ball. In High A, he homered in his first game. In Double A, he took his first pitch deep again. According to Mets beat writer Tim Britton of The Athletic, Tebow was a "possible and maybe likely" call-up to the Mets in late 2018 before a broken bone in his hand ended his season early.
On Feb. 17, the 33-year-old Tebow announced his retirement after "a lot of input, a lot of wise counsel, a lot of prayer, a lot of talking with my wife," Tebow told Decision in a phone interview. He and his wife, Demi-Leigh, marked their one-year anniversary on Jan. 20.
For Tebow, the end of pro baseball, admittedly bittersweet, doesn't change his ultimate calling. His sense of purpose was set years before he was a household name.
The day Decision talked with Tebow, he was prepping for a virtual meeting with representatives from more than 30 countries who had helped organize the Tim Tebow Foundation's "Night to Shine," a worldwide prom night experience, centered on God's love, for people with special needs. Night to Shine is typically held in person at churches the Friday closest to Valentine's Day, but because of COVID-19, this year's event was mostly online.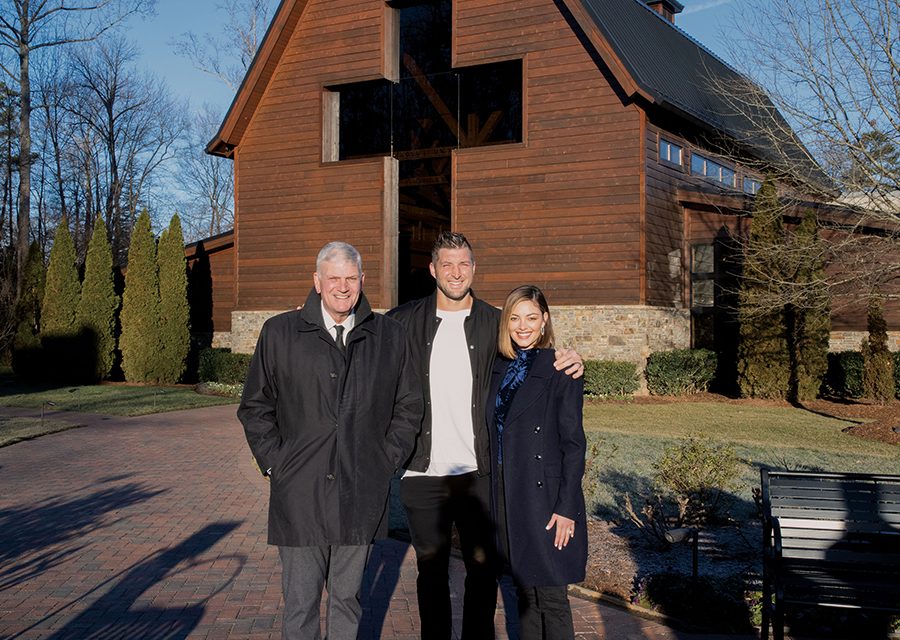 The Tim Tebow Foundation, built around Tebow's passion for spreading the love and hope of Christ by "fighting for those who can't fight for themselves," not only organizes Night to Shine and the year-round Shine On special-needs ministry, but is involved in the fight against human trafficking, providing adoption aid to families who seek to adopt children with special needs, and providing life's essentials to abandoned or homeless orphans. 
Tebow can recall some moments in which God impressed on him a special sense of mission: The first time as a kid that he shared the Gospel, along with his older sister, with a young man on a park bench. An eighth-grade mission trip during which he put his shyness aside and stood to share his testimony in a gaming arcade. Even though Tim and his peers were out of their comfort zone, God used their witness, and some of the young people there responded by placing their faith in Christ.
And there was that defining moment at age 15—when God clarified his life's calling with an unshakeable conviction. On a mission trip with his dad to the Philippines, Tebow was visiting a remote village of about 1,200 people when he met a young man named Sherwin, born with a severe leg and foot deformity and considered cursed and untouchable. At one point, Tebow picked Sherwin up and carried him, causing a stir among the villagers who were nearby. That day, those in the village learned about a Creator God who fashions each person in His image. As the Gospel was preached, souls were saved and eyes were opened, including Sherwin's.
"When I was sharing the Gospel with him, we never talked about what Heaven's going to be like," Tebow recalls. "We never talked about what your body's going to be like in Heaven. We never talked about running in Heaven. But I just thought it was such a God-thought that the first thing he said to me was, 'I can't wait to run with you in Heaven.'
"I knew on that trip that what I was supposed to do for the rest of my life wasn't just play sports; I knew I had a new mission after that. I could tell you 10 more times when God reemphasized and reemphasized and reemphasized that calling, over and over again.
"What I try to tell people is, I'm so grateful for what I believe God's called me to do, which is to really fight for people who can't fight for themselves and serve them and lift them up and try to care for them in their darkest hour of need."
When Tebow hears stories of people with special needs all around the world who were touched by a Night to Shine event; or about young people rescued from human trafficking because Christians intervened; or when a person discarded by the world is lifted up and loved for Christ's sake; he's reminded: "I know this is why I'm here."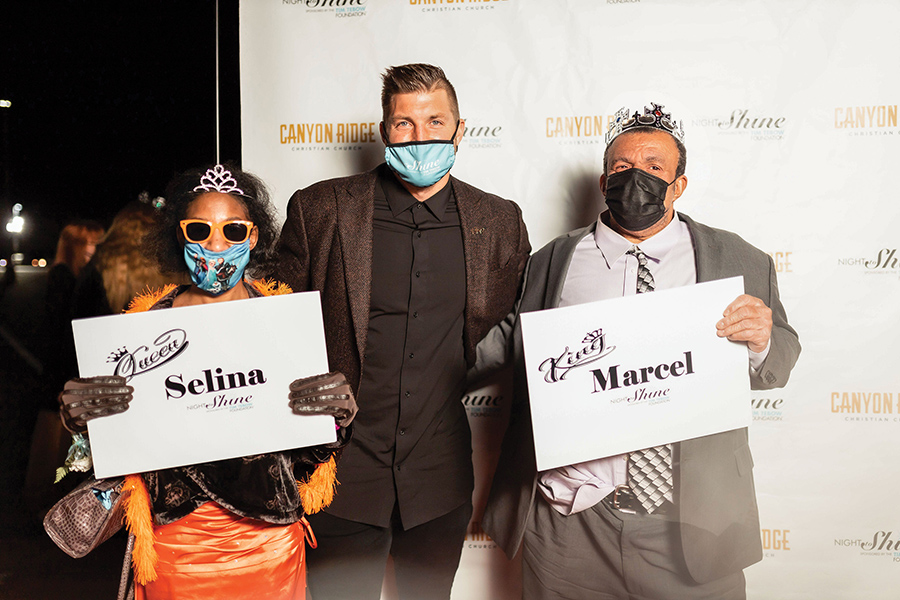 Part of Tebow's adamance about purpose and mission emanates from the realization that his mother, Pam, while pregnant with him, chose to ignore the advice of doctors in the Philippines, where Bob and Pam Tebow were serving as missionaries. She had contracted a life-threatening infection and was advised to consider an abortion. Doctors didn't believe Tim would survive.
"I'm so grateful that when I was weak, my mom fought for me, and that's why I'm here. I'm grateful that God spared me so that I can fight for others who are in that dark hour of need, who need people to fight for them."
"When I talk to our foundation team," Tebow says, "we talk about how every day we don't go to work, we go to our purpose. We go to our calling. We get to go try to push back darkness, to go bring light into the world."
One of the written nonnegotiables of the Tim Tebow Foundation is that the endeavors they engage in are part of a "rescue mission."
"When you hear of a rescue mission, it puts a timeline on it," Tebow says. "When's the last time you heard of a rescue mission that's going to take place in three, four, five years? No. When you say it's a rescue mission, it's urgent, it's right now. Jesus came on a rescue mission for us, and we're on a rescue mission for humanity— to bring faith, hope and love to every single person in their darkest hour of need."
And it starts, Tebow says, with seeing each person as God sees them.
"I feel like if God gave us a glimpse to see people and see things the way He does, our actions would drastically change. What we think is important would look so different, and we would see people not for their baggage, not for their past decisions, but for who they were created to be."
Photo: Reuters/Alamy