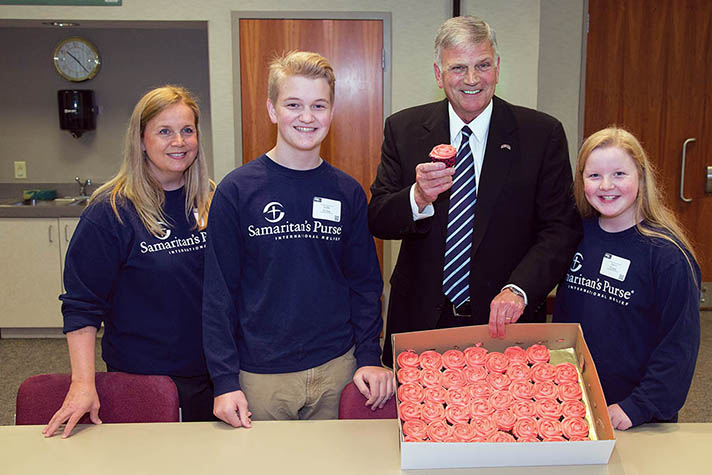 Gabe Feinn, 15, and his sister Livvy, 12, are living for Jesus, and the impact is being felt around the world.
Ever since Gabe and Livvy set a goal to raise $35,000 for a mission hospital in Africa, they've appeared numerous times on local television stations, spoken at churches, camps and benefit events, and even been offered a spot (that they turned down) in a Food Network cooking competition.
More than that, they have proclaimed the love of Christ at every opportunity and have inspired thousands. They met their fundraising goal, and also a bigger one: to live out the Biblical instruction "Let no one despise you for your youth, but set the believers an example in speech, in conduct, in love, in faith, in purity" (1 Timothy 4:12, ESV).
Livvy and Gabe, who is already winning awards for his artfully decorated cakes, first learned about the needs at the mission hospital in a Samaritan's Purse Christmas gift catalog. Actually, their initial plan was to raise $14 to buy a chicken for an impoverished family overseas. When they quickly surpassed that amount, they raised their sights to a $70 goat, then to $150 in medical supplies.
But money kept coming, and they realized they were thinking too small.
"Since we knew that we would be able to accomplish the goal, it didn't take any faith in God to make it happen," Gabe wrote on the siblings' website.
They told their mother, Vicki, they were trying to decide between raising $10,000 for a water purifier and $35,000 to renovate the maternity ward of the Nyankunde Hospital in the Democratic Republic of Congo.
They chose the hospital and achieved their goal within a year, with Livvy baking and Gabe decorating thousands of cakes. Vicki says that although she and her family didn't really know what they were getting themselves into, God had a clear purpose in mind. It was as if God said, "This is the hospital I'm going to allow two children to completely renovate using cupcakes, so that no one can say it was done in man's strength. It was only done in God's strength."
Since January, Gabe and Livvy have gone on to raise another $13,000 to provide a well for a village in Niger.
Every step of the way, the two have made it clear that it is their faith in Jesus Christ that motivates them. They have prayed and fasted, seeking God's guidance and aiming to glorify God above all.
In May, they attended the Decision America Tour rally in Frankfort, Ky. They brought cupcakes for the staff and also cookies in the shape of Kentucky with the word Pray on them.
"Prayer was a huge part of our project," Livvy said, "and I just love it that Franklin is going all around the country and praying with people."
Gabe added that when he and Livvy would bake cakes, they would pray that the person receiving the cake would accept Jesus as their Lord and Savior and that God would be glorified. "It's really cool," he said, "that Franklin Graham was praying for the same thing: that people would accept Jesus, that they would get involved and that America would glorify God once again."  ©2016 BGEA