"Radical humility. Compassion. Honesty. Confession. Life-altering commitments."
This is how Asbury University President Kevin J. Brown describes what he witnessed on the private Christian campus in central Kentucky where a spontaneous student-led gathering in February continued nonstop in the school's chapel and several overflow buildings for nearly two weeks.
Social media was abuzz with viral accounts of salvation, forgiveness, reconciliation, spiritual and physical healing on the Wilmore campus. Tens of thousands of people of all ages and ethnicities—longing to draw close to God—traveled great distances to the campus and waited outside in long lines for hours just to be where it all began on Feb. 8.
What began as a typical 10 a.m. chapel service in the 1,500-seat Hughes Auditorium took on a life of its own when 18 or 19 students remained in the auditorium praying after the service ended. Word spread throughout campus and soon students, faculty, staff and community members were offering prayers of supplication, intercession and adoration. By 2 p.m., Brown issued a campuswide invitation to rejoin the growing crowd who were still praying, singing and testifying long after the scheduled chapel service had concluded.
By the second day, people started to come from the town of Wilmore and the greater Lexington area, and at least 100 people fell to their knees during an altar call for repentance and confession.
"Whether you call this a revival, a renewal, an awakening or an outpouring, what we have experienced on our campus these last few weeks is unlike anything I've ever seen in my life," Brown said in a four-minute video he posted to Twitter on Feb. 19.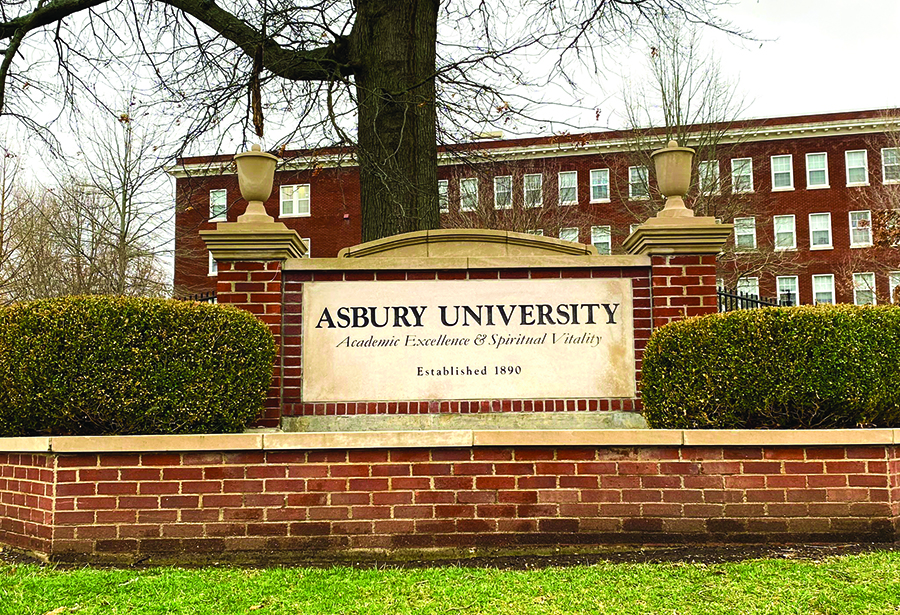 Charity Johnson, an Asbury student and a member of the chapel worship team, remained in the chapel until 3 a.m. several times over the two-week gathering.
"Allowing God just to have His space and welcome His Spirit in, I believe, is what gave people the comfortability to just come to the altar and not feeling like this is a quick thing and let's go to class," she said during a Zoom video interview with Intercessors for America, a national prayer ministry. "It's made people see that it's OK to just sit in His presence and not just rush off to the next thing. So, people being in one accord and being in agreement with just letting the Spirit lead I believe is what was inviting God to just come and move like He did."
George Dumaine, an Asbury chapel worship leader, said he witnessed firsthand the Book of James' teaching that "if we draw near to [God], He'll draw near to us."
"There's a real palpable hunger for God that isn't fabricated, that isn't manufactured," Dumaine told Jennie Allen, a women's Bible study and discipleship leader and podcaster who interviewed people on campus. "People want God, and I think that is a sign of true revival when humans can finally realize what we're really made for and go after it. We're made for God."
In his video remarks on Twitter, Brown said the worldwide interest in God's moving on the Asbury campus is an example of Jesus' promise in Matthew 5:6: "Blessed are those who hunger and thirst for righteousness, for they will be filled."
"We look to other schools, other churches or ministry communities as co-commissioners in this movement that's taking shape before us," Brown said. "Whatever happens here, our deep desire is to see life-transforming renewal of our younger generations to faithfully serve their communities, their schools, their churches and their professions. To see them go into the difficult and dark places in the world and to be light."
In the wake of Asbury's revival, other Christian universities have also experienced similar campuswide expressions of students lamenting about sin, repenting and worshipping Jesus with heartfelt praise.
Lee University, a school with Pentecostal roots, began holding around-the-clock worship services on its Cleveland, Tennessee, campus shortly after Asbury. On Feb. 20, Christian filmmaker Alex Kendrick posted a video on Twitter from outside the school's chapel.
"There is no spectacle other than seeing hearts transformed," Kendrick said. "Revival is still going on. That chapel behind me is still filled. It's been almost two weeks now, and I think that is amazing. … So, what's going on at Asbury, Lee University, Samford University, Cedarville in Ohio, there's a number of colleges that are now seeking the Lord. And praise God for this generation that is seeking after God."
Cedarville University President Thomas White provided Decision with an email he had sent to faculty and staff following several days of extended evening chapel sessions on campus in which more than a dozen people made professions of faith.
"We must keep the marks of genuine revival before us," White wrote. "We should see confession of sin, repentance, salvations, Jesus being exalted and the Word of God being held high. We must maintain a humble posture with no exaggerations as to what is happening, seeking to avoid fabricating something through emotional events on the one side and hindering the work of the Spirit through skepticism or not encouraging the right opportunities on the other side. A genuine work of God must be organic."
Baylor, Texas A&M, Eastern Kentucky, Oklahoma Baptist and Regent universities have also experienced extended breakouts of student-led calls for repentance, praise and worship, according to CBN News.
Rhett Wilson, pastor of Spring Hill Baptist Church in Lancaster, South Carolina, made the seven-hour drive with his wife to Asbury University on Feb. 16. As a college student in the 1990s, Wilson had watched a documentary about the February 1970 Asbury revival that helped launch the Jesus People Movement—the last great revival to sweep across America. Wilson is hoping and praying that 53 years later, Asbury University might once again be the catalyst for another outpouring of the Holy Spirit throughout the U.S. and the world.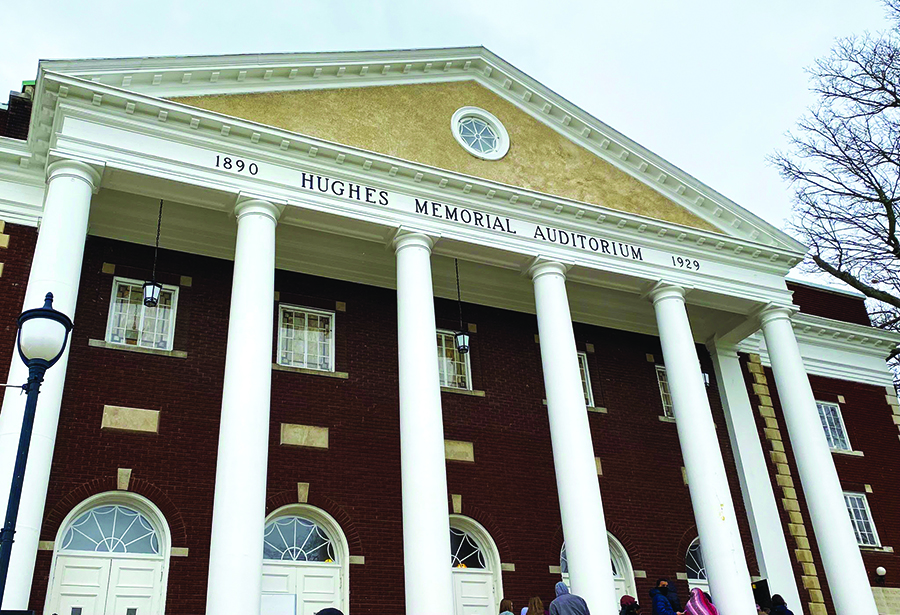 "God was in the house," Wilson told Decision. "And people were worshipping Him. This is not about a speaker, music group or showman. Jesus is center stage. Three hours there seemed like just a little bit of time. At Asbury, they are not just inviting people to find forgiveness of sins. There is a clear emphasis on submitting to the Lordship of Jesus Christ. In the time we were in Hughes Auditorium, we heard a clear exhortation on 'dying to self' and living the Spirit-filled life."
Greg Laurie, senior pastor of Harvest Christian Fellowship in Riverside, California, and a member of the Billy Graham Evangelistic Association's Board of Directors, professed his faith in Christ as a teenager during the Jesus People Movement. Laurie told The Christian Post that the culture he experienced in the late 1960s and early 1970s is similar to today, with many young people experiencing disillusionment, depression and a lack of purpose.
The movie "Jesus Revolution," released in theaters in late February, tells the story of Laurie's conversion to Christ during a national revival among teenagers and young adults that introduced youth culture into evangelical churches and birthed the contemporary Christian music phenomenon.
"This generation needs hope, just like our generation needed it," he said. "And I pray that this movie will be a spark. It's been said the theme of revival spreads the flame of revival. We're telling the true revival story, and we're praying it will inspire young people to say, we want to see that for our generation. I think if people start praying for this, we can see revival."
Brown emphasized that although revival is the "fruit of our mission,"—having recorded such movements on campus in 1905, 1908, 1921, 1950, 1958, 1970, 1992 and 2006—Asbury University is not the epicenter for spiritual transformation in America.
"We are not the keeper of this movement," he said while announcing that Feb. 23 would mark the conclusion of extended gatherings on campus as area churches would begin hosting such meetings. "Please pray that we all would be changed. Please pray that what is happening here moves across states and countries and continents." ©2023 BGEA
The Scripture quotation is taken from The Holy Bible, New International Version.
Photo: Courtesy of Asbury University