Simon Croft and his then-fiancé, Dawn, were there when Billy Graham preached in Sheffield, England, in June 1985. So was Katrina Moynihan. Nigel Fawcett-Jones manned the door outside where the world-renowned evangelist entered the venue.
Thirty-seven years later, they were all back together again—this time for the United Kingdom God Loves You Tour with Franklin Graham. Franklin's message of salvation and hope in Christ for anyone willing to repent of their sin and profess Jesus as Savior and Lord was similar to that of his father's.
"It took me back, really, to his father," said Dawn Croft. "He's very much like his dad." Back then, Dawn made her public profession of faith in Christ when the late evangelist extended an invitation. "I went down that Wednesday and unbeknownst to me, Simon went down the same night and rededicated his life to Christ."
But on May 25, Dawn was more than nostalgic. She rededicated her life to Christ. "I'm a bit backslidden at the moment, but I've started going back to church," said Dawn, who's been married to Simon for 36 years and raised a family in Sheffield.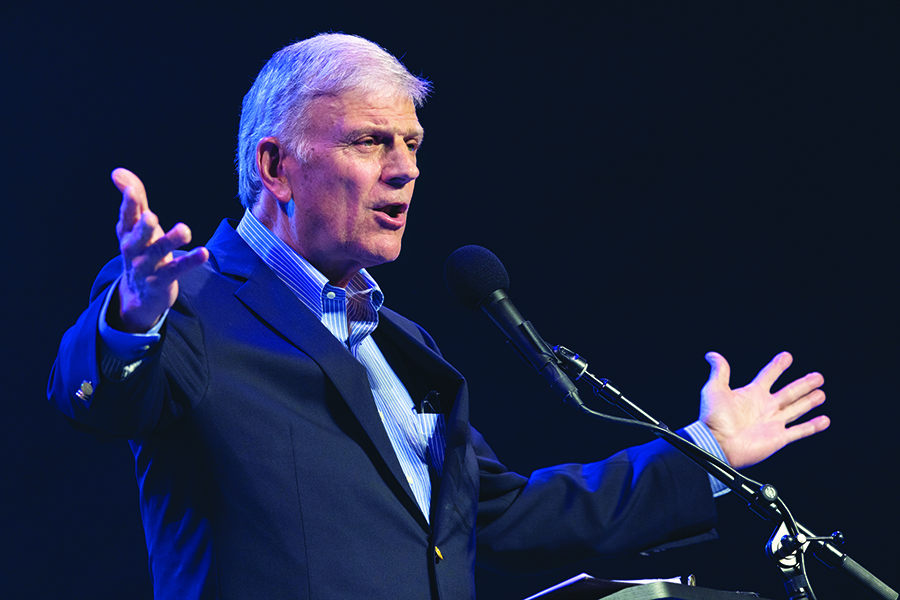 When Franklin invited the 4,300-plus attendees in the Sheffield Arena to come forward to make a decision for Christ, Katrina wiped away tears while following her husband, Billy, as he wobbled quickly with a cane from the back of the building to the rope cordon in front of the stage. "I've never seen him walk so fast," she said.
Two-and-a-half years ago, Billy, 68, suffered a stroke just four weeks before he was scheduled to retire from his job as a maintenance technician at the University of Sheffield. "I just want to follow Jesus, that's it, follow Him," Billy said after voicing a prayer of repentance and faith led by Franklin.
Katrina said she had been praying throughout the couple's 48-year marriage for her husband's salvation. "I'm always praying," she said. "Hallelujah! Praise the Lord! I didn't expect that, you know."
Nigel was 19 years old when he welcomed Billy Graham to his home city of Sheffield. Now he serves as the U.K. Billy Graham Rapid Response Team (RRT) chaplain manager. "An event like this brings hope," Nigel said. "Sheffield has been through tough times with the decline of the steel industry and decline of the coal mining industry. It's reinvented itself as a university town. Franklin's message is a message of hope that God loves you, and what better hope can we have than security in Christ?"
Bruce Govett, U.K. RRT chaplain coordinator, drove 300 miles from his hometown of Devon to welcome and pray with people attending the Tour in Newport, South Wales, and Sheffield. He and his wife, Kathy, prayed with a woman battling cancer and a man recovering from a serious head injury, as well as a woman who lost her job and Tour decision counselors who just needed encouragement.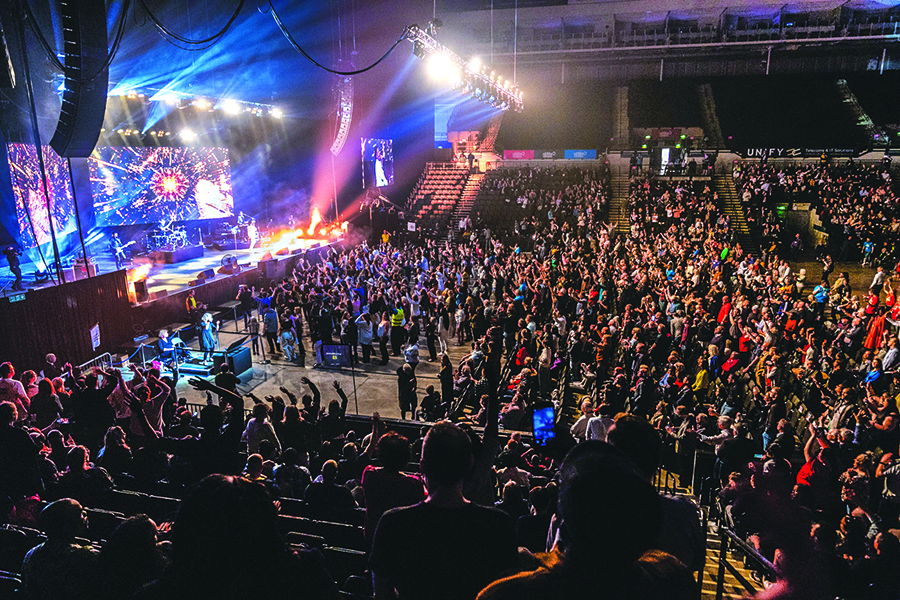 Meanwhile, about 80 protesters chanted outside the arena in Sheffield, "Go home, Franklin."
"I just wish they would go in there and listen to him," said Bruce, 76, who also serves as a street preacher and chaplain to his local police department.
Jay Smith, 26, drove an hour-and-a half to Sheffield from Birmingham to pass out Gospel tracts and Tour invitations to passersby at the bustling Sheffield City Centre Square for two days before the event. He led a man to faith in Christ as he sat with him on an outdoor bench at the shopping center.
"I've listened to Billy Graham many times," said Jay, who has been a street preacher since he became a Christian 10 years ago. "I listen to his sermons again, and again and again. I've learned a lot through Billy Graham about how to preach and how to share the Gospel."
Photo: Logan Ryan/©2022 BGEA