Four-time Emmy Award winner Kathie Lee Gifford might be best known to a younger generation of television viewers for her 11 years as co-host of the fourth hour of NBC's "Today" show alongside Hoda Kotb. To older viewers, her 15 years as co-host of "Live with Regis and Kathie Lee," for which she received 11 Emmy nominations, is what made Kathie Lee a household name. In 2015 she was inducted into the Broadcast & Cable Hall of Fame. She's an actress, singer, songwriter, playwright, producer, and most recently, director. She has written numerous books, including five New York Times bestsellers. And just this year, she received a star on the Hollywood Walk of Fame. But above all the screen time and career accomplishments, Kathie Lee would say the greatest gift she's received is an eternal relationship with God through Jesus Christ, and the greatest honor is sharing that gift with others.
Q: Who has been the biggest spiritual influence in your life?
A: Billy Graham, by far, has been the most influential. He was a very cherished friend to me since I was in my 20s, so over 40 years. Billy's the one that told me all those years ago, "Just keep telling people God loves them." That's what I've tried to do.
You know, my whole family came to know the Lord through his ministry in one way or another, so I'm deeply, deeply grateful to Billy for how faithful he was to the calling of God on his life. God called him and he went.
And my father was probably next to Billy. My father was the godliest man I've ever known.
My father was Jewish and came to know Jesus as an 8-year-old little boy at a little church in Annapolis, Maryland, where they were having Vacation Bible School in the summertime. And he just asked Jesus into his heart, and I'm telling you, a godlier man would be very hard for us to find.
Q: Throughout your 45-year career, what has it been like being a Christian in the television industry?
A: I always found it thrilling because it was the mission field God called me to. I never looked at it as a negative. I looked at it as, "Look at all these people who have yet to find out how much God loves them." And I've got to tell you, many, many people came to have a relationship with the living God just by the opportunities that I had to share Jesus with them.
My calling, my ministry, was always in the world, not the church. It was in what people would call the secular world, but I don't call it that. It's the world. God loves everybody in this world. I think that's a problem with the Western church. We don't get out of our pews enough.
Q: Those who have followed you know you love God's Word. How did you get to a place of desiring a deeper understanding of Scripture?
A: I've been a believer in Jesus since I was 12 years old and went forward at the first Billy Graham theatrical release, something called "The Restless Ones." I was sitting in a darkened movie theater in Annapolis, Maryland, and went forward and gave Jesus my life. God met me right where I lived and breathed, which is as an entertainer, and God knew that. He designed me in my mother's womb just for those purposes. And so, ever since then, I have made the Word of God the center of my life because "in the beginning was the Word," and we know, of course, that the Word was Jesus (John 1:1). Jesus co-created all things with the Father and the Holy Spirit. And so, the Word is something not just symbolic of the Scriptures. It is the actual incarnation of God Himself in the person of Jesus.
To this day, I'm a student of the Word. I study rabbinically with Biblical scholars, meaning I go to the Holy Land and see the actual places where all of these stories—these amazing, thrilling, epic stories—took place, and I study the original Hebrew and the original Greek words. So enough of it has rubbed off on me, and enough of it has impacted my life that I am able to share it in a very confident way.
Studying Scripture this way has lit such a fire in my gut to really know the Word. There's nothing more powerful and nothing that cuts deeper down to the very soul than the Word.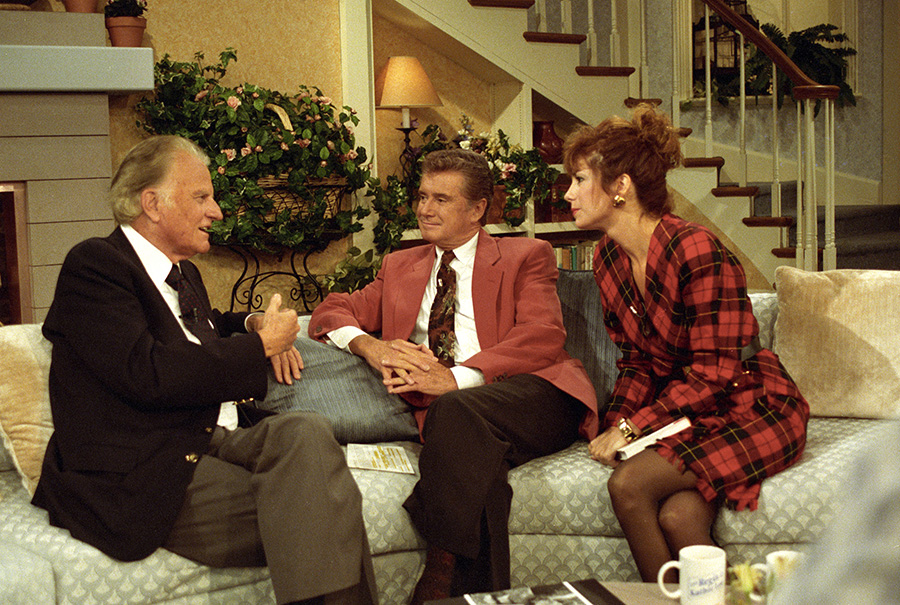 Q: As you've shared your faith with many people throughout your life, what have you found to be helpful when talking to non-Christians?
A: You have to tell the truth, and the Word says to say it in a gentle and loving way. Leading off by telling people they're going to hell has never worked for me. Telling people that Jesus loves them and has a beautiful plan for their life, which is what Jesus said to my spirit when I was 12 years old, works. I heard Him first of all say my name every bit as much as He said "Mary" at the garden tomb after He was resurrected. She didn't recognize Him until she heard Him say her name. That's how personal a God Jesus is. And He said to me in my little heart when I saw this movie, "Kathie, I love you, and if you'll believe in Me and trust Me, I will make something beautiful out of your life." And that's what I wanted. That was my heart's desire. And so, I just went forward, and I was never the same human being.
Have I sinned every day since then? You bet. Yes, I have. Have I experienced God's grace and mercy every single time? Yes, I have. So, it's an ongoing journey. And it informs now all of my creative work. I accept or reject certain offers based on what I think Jesus wants for me. What does He want me to do? Does He want me to say yes to this? Does He want me to say no? Every time I take it to Him, and He makes His will very clear to me.
Q: Do you have a favorite verse or passage of Scripture that you often turn to for guidance?
A: Philippians 4:13 says, "I can do all things through Christ who strengthens me," but someone suggested to me that it also means, "I can do all seasons through Christ who strengthens me."
I'm in a brand-new season of my life since my husband died and I moved to Tennessee. I'm a widow in a strange land just like Ruth was, but God took care of Ruth and led her straight to Bethlehem and to the threshing floor where she laid down at the feet of Boaz. God provided for her, and her kinsman-redeemer, Boaz, a godly man, took care of her.
God has gotten me through all kinds of tragedies in my life, and disappointments and heartbreaks, and He's still here. I do not know what the future holds. I just know Who holds the future. And that future goes long beyond my last breath.
Q: As you've entered a new season of life, what's your hope for how the Lord will use you?
A: I always pray every morning, "Lord, make me a blessing today." People don't need any more burdens. I have boldness that the Lord's given me, and I think that's the biggest gift He gave me. He put in me a boldness to share the hope that is within me with a world that needs Him. There are people who are hurting and people who are hopeless, and they need to be held. They need prayer. They need kindness and a touch.
There is absolutely no excuse for us as believers not to impact people on a daily basis in whatever world we live in and work in. God—Jehovah Jireh—will provide many opportunities for us to have an impact for Jesus in this world. But if we're so engrossed in our own lives, those opportunities will be missed because we won't see them.
We shouldn't have our imaginations and our focus so much on the hereafter that we're not here and now. God wants us to grow here and now. He wants to use us here and now and not let our past affect it and not let our hopes for the future affect it. Be here right now with that person standing in front of you.
The Scripture quotation is taken from the Holy Bible, New King James Version.
Photo: Jeremy Cowart