Pastor and author Don Wilton has written a new book, being released this month, about his nearly 25-year friendship with Billy Graham. During those years, Wilton visited Mr. Graham almost every Saturday and saw a side of him that few others had the opportunity to see. In "Saturdays With Billy," Wilton shares more than 20 heartwarming stories of moments with his friend, illuminating the qualities in Mr. Graham's character that were true to the end and revealing the heart of the man whose light still shines today. Recently, Decision asked him about his unique friendship with Mr. Graham.
Q: How did you become acquainted with Billy Graham?
A: I had been associated with BGEA as a speaker for the Billy Graham Schools of Evangelism. I discovered later, after I became personal friends with Mr. Graham and through the director of the Billy Graham Schools of Evangelism, that Mr. Graham had had a small part to play in requesting that I be a teacher.
But in 1993, when I became the pastor of First Baptist Church of Spartanburg, I preached on television on Sunday, July 7. And my telephone rang when I went back to the pastor's study. It was Mr. and Mrs. Graham on the phone, and they were essentially calling to welcome me. It took me totally by surprise. Mr. Graham asked me whether I would be kind enough to consider coming up to pay him and Miss Ruth a visit.
It was amazing how quickly I was able to rearrange my schedule! That very next week, I drove up to BGEA's Montreat office, and I was taken up the mountain to visit Mr. and Mrs. Graham.
We sat for quite some time on the front lawn that day, a beautiful summer's day, drinking tea, laughing, sharing together, with me in awe of the fact that I was in the presence of a man of this stature. And yet they made me feel like I was such an honored guest.
And after that meeting, they asked me if I would come back, and that invitation persisted. God began to cement an uncommon friendship between a very young man—who was simply the pastor of a local Baptist church down in the valley—and someone of the stature of Billy Graham.
Our friendship deepened in a very spiritual way. I couldn't have explained it at the time, but as I've had time to look back on it, it was a friendship that was forged in the heart of God Himself.
It was only 10 years later that Mr. Graham asked me if I would formally become his pastor. In fact, for the first 10 years that I visited him, most weeks I never spoke about the visits. I guarded the privacy and the integrity of our meetings almost to a fault. It only became known when Mr. Graham chose to make it known later on.
Q: What were your feelings during that first visit?
A: I was both extremely nervous and extremely grateful for the opportunity. When the motorcar pulled up outside the door of the Graham residence, the door opened and Mr. and Mrs. Graham stepped out. He was dressed in blue jeans and a blue sweater. He had running shoes on. She looked so beautiful; she radiated the love of Christ. Mr. Graham walked up to my door, opened it, extended his hand and called me "pastor." Everything was upside down! Had some outside person been there, they would have thought that I was a celebrity, that I was an important person. And we know how ridiculous that is. Everything was backward.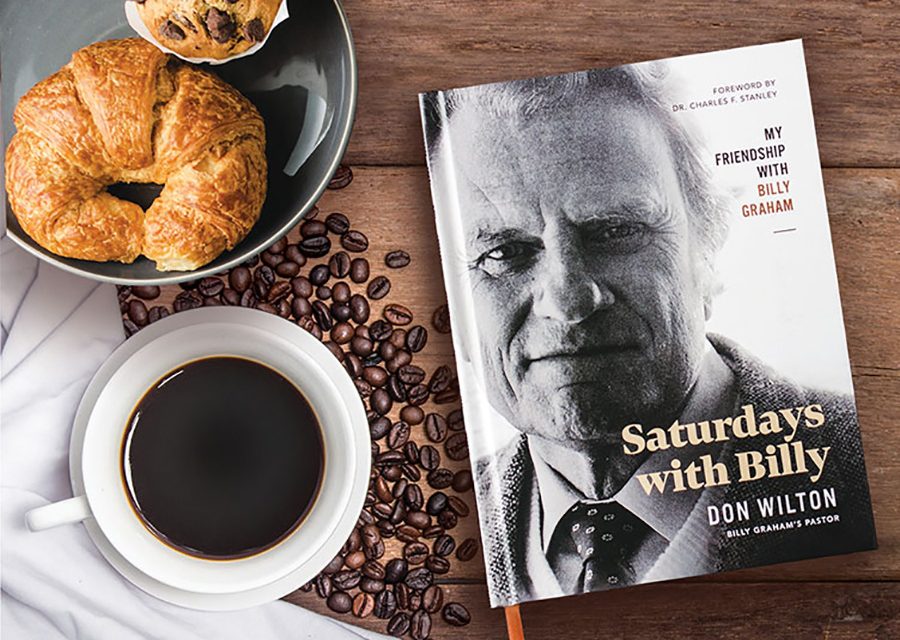 He always made me feel like I was the important person, that I had the answer, that I was the one who understood what the Bible was saying, that I was the one who needed to be consulted. And the only way I came to understand this was that I was watching someone who reflected the Lord Jesus Christ. Jesus humbled Himself to the point that He became the servant. He gave His life. He became nothing. He took upon Himself the sin of the world, even though He Himself knew no sin.
Mr. Graham would be most unhappy with me for saying that because he did not see himself that way.
Q: What did your visits look like during those many years of friendship?
A: Oh, did we have times of such laughter and joy. I would make him laugh his head off, and I had the privilege of being able to say things to him that nobody else would ever think of saying. Like, "Brother Billy, I just think you're being far too humble right now." But that's what friends do, don't they?
In the 1990s, while Mr. Graham still had a lot more energy, we moved around a lot as he received visitors, worked on writing his books, prepared sermons and maintained his calendar of events.
I enjoyed so much walking around the house talking, sitting, playing with the dogs. And, of course, the food. We had a great time over the table. Every time I was there, food came into it. We had a lot of fun and a lot of good meals around the kitchen table.
As his age advanced and he became less capable of moving around, we continued to enjoy the same dynamic but in a more restricted manner. We would spend all our time in the study or the kitchen. I remember one Labor Day he called me, so I jumped in my motorcar and spent the day with him. We put the chairs outside and even had chairs that he was pretending some of his grandkids would be in. We had hot dogs, and we were throwing sticks, having a great time together, just the two of us talking.
After his 95th birthday, he became reduced in movement, but never in heart. He became limited in physical capacity but never diminished in his spiritual capacity. And down to the very last, the Spirit of Christ welled up within him. And so, our visits became more limited—from the yard, to the house, to the study and to the bedroom. But never was our friendship diminished, never the conversation and never the fire that burned in his heart.
Q: How did that friendship make a difference in your own life, preaching and ministry?
A: The Lord allowed me to sit at the feet of, in my judgment, one of God's peerless servants. I had over 20 years of nonstop engagement, instruction, encouragement, warning, directing. He taught me, and he poured out his heart in doing so. He taught me when he asked me my opinion. He taught me when he answered and gave me his opinion. It was a proverbial seminary.
I was and am the pastor of a local congregation, and Mr. Graham entered into my functional call as pastor of a people that I had the privilege of teaching, preaching, loving, leading, guiding and praying for. And for every question he asked me, I asked him a hundred. Our conversations centered around God's will for our lives. It was a proverbial search for the perfect place to be as men of God because for Mr. Graham, the only place he wanted to be was at the center of God's will. And he pushed me into that zone.
My entire time with him, with all the laughter and the fun and the food and the fellowship, was one long seminar. And it hasn't stopped. These few years since his home calling, that hasn't stopped. I'm in a life lesson because of the life of this man. And the greatest legacy he passed on is the call for every person to be an evangelist for Jesus Christ.
Interviewed by Bob Paulson, Editor, Decision magazine.
You can order "Saturdays with Billy" at Ruth's Attic Online.


Above: Don Wilton, left, with Billy Graham during one of their many visits.
Photo: Russ Busby/©2010 BGEA