World's Fastest Human. For 100 years—since it was first applied to multiple world-record-holder Charley Paddock—this unofficial moniker has been attached to Olympic and world champions such as Bob Hayes, Jim Hines, Carl Lewis and Usain Bolt.
Trayvon Bromell was a favorite to take up that mantle by winning the 100-meter dash at the Olympic Games in Tokyo. Although he came up short—missing out on the final by one-thousandth of a second—titles were never his ultimate goal.
"At the end of the day," Bromell told Decision a few days before leaving for the Games, "He's shown me how powerful He is, and He's shown me the reason for doing what I'm supposed to. Regardless of it all, look at the impact it has made since me coming back on the scene. I haven't won a title; I haven't done anything. But this word, me speaking of God, has hit many across the globe. I tell people it's not about titles for me. It's not about a medal with me. It's about reaching millions of people that need to be saved."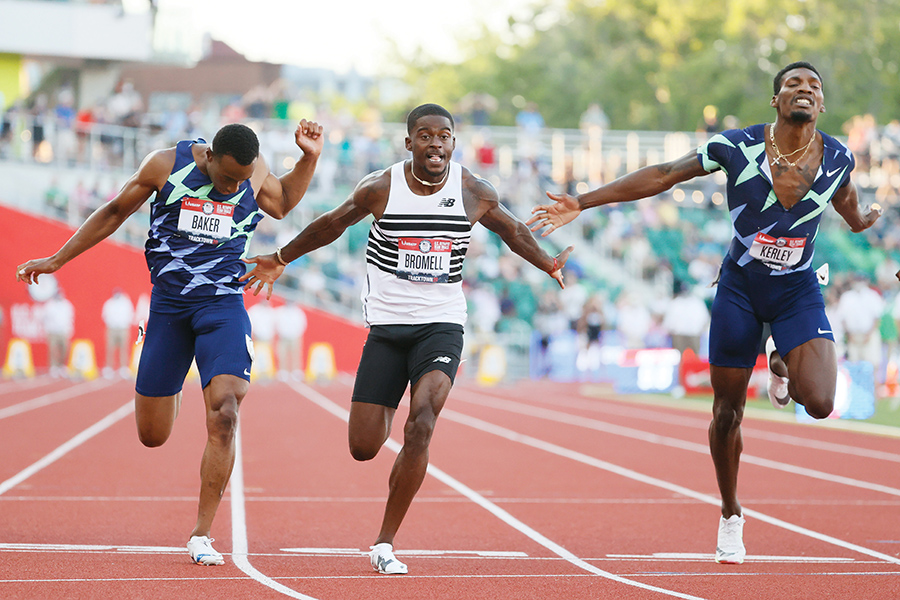 Bromell has had a consistent message for the past year, after returning from multiple injuries and surgeries that threatened to end his career. All year, interviewers have wanted to talk about his races, his times, his remarkable comeback. He wants to talk about God.
"I feel like we're still blinded by seeing me back running," he said in a television interview in April. "The story is God is powerful, Christ is powerful. Look at what He is doing in front of your eyes. Like, how much more does He have to show you all, to tell you all, that He's real?"
Highs and Lows
The track and field world has been watching Bromell since his high school days in St. Petersburg, Florida, when in 2013 he won both the Florida high school and the USA Junior Outdoor 100-meter championships. He went on to race for two seasons at Baylor University, winning the NCAA 100-meter title as a freshman in 2014. The next year, he won the NCAA indoor 200-meter title. In the outdoor championships he took second in the 100 and third in the 200. He turned pro and continued to post blazing marks in 2015 and 2016.
Then came the setbacks—one after another for nearly four years. As the Olympic trials approached in 2016, a bone spur near his Achilles tendon hampered his training and hurt his performances, though he still made the team. But at the Games in Rio de Janeiro, he finished a disappointing eighth in the 100-meter final. Five days later, he anchored the U.S. 4×100 relay team. As he lunged for the finish line in what looked like a third-place finish, his Achilles tore. He left the field in a wheelchair—after learning that the team was disqualified because of an illegal handoff between two of his teammates.
At times over the next three years, as he endured a seemingly endless rehabilitation process, Bromell wasn't sure if he would ever be able to compete at the same level again, or if it was even worth it to keep trying.
But hardship wasn't exactly new to Bromell. Raised in poverty by a single mother on the south side of St. Petersburg, he grew up with gang influence and violence all around him. That kind of upbringing can destroy a person, but Bromell points out that it can also help you learn how to withstand the storms of life.
Sprinting helped to keep Bromell out of trouble. He took up the sport at age 4, and he has described his coach, Garlynn Boyd, as being like a second mother to him.
So it was yet another hardship in 2020 when Bromell, finally healthy again, learned a few days before his first race that Boyd had passed away from COVID-19. But over the following weeks, Bromell put together a scorching string of races that put him back in the conversation as one of the world's top sprinters, and he was nearly unbeatable for most of 2021, winning 11 of 12 races leading up to the Olympics.
A Turning Point
It was during his forced hiatus from sprinting that Bromell got serious about living for Jesus Christ. Although he had been baptized as a teen and had talked about his faith throughout his career, 2018 marked a change. "I was in a low point," he told Decision. "And I feel like we see in Scripture that a lot of people go through these trials. We see how God changed them. … In those down times, God showed me, 'I told you that you couldn't do it by yourself. But I told you that with Me, you can do all things.' Once I gave myself 110% into His Word, I started to see a change. It wasn't just me knowing like one Scripture. It wasn't just me knowing the Lord's Prayer. It's bigger than that. It's actually building that connection and relationship."
He has posted about the change on social media: "In 2018," he wrote on Instagram, "I told God He can have the money, He can have all the miscellaneous things back. I just wanted to run, to feel free again. He said, 'I don't want that, I want a relationship with you.' All it took was for me to put my all into Him [rather] than to put my faith in the material things I have gained. It cost me nothing to let go and let God."
Talk with Bromell today, and you will hear God's Word.
"Every day I speak, I find myself bringing Scripture into play," Bromell said. "And that's how it should be. … So it becomes a thing where, every time I open my mouth, I'm talking about the Word."
He is part of a daily Bible study group with other track and field athletes around the world. Using WhatsApp, they are reading through the entire Bible. The group is currently studying the Psalms. "We're just going through the whole thing, book to book, chapter to chapter," Bromell said. "It's just reading and discussion, pretty much breaking down the Word and understanding it, and knowing how to teach it when asked."
His social media posts consistently point to Jesus Christ. When he turned 26 in July, his Instagram read: "Lord, You've blessed me to be able to live on this earth for 26 years. I am grateful for the life You've blessed me with. Not just being an athlete and a scholar, but the spiritual transformation. I will forever speak Your Word as long as I live. Thank You, Abba. You are Yahweh Elohim. You are the creator and perfector of our fate."
The morning after missing out on the 100-meter final in Tokyo, Bromell posted: "No, I did not make the final of the Olympic Games. Also, I'm not rolling around in a pool of sorrow. Why? Because all year I have told the world it's never been about the material for me but the change internally. God has brought me back from a career ending injury. Just to show the world that He is right in front of all [of] us. My head is up, because God You are marvelous. Eternal life with You is my Gold Medal! All praise to Elohim Our God. What a great One we serve!"
Photo: Michael Kappeler/dpa/picture-alliance/Newscom