Sean Feucht has spent much of the last 20 years focused on bringing the Good News of Jesus Christ to countries around the world. But in recent years, something shifted in the heart of Feucht, now a 37-year-old husband and father of four, and his focus was brought back to his own country.
A musician and worship leader all of his adult life, he says he never thought he'd enter the political sphere, but after his heart was moved to be more engaged in the political process because of the nation's moral decline and the rise of the political left, he decided to run as a Republican for California's 3rd Congressional District seat in 2020. 
"If we continue to walk a path where our values are not respected, where our faith is not tolerated, where life is not valued, where the family is not honored, our path will be one of destruction and decay," Feucht posted in his written congressional race announcement on Facebook. 
Feucht lost in that three-way GOP primary race last spring. But he remains committed to the sentiments he expressed at the beginning of his campaign—namely, through his political engagement movement "Hold the Line," and a series of outdoor prayer and music rallies called "Let Us Worship," which have drawn thousands in cities across the country.
"This is a critical moment," Feucht told Decision. "We need a move of God to awaken the church. … We need an awakening. I've been running with this phrase now, I call it 'Revival or Bust,' where we need revival in America or there's no hope."
It's the hope of the Gospel that pushes Feucht forward.
"I would say Jesus is the only thing to live for. A saving relationship with Him is the only thing in this life, in this season, worth living for. Everything else is a dead end. And you know, I think we're a generation that's moved by justice, but Jesus is really the only source, the only longevity, the only real answer to the crises of the world. We can't achieve anything through mere social change. We can't achieve justice through anything but the Gospel of Jesus Christ." 
Focused on proclaiming the Gospel, Feucht has spent most of 2020 traveling the nation for "Let Us Worship" rallies in cities where civil unrest, election tension and the COVID-19 pandemic have converged.
From the East Coast to the West Coast, he has traveled to more than 50 cities with one purpose in mind: to lift high the Name of Jesus Christ.
"The church has been closed," he said. "There's been a pandemic, there's been racial unrest, and all of this has really provoked a hunger in Americans that we've never seen before. There's a desperation. I can sense a desperation to worship, to pray, to run after Jesus like I haven't seen before."
Feucht says the "Let Us Worship" rallies were born out of distress over California Gov. Gavin Newsom's COVID-19 policies that shut down churches and prohibited congregations from singing last spring.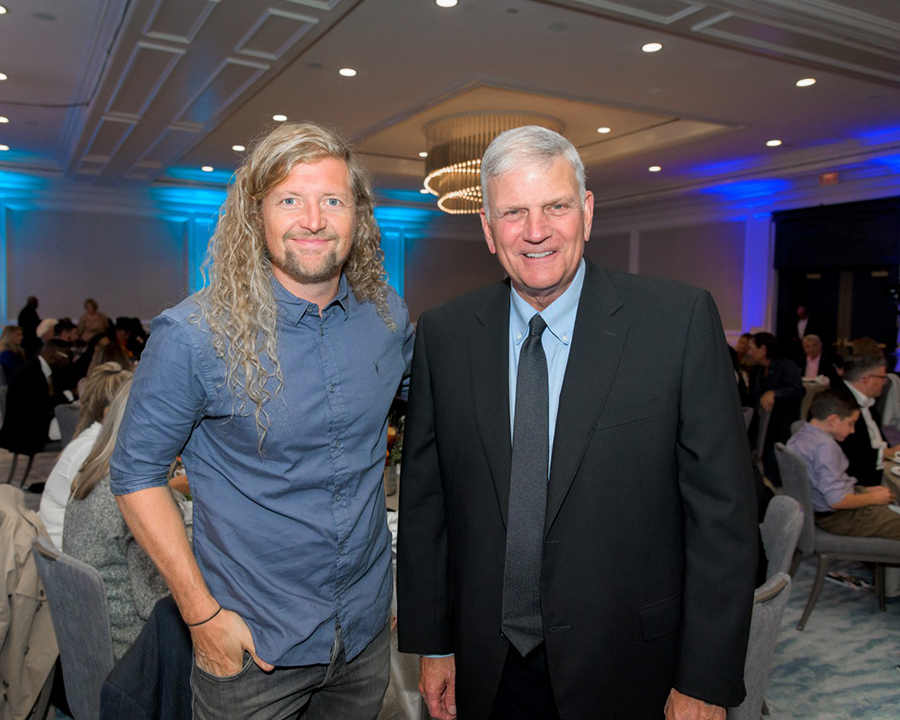 "Our freedom to worship God and obey His Word has come under unprecedented attack," Feucht writes on his "Let Us Worship" website. "Powerful politicians and social media giants have engaged in unchartered abuses of religious liberty, silencing the faithful, banning our voices, and outright attacking our God-given right to declare His goodness. … It's time for the church to rise up with one voice and tell our government leaders and the rulers of big tech that we refuse to be silenced."
Feucht has experienced pushback in various cities where he's held events. He has been censored online, and videos from his outdoor worship events have been deemed part of a "dangerous conspiracy movement." Still, he remains on the front lines, hopeful that God isn't done with America yet.
"I think now's the time more than ever where only a united church is going to heal a divided nation," he said.
Feucht plans to continue what he's started and hold "Let Us Worship" rallies nationwide in 2021. He believes it's America's time to see a spiritual move of God break out across the nation.
"I'm praying for an awakening and a revival in the nation, but more important, I'm praying for an awakening and a revival in the church. I'm praying that we would start living the Gospel message, that we would take a stand for righteousness and truth, not back down, not try to be politically correct, but that we would live according to the Gospel. …
"We need a revival of the simple Gospel message in America. It is not complicated, it is not difficult, it is not hard. It is the Gospel message of Jesus Christ that's endured for thousands of years and still works today."
Above: Thousands join Sean at a "Let Us Worship" event on the National Mall Oct. 25.
Photo: Mark Story Photos