Kay Edgerton can't forget that little church down the street in her hometown. After her father died, they showered her family with love in the form of food and other necessities, not to mention spiritual care. The congregation's faithfulness is still working for good even though most of those saints are long gone.
The Gospel seeds those church members sowed in Kay's heart back in 1960s Rocky Mount, North Carolina, bore fruit indeed. Every time Kay prays with someone—as a volunteer at the Billy Graham Library or a counselor at a BGEA Festival—every time she speaks to a church group about Samaritan's Purse's Operation Christmas Child, or simply extends grace in a day-to-day interaction, the residual fruit of that church's investment in her family sows a few more seeds for Jesus' sake.
"My father died when I was 2, and that little Presbyterian church took us under their wing," Kay recalled. "I did not have a father, but I heard that God was my Father. He really was. And then I learned that He had a Son named Jesus who was my Savior, and then I learned that the Holy Spirit is with me, and I can talk to Him anytime of the day. I just learned all this as I grew up, and I've grown closer and closer to the Lord over the years.
"Now in my older years, I want to make sure that I am going to stay strong to the end. I don't have many years left, and I don't want to give up now."
Her great passion, she says, is to pray with people. It's a divine privilege born-again people have, and, at 71, Kay doesn't want to squander her opportunity to cooperate with God in moving people toward Him—just as the people in that humble church did for her.
When Kay was growing up, her family's weekly presence in church was a vital part of their lives. Even when they would travel, her mother made sure they pulled in somewhere to go to church.
"When it was the Lord's Day, you went to God's house and worshipped, and that's just what it was," Kay said.
It was that way for Kay and her children too. Her late husband, Buddy, whom she married the August after they graduated high school together in 1969, wasn't a churchgoer during most of their marriage. But he expected the children to accompany their mother to church almost without exception, and he was supportive of their involvement in church activities.
Kay found her niche in women's Bible studies during the week and in helping in youth ministry on Sundays as her kids grew up. She credits her involvement in serving the youth ministry for her spiritual growth and her passion for prayer.
"My kids and I, we have prayed all of our lives," Kay said. "Even though my husband wasn't saved, when he and I would go out to eat, he would stop and look at me and want to pray, and I would always pray."
The grandchildren also noticed their grandma's emphasis on prayer as she settled disputes with heavenly petitions.
"One day I called the grandchildren together, but it wasn't to pray. And one of my little grandchildren—he was about 4—he came in and he said, 'OK, y'all, Grandma wants to pray again.' So I thought, You know what? That's not a bad thing as a legacy, right?"
Her children—two sons and a daughter—are grown and walking with the Lord—an answer to many years of prayer. But as in many families, there were trials, difficulties and times of correction for the kids, and testing for Kay.
She survived breast cancer. She saw one of her sons return to the Lord after several years of spiritual wandering. She spent years praying for Buddy to surrender to Christ.
"My husband died in 2016 and was saved only two years before." In his waning days, she got to see Buddy share the Gospel with longtime friends. Likewise, "I just want to share Jesus with everybody I can before I go," she says.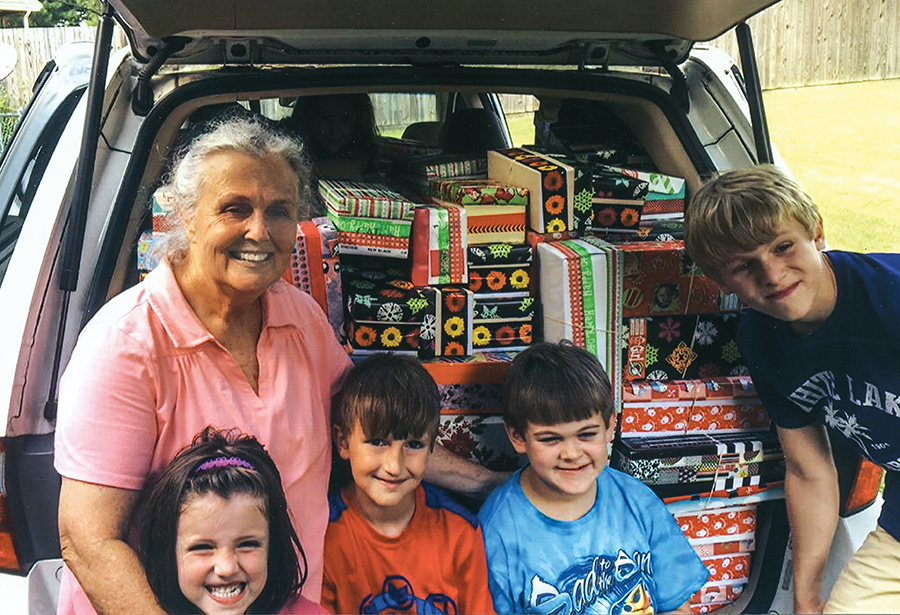 Never one to sit on the sideline, Kay wastes little time. Her only complaint is that she can't be everywhere she'd like to be and do everything she'd like to do.
Her love for the Billy Graham Evangelistic Association began as a child, when she and her sisters would watch Mr. Graham's televised Crusades. Her older sister would even send donations to BGEA from her babysitting wages—$3 or $5 or whatever she could send.
"Because of what I want to do now in my later years in praying with people and leading people to Him, that's why I want to give and do for BGEA and Samaritan's Purse: I believe firmly in what they do in spreading the Gospel."
For the last two years, Kay has traveled to Charlotte from Rocky Mount to stay in a motel for a week so she can volunteer during BGEA's Christmas at the Library festivities. She also returned in June to volunteer at a Ladies' Tea with Gigi Graham.
"I live about 3½ hours from Charlotte," Kay says. "I tell everybody that I want to live in Charlotte and work at the Billy Graham Library. I want to live in Asheville and work at the Billy Graham Training Center at The Cove. And I want to live in Boone and work at the Operation Christmas Child warehouse at Samaritan's Purse. But I can't do it all.
"More than anything, with the years I have left I want to pray with people. I want to exalt God in prayer, and just let others know that He loves them." ©2023 BGEA
Photo: Courtesy of Kay Edgerton