Ravi Zacharias, prominent Christian evangelist and apologist, died Tuesday morning at age 74 after a brief battle with a rare bone cancer that doctors discovered in March after he struggled to recover from back surgery.
"My dad …. has 'join[ed] with the triumphant saints that sing [his] Savior's praise,'" Zacharias' daughter, Sarah Davis, posted in a message on the website of Ravi Zacharias International Ministries, referencing one of her father's favorite hymns, "Lord, It Belongs Not to My Care."
"We who knew and loved him celebrate his life," she added, "and more importantly, his Savior."
For most of his childhood, Zacharias considered himself a religious skeptic despite being raised in a Christian home. But while recovering in an Indian hospital in Dehli after a failed suicide attempt at the age of 17, Zacharias read the words of Jesus in John 14:19: "Because I live, you will also live" (ESV). It was then that he surrendered his life to Christ and vowed to dedicate his life to sharing the Gospel.
"It was his Savior, Jesus Christ, that my dad always wanted most to talk about," Davis said. "Even in his final days, until he lacked the energy and breath to speak, he turned every conversation to Jesus and what the Lord had done. He perpetually marveled that God took a 17-year-old skeptic, defeated in hopelessness and unbelief, and called him into a life of glorious hope and belief in the truth of Scripture—a message he would carry across the globe for 48 years."
In 1983, the Billy Graham Evangelistic Association invited Zacharias to speak at the inaugural International Conference for Itinerant Evangelists in Amsterdam, where he met Billy Graham for the first time.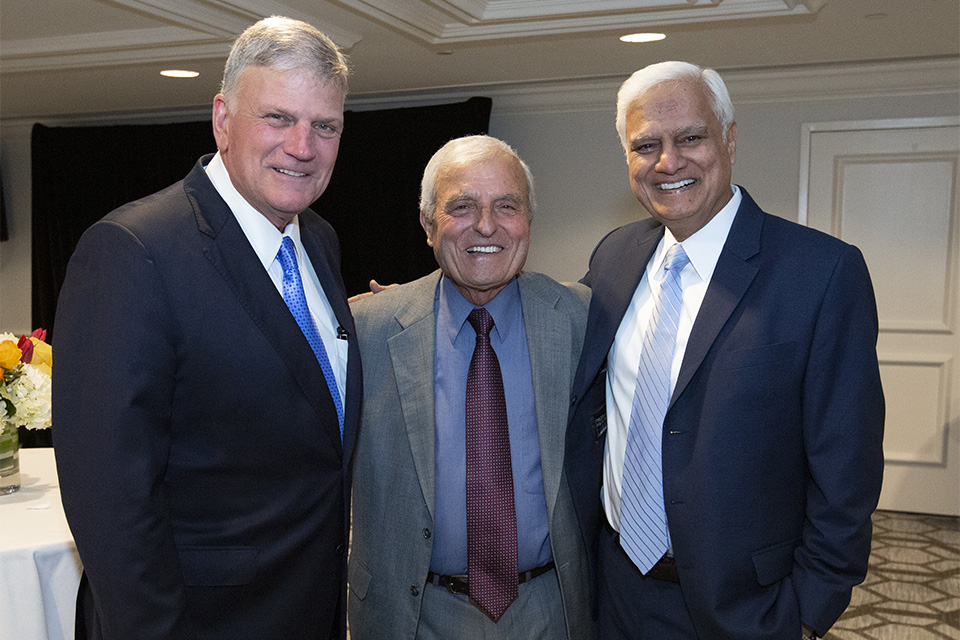 Decades after that first encounter, Zacharias continued to partner with BGEA in ministry, leading seminars at The Billy Graham Training Center, writing articles for Decision magazine and speaking at various evangelistic conferences. And in 2017, he joined Franklin Graham at the Summit in Defense of Persecuted Christians in Washington, D.C., where both he and Franklin advocated for the persecuted church worldwide.
"Ravi Zacharias, one of the great Christian apologists of our time, has stepped into the streets of glory and into the presence of the King of kings and Lord of lords," Franklin posted on Facebook. "Don't feel sorry for Ravi–his fight with cancer is over, and he has placed his crowns at the feet of the One who deserves all glory and honor. For those who have put their faith in Jesus Christ, we will see him again on the other side of the river."
Over his 48-year career, Zacharias preached in more than 70 countries and authored more than 30 books. Yet it was his genuine love for Jesus and for others that shaped his legacy.
"[Ravi] saw the objections and questions of others not as something to be rebuffed, but as a cry of the heart that had to be answered," said Michael Ramsden, president of RZIM. "People weren't logical problems waiting to be solved; they were people who needed the person of Christ. Those who knew him well will remember him first for his kindness, gentleness and generosity of spirit. The love and kindness he had come to know in and through Jesus Christ was the same love he wanted to share with all he met."
Just days before his homegoing, Zacharias posted an excerpt from his book "Seeing Jesus from the East" to social media: "The story of the Gospel is the story of eternal life. My life is unique and will endure eternally in God's presence. I will never be 'no more.' I will never be lost because I will be with the One who saves me."
Zacharias is survived by his wife, Margaret, and his three children Sarah, Nathan and Naomi, as well as his five grandchildren.
Above: Ravi Zacharias addresses a crowd gathered on the National Mall in Washington, D.C.,  for Together 2016.
Photo: Courtesy of RZIM