No fanfare. No glitz. No angry mobs shouting. Just tens of thousands of earnest, repentant prayers and intercession for a broken nation. This was the Washington Prayer March 2020 with Franklin Graham.
"Prayer is what we need for the nation," said Felcyn, who flew to Washington from his home in the Bay area of California. "That's going to make all the difference. This is God's army that showed up here today. We can never stop seeking God, no matter what. That's where our hope really lies."
In addition to the throng that marched and prayed at seven stops along the 1.8-mile route from the Lincoln Memorial to the United States Capitol, more than 3.8 million people from nearly 60 countries watched the livestream online. And around the nation, people organized prayer events in their own towns, in some cases mapping out a march route locally. A group of inmates at Noble Correctional Institution in Ohio contacted BGEA to say they were joining in prayer and fasting on the day of the March, and an Egyptian American believer heard from people in Egypt, Turkey, Iraq and Canada who also joined in prayer for America.
Christian leaders at the March said the need for prayer is desperate. "We've never needed prayer like we need it in this nation," Jentezen Franklin, senior pastor of Free Chapel, in Gainesville, Georgia, told Decision. "Christianity will survive without America, but America will not survive without Christ."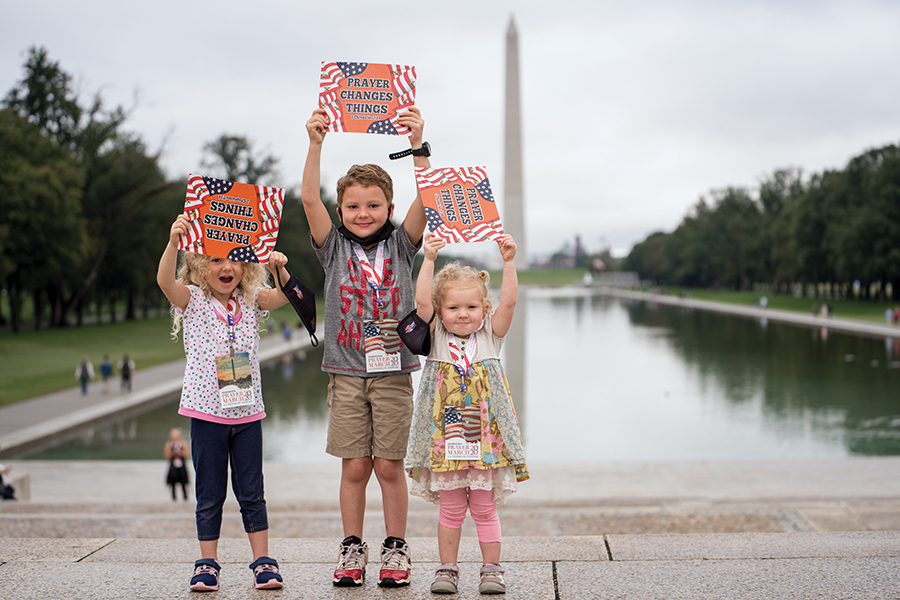 Retired Lt. Col. Oliver North said: "I'll give you my perspective as the grandfather of 18 grandchildren: The bottom has fallen out. Spiritually, our country is in serious trouble. I see fewer and fewer people following the Word of the Lord. I know where I'm going, and I know why I'm going there. But I'm very concerned about what my grandchildren are facing."
Some might wonder if a nation that has strayed so far from God will ever again have more than a small remnant that follows the Lord. But the prayer warriors who came to the March had no doubt that God can bring awakening.
"America has been in bad shape before," said Robert Morgan, teaching pastor of the Donelson Fellowship in Nashville, Tennessee. "After the Constitution, Christianity sort of crashed in America. Very few people, less than 5%, went to church. The atheists took over the universities and colleges. But God sent the Second Great Awakening. And we are primed right now for another Great Awakening. That's what I'm praying for."
Pastor James Gay of Greater Johnstown Christian Fellowship in Johnstown, Pennsylvania, said: "We brought 69 from our church on two buses. Our whole intention was to come and to join with Franklin Graham and the Body of Christ to pray and to believe. … My pastor's heart is that people would repent of their sins, would turn from their wicked ways and seek God."
Surveying the enormous crowd, retired flight attendant Lynda Bird observed: "God is calling His people, His army, to stand strong, victorious, believing and taking back what the devil has tried to steal."
Elizabeth Taylor, a pastor's wife from Shelbyville, Indiana, drove 12 hours with her family and members of her church to be at the March. "I really feel like this is a time that we cannot go without," she said. "[This is about] being united as a front with one body calling upon God to change the hearts of His people."
All along the Mall, marchers stopped repeatedly and formed prayer circles to cry out to the Lord. "Nothing is impossible for God," said Mary Ann McNamara of Chicago, who attended with her husband, Brian. "I believe that and always have, and we see His work in the world when we pray."
Lincoln Memorial
"Our nation is in trouble," said Franklin Graham at the start of the Prayer March. "Republicans understand this. Democrats understand this. Independents. Everybody understands that our nation's in trouble and everyone's a little confused as to what to do, but God, God can fix this. And we're here today to pray and to call upon the Name of Almighty God."
Former U.S. Representative Michele Bachmann and Bishop Harry Jackson joined Franklin in offering prayers of repentance and asking God to forgive our sins and heal our land.
"Heavenly Father, we think today about Your healing grace," prayed Jackson. "Lord, we remember Psalm 68:1, which says, 'Let God arise and His enemies be scattered.'" At Jackson's invitation, the crowd shouted in unison, "Let God arise!"
World War II Memorial
Retired Lt. Col. Oliver North, Navajo Nation Vice President Myron Lizer, Marine veteran and former police officer Tony Perkins and retired Army Ranger Edward Graham, who now serves as assistant to the vice president of programs & government relations for Samaritan's Purse, led prayer at the second location along the March route.
"Watch over the Marines, the sailors, the Air Force, the Coast Guard, the Army—all that are serving right now, Lord," Edward prayed. "I especially lift up our law enforcement and our first responders. An ugliness, a great sin and a lie has turned toward them. Lord, we ask for Your hand of protection."
Washington Monument
Skip Heitzig, founder and senior pastor of Calvary Chapel of Albuquerque; Jerry Prevo, president of Liberty University; and Kelvin Cochran, former fire chief of the Atlanta Fire Department and former administrator of the United States Fire Administration, led marchers in prayer focused on the salvation of the lost, renewed strength in families, solutions to the coronavirus pandemic and for front line medical workers, as well as an end to abortion.
"Father, we lift up health care providers in our country who are on the front lines every day caring for the sick who have been afflicted by COVID-19," Cochran prayed. "We pray Your blessed protection over them, even beyond their personal protective equipment."
Heitzig prayed: "Father, we do pray that You would give wisdom to doctors, to medical professionals, those who are doing research to find not only therapeutics but a vaccine. Father, heal this land of this plague that has taken the lives of so many. … Father, we pray that You'd put an end … to this awful plague of abortion that has afflicted this country."
The White House
From the Washington Monument, the crowd could turn to see the White House as they prayed for the executive branch of the government. Paula White-Cain and Pastor Greg Laurie joined Franklin in leading the crowd in prayer. "We pray for the White House that's behind us and those that work and serve there," Franklin prayed. "We pray for President Donald J. Trump, for Vice President Mike Pence. We pray for all the Cabinet, for all the staff, for all those that are advising and that are making decisions each and every day."
White-Cain, who serves as spiritual advisor to the president, continued in prayer: "Incline their heart toward You, that they would walk in righteousness. Surround them with godly counsel. Let all that would bring wickedness in be turned away and scattered in the Name of Jesus."
National Museum of African American History and Culture
Marchers prayed for compassion, kindness toward one another, respect and reconciliation, led by baseball great and evangelist Darryl Strawberry; Alveda King, niece of the Reverend Dr. Martin Luther King Jr. and director of African American outreach for the Gospel of Life; and Pastor Jentezen Franklin of Free Chapel, in Gainesville, Georgia. "Father, we have sinned and misunderstood or just on purpose thought that we were separate races," King prayed. "We are one human race. … And we're going to recognize ethnicity and all the beauty that You gave us, Lord. So forgive us and let us love children, let us love life."
National Archives
"We're here at the National Archives," said Franklin, "and the focus of our prayers here are for religious freedom, for the boldness … of the churches to stand firm with the Word of God, to preach Jesus in this troubled world."
Standing with Franklin were giants in the area of religious freedom: Pastor Andrew Brunson, the evangelical pastor who was imprisoned in Turkey for two years; former U.S. Representative Frank Wolf, who authored the International Religious Freedom Act; and Robert Morris, senior pastor of Gateway Church in Dallas.
"Father God, I bring before You the words that You gave us through the Prophet Daniel, that in the most difficult times when even the foundations are shaken, that those who know their God shall stand firm and take action," Brunson prayed. "So Lord, I pray accordingly, that we may be a people who know their God. … Now I pray what I prayed so many times for myself and for my family when I was in prison. Father God, pour out on Your sons and daughters … the courage, the strength, the confidence, the boldness, the perseverance, the endurance and the steadfastness of Jesus."
U.S. Capitol
The final stop focused on lifting up members of Congress and state legislatures, as well as the Supreme Court and the nominee whom the president was to announce in just a few hours. Anne Graham Lotz prayed first, acknowledging God's sovereignty, greatness, faithfulness and blessings, and confessing the nation's sinfulness in turning away from Him.
Jack Graham, pastor of Prestonwood Baptist Church in Plano, Texas, prayed that "You who are the judge of the universe, the judge of the Supreme Court of Heaven and earth, would rule over all. That You would place in authority in legislatures and on court benches—not only here, but across America—those who will seek Your wisdom."
And concluding the march, Franklin asked everyone to face the Capitol and raise their hands in one final prayer: "Father, we pray right now in Jesus' Name, for the men and women on Capitol Hill that make the laws that affect this nation. … We pray for the Supreme Court of this country and for the pick that the president is getting ready to announce today. Father, we pray that that woman will be Your woman, and that she will sit on that bench to carry out Your laws and Your instructions. So, Father, we pray this in Jesus' Name. Amen."
Header Photo: David K. Morrison/©2020 BGEA