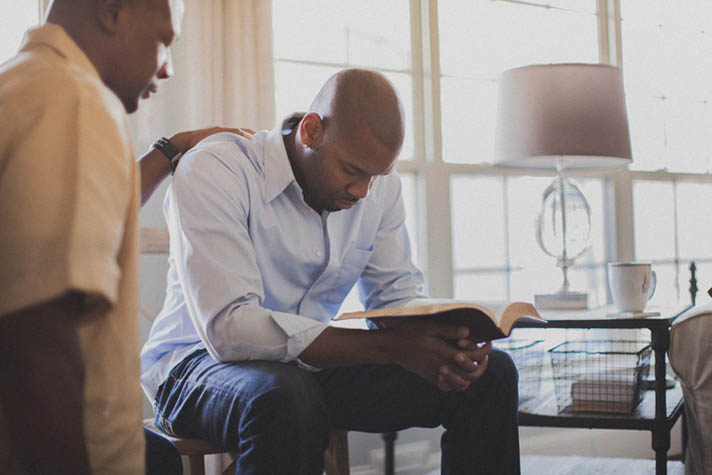 On April 9, I stood on the steps of the Lincoln Memorial in Washington, D.C., and surveyed the small crowd facing me. The wind had picked up, the temperature had dropped to the mid-20s and it was raining sheets. As I looked down the reflecting pool toward the Washington Monument in the distance, the rain turned to snow. It was miserable.
The people before me had come to cry out to God for His mercy, as they prayed and repented of our nation's sin. The organizers had expected 30,000 people. But like Gideon's army, God had reduced the number to 300—at the most. They were old and young. Male and female. Standing. Under flimsy, multi-colored umbrellas. And they continued to stand, and to sing, and to listen, and to pray.
My thoughts turned to Ezra in Nehemiah 10. He had led his people in repentance of their sin, which had led to national revival. The interesting similarity between the people gathered in the temple square in Jerusalem and those gathered on the Mall in D.C. was that in both situations, it was pouring rain. And God seemed to whisper to me …
Your Prayers Are Timely
From Romans 1:21-32, list the reasons God abandons a nation and gives it over to itself.
Give the consequences, with verses, of being abandoned by God.
What is implied about God's availability in Psalm 32:6? Isaiah 55:6?
What causes God to be hard to find? Read 2 Chronicles 15:1-2; Isaiah 59:1-2, 64:7; Micah 3:4.
Once God hides His face from us, is there any hope? See Psalm 30:5 and Isaiah 54:7-8.
How timely is prayer for America?
Your Prayers Are Tested
Does God test us? Consider Genesis 22:1-18; Job 23:10; Psalm 66:10-12; and Isaiah 48:10.
What is the purpose of His testing? See Deuteronomy 8:2, 16.
How was Martha tested in John 11:1-6?
What was the reason for her test, according to John 11:17-27, 38-44?
How did God test the seriousness of His people's prayer in Ezra 10:9?
How did God test the sincerity of His people's repentance? See Ezra 10:10-12.
Give phrases from the following verses that indicate God requires seriousness in prayer and repentance: Joel 2:12-14; Jeremiah 29:12-13.
How have your prayers been tested?
Your Prayers Are Triumphant
What is one of the keys to triumphant prayer? Read 2 Kings 22:19; 2 Chronicles 7:14, 12:1-7, 34:27; Ezra 8:21-23; and Isaiah 66:2.
What was Daniel's attitude in prayer, as recorded in Daniel 9:3?
What was the basis for Daniel's prayer? Read Daniel 9:2-3.
How did Jacob also pray effectively on the same basis? See Genesis 32:3-12.
Why is this a powerful way to pray? Consider Isaiah 55:8-11; Jeremiah 1:12; and Matthew 24:35.
Would you ask God to give you a promise on which you can base your prayer? Write it down.
How does Heaven view the person who perseveres in prayer until the prayer is answered? Read Daniel 9:20-23.
Would you choose to pray—and keep praying—until you are triumphant?
Weights that offer resistance as we physically exercise can increase our muscle strength and tone. In much the same way, God may allow our prayers to be resisted. By His silence. Stillness. Circumstances that go from bad to worse. He is strengthening our faith. Sharpening our focus. Purifying our motivation. So don't give up. I know your prayers are timely. They may be tested. Press into God until they are also triumphant. Heaven is listening, and Heaven is applauding. ©2016 Anne Graham Lotz