It had only been six weeks since Jon and Erin Zacharkiw survived a shootout on an Oregon highway that had Jon, a sheriff's deputy, not only fending for his life, but for Erin's too.
For Chad and Amy Vanden Berg, it had been five summers to the week that Chad was shot pursuing a suspect on foot in Los Angeles County. He survived extensive blood loss during a harrowing surgery and endured a debilitating injury to his right arm and hand.
All eight of the other law enforcement officers and their spouses attending the inaugural BGEA Law Enforcement Appreciation Retreat in remote Port Alsworth, Alaska, had similar gut-wrenching stories—shot in the line of duty; forced to fire shots that took a life; saw patrol partners killed or maimed; survived violent car accidents and other mayhem while preserving the peace.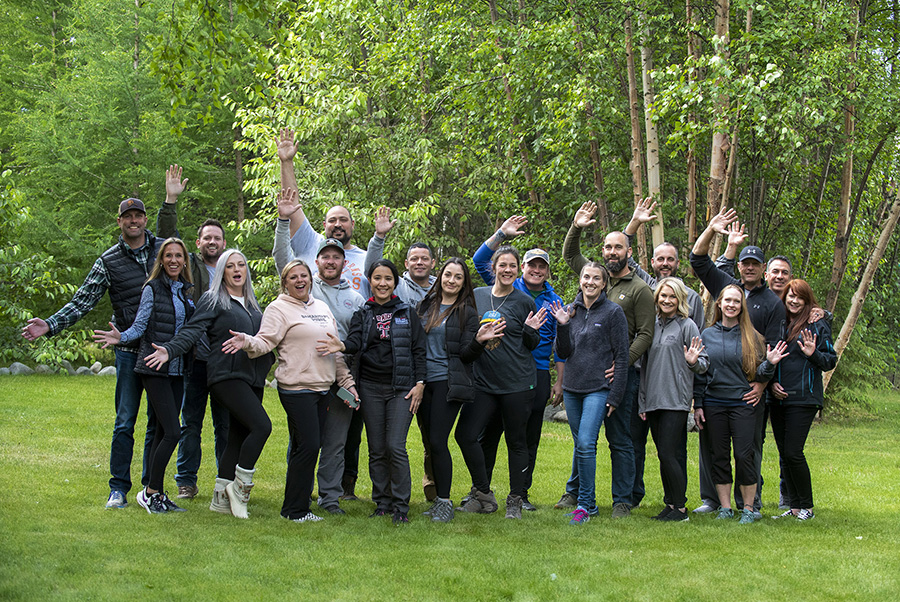 Some were already followers of Jesus when they arrived, deepening their relationship with Christ and with their spouse while there. Three people stirred the cold waters of Lake Clark in believers' baptism before they left. Marriages were restored and recast in light of the Gospel, including one that was admittedly in crisis when the couple arrived.
All were showered with love and encouragement during the June 20-25 retreat. Most important, the eternal hope found only in Christ and the trustworthiness of His Word were clearly communicated.
The 10 couples seemed to bond quickly amid a packed schedule of scenic hikes, lake and stream fishing, and wildlife encounters slated between teaching sessions led by the week's chaplains, J. Warner Wallace, a retired cold-case detective and Christian apologist; and Luis Anda, a retired Army chaplain who served tours in Iraq and Afghanistan.
BGEA Vice President Will Graham was also there ministering alongside the chaplains. Will noted the jovial camaraderie among the couples in what more than one participant described as a "safe environment" far removed from some of the hostility many had faced in recent months. The week's activities were patterned after Operation Heal Our Patriots, a ministry of Samaritan's Purse for wounded veterans and their spouses, also held at Samaritan Lodge Alaska.
But as memorable as the activities of the week were, Will told the group on the final morning that the lasting impact would be what the couples did in their hearts.
"That's what's going to last," he said, emphasizing that BGEA staff would continue praying for each couple and that "This is not the end, this is just the beginning."
Renewed Vows
Hamilton and Cheyenne Stanfield of Amarillo, Texas, didn't know what to expect when they arrived at the Law Enforcement Appreciation Retreat. Hamilton, who goes by "Ham," said he was a bit guarded at first.
"I know y'all do this for the veterans, but [law enforcement officers] are hard. We're jaded; we're really not an easy crust to crack. And you broke it all the way down for me and my wife," Ham told the chaplains and lodge staff as each couple spoke about what the week had meant to them.
Cheyenne acknowledged that before the retreat, she and Ham were contemplating divorce and even thought about canceling their plans to come to Alaska. "But we came because we felt the tug of the Lord on our hearts."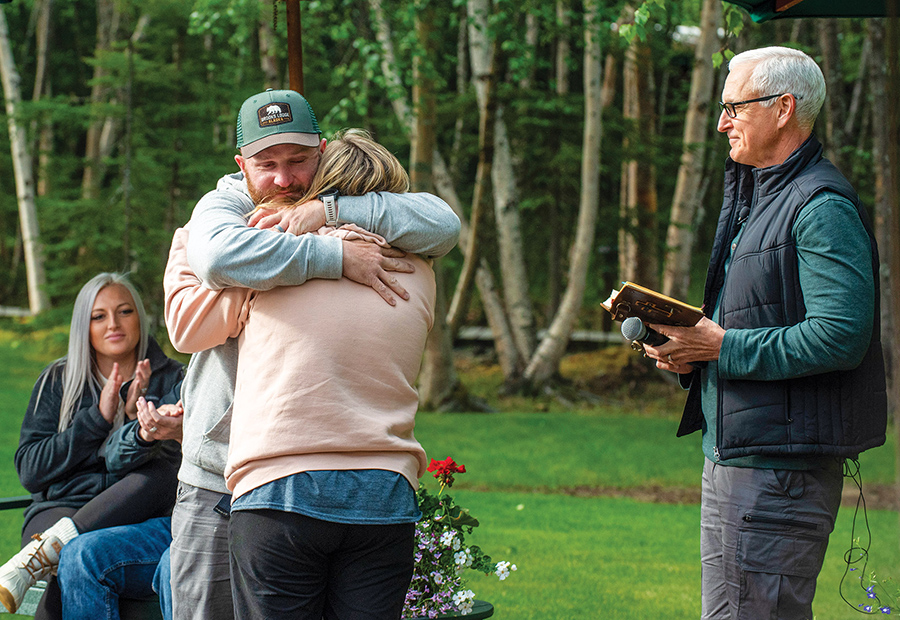 Ham and Cheyenne were among three couples who renewed their vows on the retreat's final morning, recommitting themselves to God and to their marriages.
Wallace, who led the couples in renewing their vows, said such a retreat can help bring the Gospel to bear on every conceivable problem law enforcement officers face in a job that often breeds cynicism.
"The Gospel solves all kinds of stupid. … You name the stupid that's out there, the Gospel will address that," he said.
When officers gain an understanding of sin and the Gospel, it can transform their work into a type of ministry to those they are sworn to serve, Wallace added.
Buried With Christ, Raised To Walk
The Zacharkiws, who had survived the Oregon shootout just six weeks earlier, were two of the three people who followed in believer's baptism in the bracing chill of Lake Clark adjacent to Samaritan Lodge.
Jon serves as a sheriff's officer in Clackamas County, just south of Portland. He has seen more than his share of trauma through multiple incidents in the last three years, including a violent car wreck in July 2020 while pursuing a suspect, which led to his surrender to Christ. The couple had been attending an evangelical church for several years at the invitation of a fellow officer, but the accident was the pivotal moment in Jon's journey to saving faith.
Yet in May this year, on an otherwise uneventful day, compounded traumas were brought to a new level after Jon was drawn into another car pursuit on a day Erin had joined him for a ride-along. When the suspect's car came to a halt and he opened fire on Jon's patrol car, Erin dove under the passenger dash as Jon returned fire, moving from the car into the open air out of concern for Erin. As he continued firing into the suspect's car, one of the bullets from his rifle hit the suspect, lodging in his shoulder and bringing the shootout to an end.
Erin and Jon arrived in Port Alsworth with that event fresh in their minds, but the week's events, teaching and new friendships helped paint a clearer picture of God's redeeming work in their lives.
"I knew before we came here this was going to be a spiritual, life-changing moment," Jon said, also noting that they hadn't had a child-free vacation since 2009.
"We've always had a good marriage because we have worked on it, but we've been through a lot. Plus we needed time to get away and talk about the fact that we both got shot at by a guy who tried to kill us. … This has been such a weight off our shoulders."
A Fellowship of Blue
Chad Vanden Berg knows duty-related trauma well. He and his wife, Amy, traveled to the retreat from Los Angeles, where Chad serves as a Los Angeles County sheriff's officer. On Wednesday (June 23) during the retreat, Chad reached his five-year "Alive Day," marking the day he survived a close call—what Amy considers a miracle after a convicted felon emerged from some bushes to fire at him, striking him near his clavicle before the bullet ricocheted into his shoulder. Medical staff used 160 units of blood to keep him alive.
Both Chad and Amy are believers, so Amy chronicled their journey on a CaringBridge blog, detailing how God used the shooting to bring glory to Himself even as Chad's future as a law enforcement officer was in question.
Chad, recounting the retreat's highlights to chaplains, staff and fellow law enforcement couples, said: "Probably the biggest thing … was being able to have brothers and sisters, not only in Christ, but in a common field with common experiences, and being able to share those experiences."
Amy, meanwhile, expressed amazement at the camaraderie and the care they received.
"To be greeted getting off that plane with eye contact and our names being said, and words of affirmation, it was just like a tidal wave of love met us, and it has not stopped rolling all over us all week, and I am just blessed beyond words."

Above: Port Alsworth locals welcome couples as their plane arrives.
Photo: Todd Sumlin/©2021 Samaritan's Purse