"We've got to stay ready for every opportunity to minister to people," Franklin Graham says. "God didn't tell us to go where it's safe and secure; He just told us to go."
So, 2020 saw the Billy Graham Evangelistic Association ministering with the love of Christ amid street protests and pandemic-related fear and grief. And as 2021 dawns, BGEA is proclaiming the Good News of Christ in ways both old and new.
"There is an urgency and an opportunity for all Christians to be the ambassadors God has called us all to be," says Greg Blanc, pastor of Calvary Chapel Rapid City. "I once heard a pastor say that every saved person this side of Heaven owes sharing the Gospel with every unsaved person this side of hell. If only the Body of Christ could really understand that!"
Blanc's church is one of dozens partnering with BGEA for the Black Hills Paha Sapa Celebration with Will Graham. The urgency Blanc feels for proclaiming the Gospel comes partly from his own experience. "For whatever reason," he says, "God allowed me to go 32 years of my life without even one person loving me enough to share the Gospel with me." When Blanc committed his life to Christ, he knew he wanted to spend the rest of his life working as hard for the Kingdom of God as he had for the devil.
When the COVID-19 pandemic forced the postponement of several Will Graham Celebrations last year, Will pivoted to virtual outreaches. Across five events, some 834,000 people heard the Gospel, and more than 2,600 registered decisions for Christ. Similar outreaches are being planned for 2021. 
In Milan, Italy, churches are working alongside BGEA to prepare for one of several Franklin Graham Festivals this year. Last March, as the nation's Lombardy region became an epicenter of COVID-19 and local hospitals strained to care for patients, Samaritan's Purse sent a 68-bed Emergency Field Hospital to Cremona, southeast of Milan, at the request of the Italian government. Over the next seven weeks, the hospital treated more than 280 patients.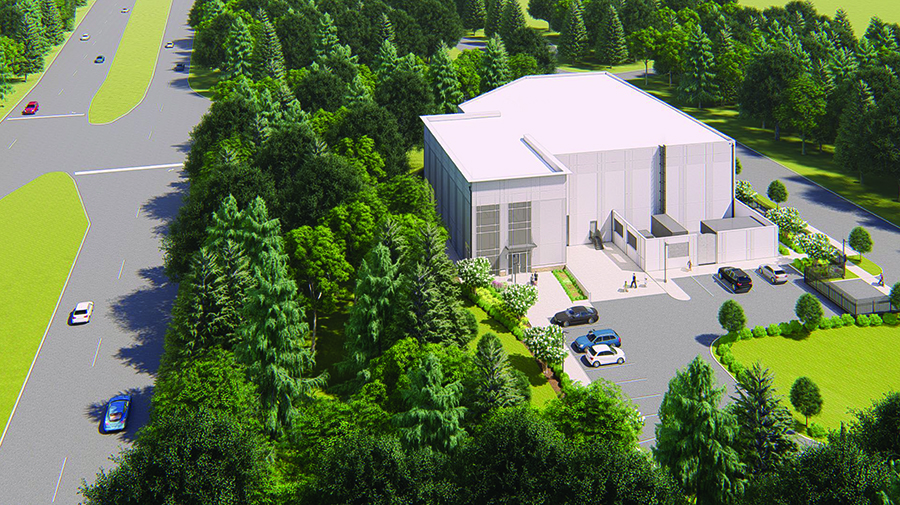 "The field hospital had a very strong evangelistic impact," says Samuele Pellerito, president of Elim Churches in Italy. "It opened many doors that had always been closed. The hospital deployment was like a loudspeaker, not only in the Lombardy region but throughout Italy."
The Festival is already creating a historic level of unity among the churches, Pellerito says. "My prayer," he adds, "is that the Festival won't remain just an event but that it would create a legacy—a legacy of unity for the Body of Christ in Italy, and that this might continue until Jesus comes back."
Although COVID-19 could still cause scheduling changes, preparations are underway for Franklin Graham Festivals this year in Seoul, Korea, and Rio de Janeiro, Brazil. Will Graham Celebrations are in the works for Tifton, Georgia; Fairmont, West Virginia; Sudbury, Ontario; three cities in Tasmania, Australia; Des Moines, Iowa; and London, Ontario.
And BGEA is proclaiming the Gospel and helping people to live for Christ through other ministries as well:
The 24-hour Prayer Line, 888-388-2683, was birthed last March in response to the coronavirus pandemic. As of press time, BGEA had received more than 270,000 calls from people seeking encouragement and prayer, and some 12,000 callers had made decisions for Christ.
BGEA's Search for Jesus internet evangelism ministry reaches around the world 24/7—including countries otherwise closed to the Gospel. Evangelistic websites and social media pages proclaim the message of Christ in English, Spanish, Portuguese, Arabic, Korean, Mandarin Chinese and American Sign Language, with Russian language sites being developed this year.
In the United States, radio and audio ministries reach out through listener-supported The Light FM, the Billy Graham Channel on Sirius XM 460 and the podcast GPS: God. People. Stories. In addition, Cissie Graham Lynch's Fearless podcast calls listeners to live out their faith in a compromising culture, and the "Weekend Encouragement" email delivers to subscribers audio content designed to encourage listeners in their walk with Christ and to introduce others to Him.
The Billy Graham Library (BillyGrahamLibrary.org) is open for tours, free of charge, with COVID-19 protocols in place for safety. Even in a year with reduced attendance due to the pandemic, more than 50,000 guests visited the Library in 2020, with more than 400 making decisions for Jesus Christ.
The Billy Graham Training Center at The Cove, in Asheville, North Carolina, has lined up some of the world's top Bible teachers to lead seminars, pastor renewal retreats and military marriage retreats in 2021. Tony Evans, Lee Strobel, Anne Graham Lotz, Jim Cymbala, Chip Ingram, Erwin Lutzer and Lisa Harper are among the scheduled seminar leaders. The popular Evening at The Cove events will include one with Danny Gokey, and a Gold Star Wives retreat is scheduled for Nov. 5-7. For more information, visit TheCove.org.
Since visiting every U.S. state capital in 2016, Decision America Tours have continued to bring the Gospel to tens of thousands in various regions. Two Decision America Tours are in the planning stages for 2021, one in late spring and one in early autumn.
Billy Graham Rapid Response Team sends crisis-trained chaplains to extend the love of Christ to those who are suffering from man-made or natural disasters. A new initiative in 2021 is Law Enforcement Appreciation Dinners and Retreats, designed to encourage law enforcement personnel who have been discouraged, devalued and in some cities defunded.
Please pray that God will use BGEA to faithfully proclaim the Gospel, and that thousands will turn from sin to Jesus Christ. 
Photos: Left, Paul Zambrana; Right, Thomas J. Petrino/©2020 BGEA