In May, the Billy Graham Rapid Response Team (BG-RRT) held two Law Enforcement Appreciation events in the Pacific Northwest, where police last summer endured a barrage of attacks by rioters and anarchists almost nightly.
More than 250 active and retired law enforcement personnel and their spouses gathered for a catered meal at venues in Portland, Oregon/Vancouver, Washington, on May 6, and in Bellevue, Washington, near Seattle, on May 11.
At the Bellevue event, Christian musician Dennis Agajanian and speakers Darryl Strawberry, a four-time World Series champion-turned evangelist, and J. Warner Wallace, a Christian apologist and former cold-case homicide detective, encouraged and honored attendees for answering God's call on their lives to protect and serve.
Strawberry said he was privileged to help celebrate the daily sacrifices of law enforcement officers and their families. "They need support," he said. "They really need to know that people care. We understand that we need them. We are talking about great men and women. This is a deadly situation that these guys face every day, so we just want to make sure that they understand that we love them, and we care about them, and we care about their families."
During the May 11 event at the Hyatt Regency in Bellevue, Antifa militants marched outside the venue chanting "death to America" while lighting an American flag on fire in protest of the law enforcement appreciation dinner. And earlier on, the Seattle Police Department had rescinded the BG-RRT invitation after facing criticism from Seattle city councilmembers for the ministry's support of Biblical marriage.
Allen Scroggs, BGEA's director of law enforcement events, said neither threats of protest circulating on social media nor the Seattle City Council's objections could have thwarted BGEA's support of the law enforcement community.
"We are receiving very positive emails from officers that attended," Scroggs said, "some stating that they are experiencing life-changing conversations with their spouses. Some have experienced a renewed faith and walk with the Lord. Some have stated that they have a new outlook on their career and future as a law enforcement officer."
Jennifer Wilson attended the Portland event with her husband, who has served in law enforcement for about 20 years. The couple has five children, three of whom were adopted and have special needs.
"The unrest with the police this last year and watching Portland be destroyed has been difficult to say the least," Wilson wrote in a May 7 email. "Last night was such a blessing for our men and woman in blue. It felt safe! We felt loved and appreciated for the first time in a long time. A big thank you for this ministry and these donors who provide each person with a beautiful dinner, entertainment [and] goody bag but most of all support, love and prayers. I can't begin to relay to you how much my husband and myself needed that last night."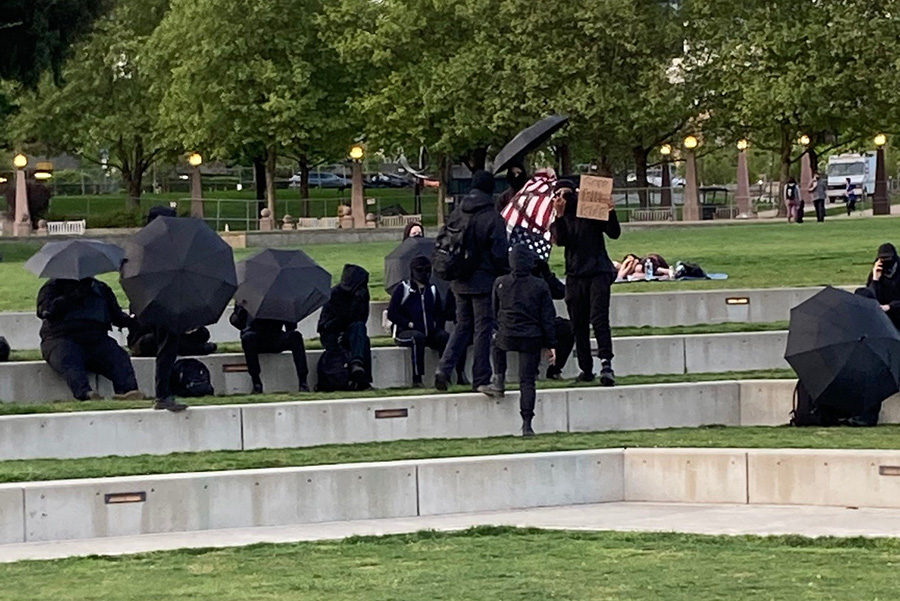 In another email of appreciation for the Portland event, Portland law enforcement officer Jason Mills wrote: "It was refreshing for my wife and I to have an evening of encouragement, especially given the bitter fruit we've been subjected to the past year. The evening helped remind us that God still has a purpose for me at work."
Mills also shared that while responding to a burglary call on May 11, he encouraged the victim from Matthew 6:19-21, which includes these words: "But lay up for yourselves treasures in heaven, where neither moth nor rust destroys and where thieves do not break in and steal."
"God's Word moved her," Mills continued. "I was able to explain how she was measuring her life with the wrong scale and how true riches are found through the Lord and Savior Jesus Christ. These riches cannot be stolen. These riches are eternal. We prayed together, and I gave her the gift that was given to me and my wife at the dinner, the Bible. Where darkness once resided, light was now shining! Praise God!"
The Scripture quotation is taken from the Holy Bible, New King James Version.

Above: Darryl Strawberry speaks during the Law Enforcement Appreciation Dinner in the Seattle suburb of Bellevue.
Photo: Earl Davidson/©2021 BGEA