Kevin Sorbo's portrayal of a commercial airline pilot in the newly released movie "Left Behind: Rise of the Antichrist" is somewhat analogous to the last decade of his nearly 30-year acting career.
In his latest cinematic work, Sorbo portrays Rayford Steele, who is navigating the chaos and bewilderment of a world after Jesus Christ's end times rapture of Christians around the globe. The movie, based on The New York Times bestselling apocalyptic book series "Left Behind," co-authored by Jerry B. Jenkins and Tim LaHaye, and directed by Sorbo, debuted in theaters across the country on Jan. 26.
In the film, Steele, who becomes a Christian after the rapture, tries to win people to faith in Christ while helping thwart the diabolical schemes of the Antichrist bent on world domination.
Similarly, for more than 10 years now, Sorbo, 64, has been shining the light of Christ in his independently produced films to offer hope and eternal redemption to those disillusioned by the world's pursuit of happiness and contentment.
Sorbo played the lead role in the most-watched syndicated television series in the world in the mid-1990s, "Hercules: The Legendary Journeys," and has more than 90 movies and TV shows to his credit. But today, the Minnesota native and outspoken Christian is largely a Hollywood outcast—an accolade he holds dear.
Despite Hollywood's disinterest in faith-based films, Sorbo's Christian-themed movies have set distribution records, including 2014's "God's Not Dead," which became the most successful independent faith-based movie ever with over $140 million in theatrical, streaming and DVD sales. And when Sorbo produced, directed and starred alongside his real-life family in "Let There Be Light," the movie—which was co-written by his wife, Sam, and Oscar-award-winning writer Dan Gordon—ranked in the top four for family genre movies in 2018.
"Hollywood is winning the culture war right now," Sorbo told Decision. "And we've got to do something about that by putting movies out there with a positive message about hope, and love, and faith and redemption, because Hollywood is not doing it."
Growing up in Mound, Minnesota, on the western shores of Lake Minnetonka, about 25 miles west of Minneapolis, Sorbo attended St. John's Lutheran Church nearly every Sunday with his parents and four siblings.
But it was on a humid August evening in 1973 when 14-year-old Sorbo publicly professed his faith in Christ during a Billy Graham Crusade at the St. Paul Fairgrounds. "I was just moved by his message," Sorbo says.
Forty years later, Sorbo's life-changing experience was chronicled in an installment of the bestselling "Chicken Soup for the Soul" book series titled "Billy Graham & Me." His testimony is among 100 others, including personal stories from celebrities, U.S. presidents and other world leaders, all of whom have been directly influenced by Mr. Graham.
"That evening is something that has stuck with me all my life," he wrote in the book. "Billy Graham played a big part in making me who I am today." In 2013, when the book was published, Sorbo did a media tour to promote its release.
Long before Sorbo became an action hero on television and the big screen, he had entertained thoughts of acting, ever since he saw a Shakespearean play at a Minneapolis theater. "I was 11, but I was totally mesmerized by the actors on stage," Sorbo recalls. "I told my parents that night, 'I'm going to be an actor.'"
Football, basketball, baseball and golf dominated Sorbo's pursuits throughout junior high and high school. After graduating from Minnesota State University Moorhead with a degree in marketing and advertising and a minor in drama, Sorbo planned to spend the summer in Milan, Italy, before finally pursuing his dream to be an actor in Hollywood.
But while walking the streets of Milan, he was randomly discovered by Italian fashion designer Gianni Versace, who hired him as a model for his clothing line. Over the next three-and-a-half years, Sorbo's modeling exploits took him to Paris, Munich, Zurich and London.
After a run of successful commercial auditions, Sorbo landed the iconic role of Hercules, which was filmed in New Zealand. While filming the fourth season of the internationally popular series, Sorbo and guest star Sam (Sandra) Jenkins seemed to fall in love at first sight. A week later, on their first date, they talked about the importance of their faith in Christ and their shared dreams of having two sons and a daughter with their future spouses.
"He was 'Mr. Right,' and so I was just looking for what was wrong with him at that point," Sam says. A successful international model, actress and former biomedical engineering major at Duke University, Sam was ready to marry the man of her dreams after dating him less than a year.
But four months before their wedding, Sorbo suffered an aneurysm above his left shoulder that caused him to have three strokes. A chiropractor's adjustment to his neck had unleashed three blood clots to the 39-year-old's brain.
In his memoir, "True Strength—My Journey from Hercules to Mere Mortal and How Nearly Dying Saved My Life," Sorbo describes how he went from being an action hero to someone who couldn't walk a straight line because he felt like he was constantly falling backward. Dizziness, heart palpitations, nausea, migraines, loss of sight and speech plagued Sorbo for months following the strokes. And a constant humming sound rang in his ears every minute of the day for nearly two years.
With Sorbo hospitalized in the intensive care unit, Sam turned down a lucrative opportunity to be the leading spokesperson for an ice cream commercial after Sorbo asked her to remain by his side and help him put his life back together. So, she dedicated herself to helping her fiancé endure four months of grueling rehabilitation before they married and Sorbo returned to filming the sixth and final season of Hercules.
"It forced a surrender on his part," Sam says. "And that's a hard thing for a young man to do, but he was laid so low that he needed to ask for help. He was vulnerable, and in the vulnerability there's a different strength that's uncovered, and that's the strength in Christ."
Sorbo says that Sam's sacrificial love and unyielding commitment to him even before they were married was a demonstration of God's unmerited love and faithfulness. "She married me when I was at my absolute lowest," he says.
The near-death experience gave Sorbo a new perspective on God's purpose for his life. "I think it was a wake-up call for me to go on the path I'm on now," he says. "Most of the movies I do are real family-friendly and faith-based, and I think that's the road that God wanted to put me on."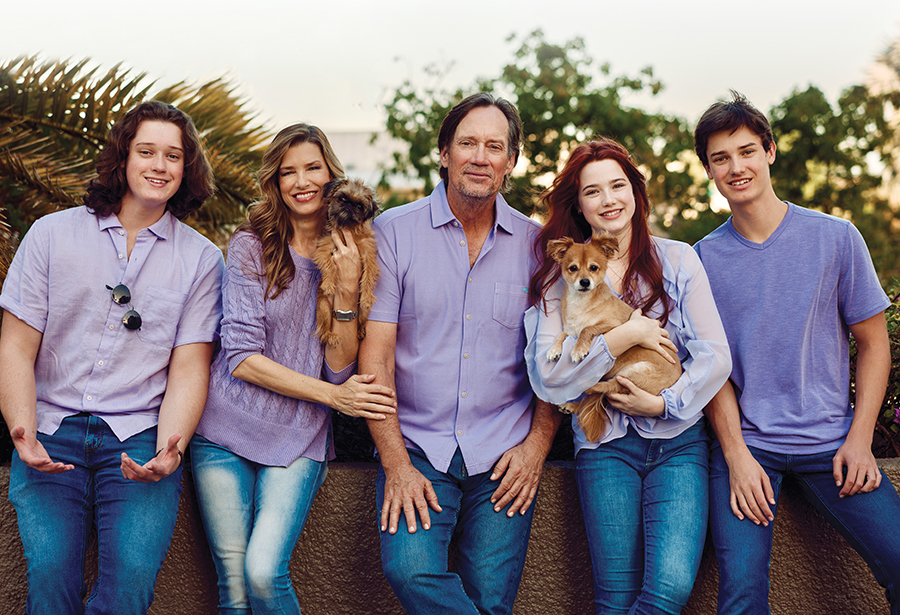 And with God as their director, the Sorbos refuse to bow down to a politically correct cancel culture. They wish more pastors would do the same.
"I'm not afraid to be a lion," Sorbo says. "I think there's too many sheep out there. I think the lions need to wake up and not be afraid to speak up. Pastors, you've got to remember that you work for God and not government. What's going on in too many churches right now with catering to whatever the whim of the craziness of the world is, is just absolutely insane."
As for a Hollywood ending? The Sorbos have been happily married for 25 years and have two sons and a daughter in that order, just like they talked about on their first date. And they couldn't be more excited to release their latest apocalyptic thriller of Biblical proportions.
"I'm excited that this story will be brought to the world," says Sam, who, along with their oldest son, Braeden, is part of the movie's cast. "Jesus was a storyteller, and that's why Kevin and I make movies also, because we know that stories change the world. And I think this story can help change the world for the better." ©2023 BGEA
Top photo: Picturelux/The Hollywood archive/Alamy