Among a collection of family photos on display in Baylor University Head Men's Basketball Coach Scott Drew's office is a picture of a game-winning shot—one of the most iconic highlights from the NCAA Men's College Basketball Tournament, endearingly called "March Madness."
In the photo, Valparaiso University senior point guard Bryce Drew, Scott's brother, has just released a three-point shot barely a fraction of a second before the game clock expires. When the basketball dropped through the nets, the lowly Crusaders—from the small private Lutheran college in northwestern Indiana—had defeated the highly touted Rebels from the University of Mississippi by one point.
At that time, in March 1998, Scott was an assistant coach at Valparaiso and his dad, Homer, was the head coach, as the Crusaders advanced to the "Sweet Sixteen" round of college basketball's most celebrated tournament.
"I'm looking at the picture right now," Scott says during a phone interview with Decision magazine. "My brother is shooting one of the best buzzer-beaters ever, and being able to share that with your dad and brother, I mean that's priceless."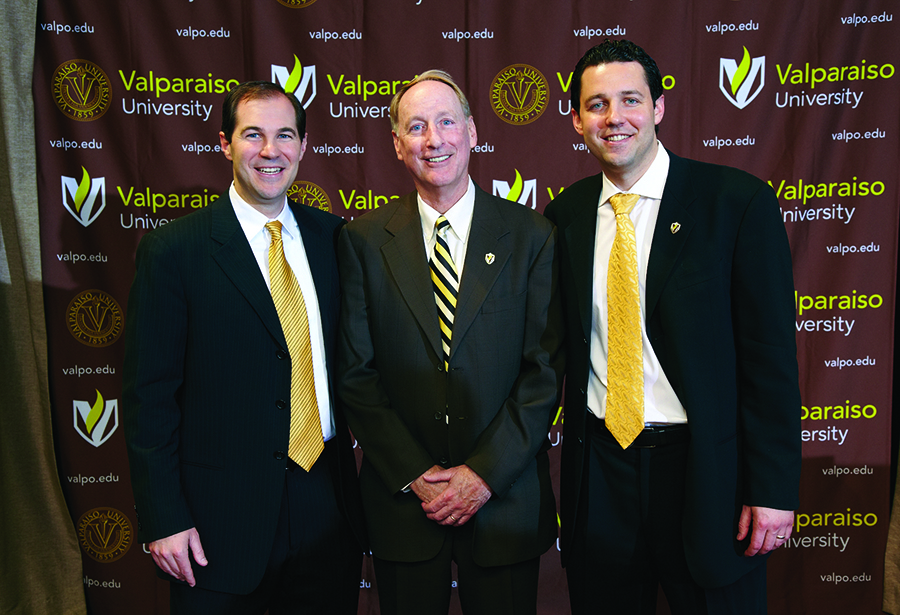 And while commentators have long since venerated Valparaiso's legendary victory as a "miracle," another framed photo in Scott's office embodies a milestone for which he also gives God all the credit.
"To win a national championship, and then to have the team huddled up praying afterward, giving God the honor and glory, that's priceless," Scott says about the photo of his 2021 National Champion Baylor Bears team, which defeated previously unbeaten Gonzaga 86-70.
During the national championship trophy presentation, CBS Sports broadcaster Jim Nantz announced before tens of millions of viewers: "Coach Drew and Baylor have just completed college basketball's greatest rebound and rebuild with a championship!"
Scott responded: "I can tell you our guys have been motivated all year. It's a player-led team. We're so blessed to have upperclassmen and leadership. But we play with a culture of J.O.Y. That's Jesus, Others, Yourself."
In his book, "The Road to J.O.Y.: Leading with Faith, Playing with Purpose, Leaving a Legacy," Scott describes the team's national title run and the seemingly impossible challenges God helped him and his teams to overcome during their 18 seasons.
"It was the culmination of three weeks in the isolation of a pandemic-induced Bubble, which was life-altering in some inconvenient ways but also led to some of the deepest connections I'd ever had with players, coaches and friends," he writes about winning the national championship.
When Scott was hired as the men's basketball coach at Baylor in 2003—following one year as his dad's successor at Valparaiso—he shared his God-sized vision for leading the Bears to college basketball's Promised Land during his introductory press conference. His passion for coaching collegiate hoops ever since he was the men's basketball team manager and an intramural coach at Butler University—where he had been a scholarship tennis player—filled the room. Not unlike the Baylor green and gold streamers he used to decorate a Chicago airport meeting room to win the hearts of the head coach search committee.
The Baylor men's basketball program had been languishing in the wilderness. In fact, the NCAA contemplated disbanding the program after one of its players had murdered a teammate. To make things worse, the previous head coach faced allegations of lining players' pockets and blaming the deceased player for his own misdeeds.
Scott had inherited a team buried under NCAA sanctions, including a scholarship ban, reduced game schedules and banishment from post-season tournaments.
The Bears, who had nearly as many walk-on players as those on scholarship, lost more than twice as many games as they won in each of Scott's first three seasons. So his dad—and Hall of Fame basketball coach—led him in reading from the Old Testament Book of Job when they could break away from their busy coaching schedules to talk on the phone.
"Because of the situation he inherited with the NCAA violations from the previous staff—from not having complete schedules to not having enough scholarships—it reminded me of how Job walked into travesty and had things taken away, and obviously at the end of the story everything was doubled for Job because of his faithfulness," Homer says. "So, it seemed appropriate for what Scott was going through." Through it all, Homer says, he's most proud of how his son prioritizes his marriage to his wife, Kelly, and their parenting of their three children, one each in college, high school and elementary school.
Eventually, the Bears started stacking up wins on the court. By Scott's fifth season, Baylor had won 21 games and qualified for the NCAA tournament for the first time in two decades. The following season, Baylor failed to qualify for "The Big Dance" but made the consolation tournament, advancing to its first-ever championship game in the National Invitation Tournament (NIT). The Bears lost to the Penn State Nittany Lions but fulfilled a pre-season prediction by the team's chaplain who, after a period of prayer and fasting, had declared that the Bears would play for a championship against a team called the lions.
Then in 2010, Baylor won its first NCAA Tournament game in 60 years and advanced to the Elite 8 round of the playoffs en route to winning 28 games that season. Three seasons later, though the Bears failed to make the NCAA Tournament, they won their first NIT championship.
But Scott says what happened off the court that season was even more gratifying than cutting down the nets at Madison Square Garden after winning the NIT: Baylor players were being baptized.
"So many thoughts went through my mind as we watched our players make the most important decisions of their lives," Scott writes. "That was our tenth season in Waco, and while we had won an NIT championship and made it to the Elite 8 in 2010 and 2012, nothing seemed more important than what was happening in that moment."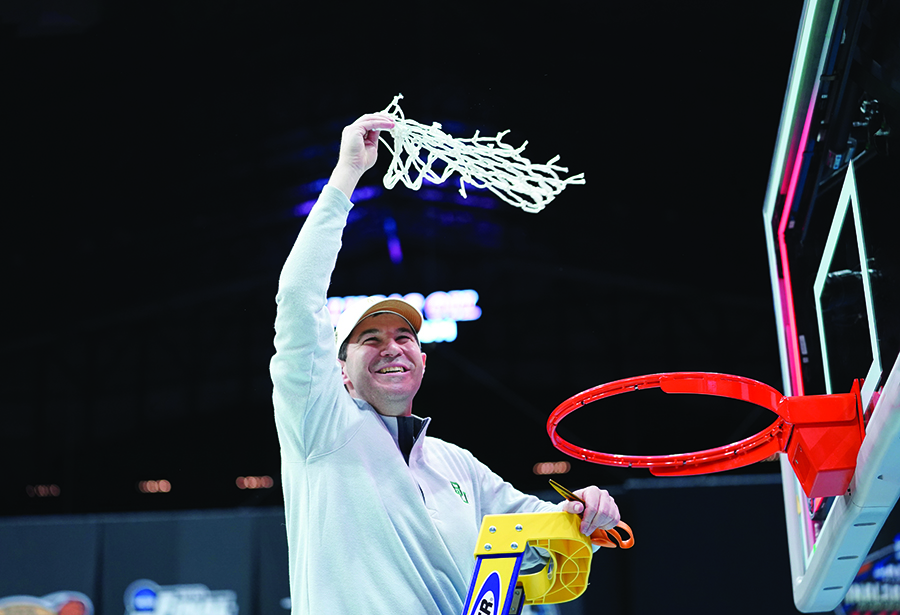 Scott made his own profession of faith in Christ when he was in second grade, but it wasn't until his mid-20s that he truly understood that salvation is by God's grace through faith in Christ alone. And his spiritual maturity wasn't the only thing to bloom later in his life. In high school, he stood 5 feet, 2 inches.
"That was the first time I really was questioning God," he says. Now, at 5'11," Scott is convinced that God delayed his growth spurt to put him on a path to coach basketball. "God always has a bigger plan than our plans," he says.
And after years of building a Christ-centered basketball program around daily prayer and Bible study with players and coaches, Scott says he believes that his 2021 national championship team was built for the NCAA's quarantine-restricted bubble of teams competing in the end-of-season tournament in Indianapolis.
"That's three weeks of only seeing your family on a screen or in the stands," Scott writes. "Three weeks of no hugs from our children or wives. But it had also been three weeks of some of the best fellowship of our lives. It was three weeks of regular Bible studies and prayer. Three weeks of sharing and vulnerability and affirmation and accountability. In some ways, it was three weeks of the closest thing to the early church lifestyle any of us had experienced."
Throughout his book, Scott repeatedly describes the basketball program at Baylor as a ministry. "If you live your life on mission for God, everything you do can be a ministry because everyone you encounter can be someone you serve because Jesus has served you," he writes.
As for his legacy, Scott says the coaching accolades are not his priority. "The older I've gotten in coaching, the more intentional I've tried to be with those deep conversations, because at the end of the day when we're in Heaven, there's nothing that's more rewarding, I would think, than to see people there that you had an opportunity to share Christ with." ©2023 BGEA
Photo: Courtesy of Baylor University