Hurricane Ian, which made landfall Sept. 28 west of Fort Myers, Florida, devastated the southwest region of the state with winds up to 150 mph and a record-breaking, 18-foot storm surge. The Category 4 hurricane claimed more than 100 lives in Florida and displaced thousands.
Every Billy Graham Rapid Response Team (BG-RRT) deployment bears spiritual fruit, but rarely has the Gospel response been as abundant as what the RRT chaplains have experienced in the aftermath of Ian.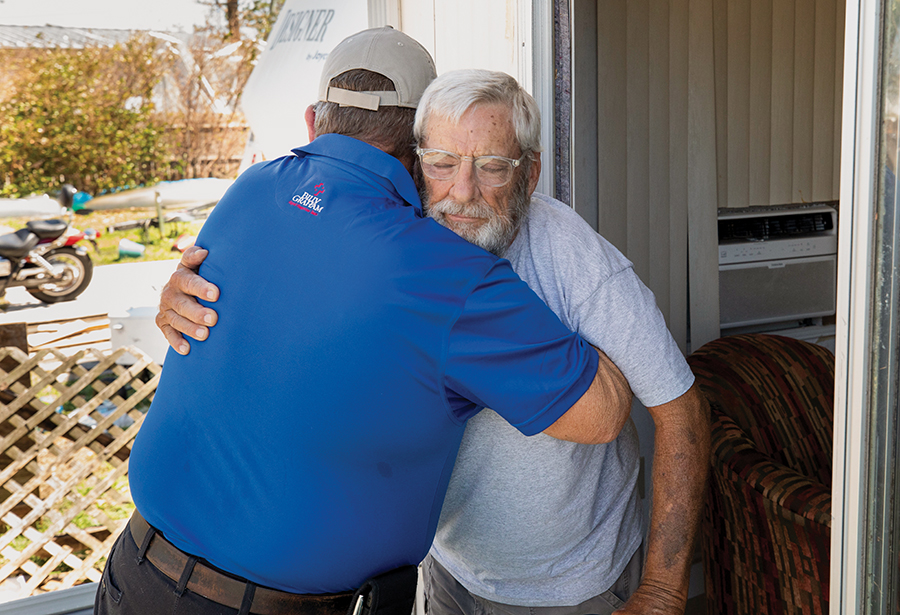 The BG-RRT had already been in planning mode as the storm approached. By Oct. 1, BG-RRT chaplains were on the ground, ministering to people in the towns of Englewood and Fort Myers, alongside Samaritan's Purse Disaster Relief teams trained to help homeowners repair and rebuild their homes. By Oct. 6, chaplains were dispatched to nearby Punta Gorda as well.
Through early January, BG-RRT chaplains had led more than 500 people to saving faith in Christ, most often as conversations transitioned from talk about the ravages of the storm toward eternal things.
"It's incredible to see what God has done through our Rapid Response Team chaplains in Florida," said Josh Holland, international director of the BG-RRT.
"They are being the hands and feet of Jesus in the most tangible ways," Holland added. "We are thankful that even in the midst of tragedy, there has been triumph in so many lives changed for eternity and people coming to know Jesus Christ as their Lord and Savior."
Weekly reports from the chaplains paint a picture of residents devastated emotionally and physically by the storm. And among those 500-plus new believers, a remarkable number told chaplains they believed in God or had a background in church, but had never understood the Gospel.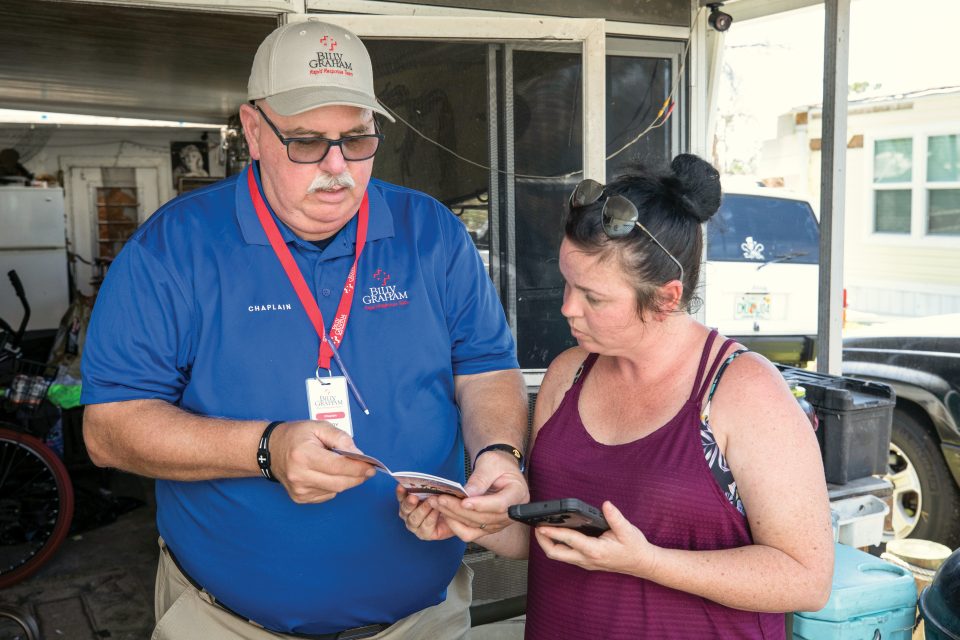 What follows are a few of those stories from Englewood, Fort Myers and Punta Gorda. The BG-RRT's ministry in Englewood and Fort Myers is continuing into the new year.
Some accidents might not be accidental. As two chaplains were stopped at an intersection in their truck, a woman rear-ended them with her SUV. No one was injured, but as the chaplains and the woman waited for a sheriff's deputy to complete her accident report, the chaplains began talking to the woman and eventually shared the Gospel with her. Before the two parties left the scene, "she prayed sincerely and received the forgiveness and hope found only in Christ," the chaplains wrote. The woman told the chaplains, "I'm so sorry I ran into you, but I am so glad I ran into you."
A 96-year-old World War II veteran was among those who gained eternal hope. As Samaritan's Purse volunteers were repairing the man's home, the BG-RRT chaplains learned of his war service. The man said he vaguely remembered hearing Billy Graham preach years ago. When the conversation turned toward the Gospel, the man said he was "almost convinced" about Jesus but wanted to know more. As chaplains went deeper into conversation and explained why Jesus came to Earth and why He went to the cross, the man signaled he was ready to place his faith in Christ. The chaplains led the man in a prayer of salvation.  
One of the BG-RRT's Mobile Ministry Centers (MMC) was parked at a local Walmart when chaplains shared the Gospel with a man who had stopped to talk before he went into the store. Seconds later, a woman who had been listening to the conversation approached the chaplains, explaining, "I have been in church a long time. I have never done that before," the woman said, speaking of placing her faith in Jesus as Savior. "Can you go over that again with me?" After the chaplains explained the Gospel, the woman prayed along with the chaplains in a prayer of salvation. She said, "I feel like I just got a big hug from God." 
A 9-year-old girl was among those who placed their faith in Jesus. Chaplains were speaking to her grandfather, and as she listened, the chaplains asked her if she understood what she had heard. "Oh yes!" she said. When chaplains asked if she would like to receive Jesus as her Savior, she said, "I would like that very much." She wrote in her journal that day, "This is my heavenly birthday. October 18, 2022."
A couple in their 80s was overwhelmed with their property damage, as well as a son who was critically ill. The husband's mind seemed occupied with the repairs, but the wife, who was suffering with an illness herself, wanted to know more about the hope the chaplains had talked about. Through tears, the woman explained how she had visited a church several years prior with her son. She said, "I wish I would have stood up," referring to the church's Gospel invitation. The chaplains told her, "It's never too late!" Before they left, she surrendered her life to Jesus Christ. 
As chaplains visited with one man, the conversation turned from Hurricane Ian to the man's life experiences and some of his heartaches. The man asked the chaplains, "Is it true that if you ask for forgiveness, your sins will be forgiven?" It was a divine appointment. Moments later, the man confessed his sin and prayed to receive Christ as his Savior. "This must be the reason God let me make it through the storm," the man told the chaplains.  
A woman told chaplains that she loved what the church stands for, but she had questions about eternity. As chaplains shared the Gospel message and the peace that Jesus offers, she said, "Yes, that's what I want." Her friends had been talking to her about the Lord and would tell her they were praying for her, she said. "Now I know why," she told the chaplains. After she prayed to receive Jesus as her Savior, she said she was going to call and tell everyone who had been praying for her that prayer, indeed, changes things.  
Chaplains struck up a conversation with a homeowner as she was sitting on her front porch. The woman was very ill, and through tears she told them about all the horrific things that had happened in her life. As they began to share with her how she could find lasting peace and eternal hope through a personal relationship with Jesus, the woman listened intently before expressing a desire to invite Christ to be her Lord. Right after she prayed with chaplains, her 11-year-old grandson entered the room and exclaimed, "I believe in Jesus!" Her grandson had been in the backyard talking with another chaplain, who had learned the boy had lost both parents, and another family member had been murdered. The chaplain was able to lead the young man to the Lord as well. After the grandmother and grandson hugged, the young man told his grandfather what had just happened. 
"What do you guys in the blue shirts do?" a woman asked the chaplains. They had just finished visiting with her neighbor when she noticed them as she stood in her yard. After they explained their work, the conversation turned to faith. The woman had attended church as a child and believed in God, but she had never made sense of the paintings and statues of Jesus on the cross that she recalled seeing. Asked if she would like to know more, she said yes, and the chaplains began to explain the Gospel. After learning who Jesus is and why He came, the woman joyfully invited Christ to be her Lord and Savior. ©2023 BGEA
Photo: Matthew Ray/©2022 BGEA