When social conservatives went to the polls in November 2016, many of them cast their presidential ballots with a prayer on their tongue and some reasonable fear and trembling in their bones. Two candidates with two distinct visions of what religious liberty in America should mean were vying for the presidency.
One candidate, despite his abrasive style and worldly reputation, was surprisingly friendly and vocally supportive of Christians singled out for their faith amid increased government hostility over the previous eight years. And he surrounded himself with Christians in some high-visibility roles. The other party and their candidate indicated nothing of the sort, even suggesting that "deep-seated cultural codes" and religious views needed reforming.
As it turned out, the voters chose Donald Trump over Hillary Clinton in a close election. Many considered it a last-ditch chance to stem the tide of years of left-wing judicial activism, with the 2015 Obergefell Supreme Court decision that federalized homosexual marriage across the nation still fresh in their minds. The death of the Supreme Court's conservative lion, Antonin Scalia, in 2016, and the likelihood of more open seats to come, brought the high stakes into clear focus.
Fast forward to October 2018: President Donald Trump, who during his campaign made bold promises about the concerns of evangelicals regarding religious liberty and the sanctity of human life, has kept his promises. He nominated an originalist-constitutionalist judge, Neil Gorsuch, to replace Scalia. Trump then nominated another conservative, Brett Kavanaugh, to replace moderate Anthony Kennedy on the high court. 
In fact, Trump has nominated more judges in his first 20 months than any president in history, with many of the lower federal court nominations stalled in the Senate. That fact, along with future vacancies, adds enormous weight to the mid-term elections on Nov. 6, as conservatives and liberals battle over control of the chamber, and in significant ways, the direction of religious liberty in America.
Ken Klukowski, Of Counsel for First Liberty Institute, has worked in Washington, D.C., for years and knows many of the judges thus far placed in nomination by the Trump administration. He and others interviewed by Decision agree that the administration has exceeded expectations on the religious liberty front. And the midterms, Klukowski says, will determine if the progress continues.
"Everything is at stake. Literally everything," Klukowski says. "If liberals were to take control of the U.S. Senate, if there were to be a Supreme Court vacancy one week after the new Congress is sworn in, then that Supreme Court seat would still be open two years from now at the next presidential inauguration." 
In the Senate there is a slight conservative edge, but that could easily change, Klukowski warns.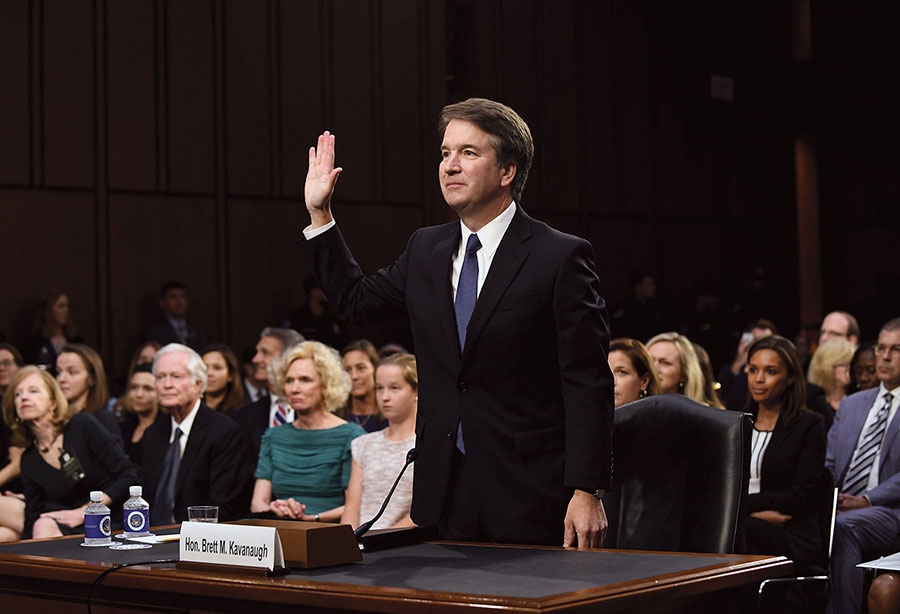 If Democrats, an increasing number of who are socialists, gain a majority in Congress, all the recent advances in religious liberty could be undone. It is imperative that Christians vote in the midterm elections to prevent that from happening. 
As of press time, progressive activists were still working feverishly to derail Kavanaugh's confirmation. On the first day of the hearings, Senate Democrats tried delay tactics, and left-wing protestors shouted over Republican senators trying to deliver opening remarks. More than 70 protestors were arrested for disrupting the Senate proceedings, Capitol police said. 
Of White House appointments that require Senate approval—some 400 judicial and other government posts—about one-third remain unfilled, despite nominations being placed.
"The president made a promise to the American people regarding the sort of conservatives he would appoint to the federal bench and to other government roles. He has been doing a spectacular job of keeping that," said Klukowski, who has defended Oregon bakers Aaron and Melissa Klein, a case that is being appealed to the Supreme Court after Oregon fined the couple $135,000 for refusing to create cakes for gay weddings.
Klukowski also praised Attorney General Jeff Sessions' religious liberty guidelines issued following Trump's first of two executive orders on religious liberty in government workspaces, and the newly announced Justice Department religious liberty task force. 
"Jeff Sessions has been a fantastic friend of religious liberty," he says.
Michael P. Farris, president, CEO and senior counsel at Alliance Defending Freedom, agrees with Klukowski's assessment on the religious liberty front, admitting, "I flat-out didn't expect this, but the Trump administration has been the best in my lifetime at appointing judges to the courts. … I didn't expect this at all."
Farris, in years past, would walk into federal courtrooms and face a panel of judges appointed by presidents of various political leanings, and too often he couldn't predict their view on religious freedom questions. Republican- and Democrat-appointed judges were "only marginally different," he says. 
"But the president has been listening to the right people, hearing their advice and following it," Farris says.
ADF has argued several recent high-profile cases at the Supreme Court, including successfully defending pro-life pregnancy centers against the state of California and baker Jack Phillips against the state of Colorado (which has come after him again).
Farris has a warning for Christians, despite a positive trend in the current presidential administration.
"The attacks on religious liberty in the next five years are going to be worse than we've ever seen in American history. I don't mean they're going to be successful," Farris says, "but I believe there are going to be an enormous number of attacks.
"This year's midterms, especially in the Senate, will have lasting impact on religious liberty," Farris says. "We now have a president who is nominating originalist judges. That benefits everyone. We need senators who will confirm those judges.
Tim Goeglein, vice president of external relations for Focus on the Family, says it boils down to two worldviews at sharp odds.
"One worldview—by and large the progressive view—prefers an increased secularization," Goeglein says, "with less faith in the public square. The other—the conservative view—welcomes faith in the public square. That view says faith and public life go together, that it's not a theocracy but that we are, from our founding, a religious republic."
Goeglein, a veteran of the George W. Bush administration, says the policy that flows from a presidency is predicated on the people the president chooses to surround himself with and appoint to key positions.
"Policy is personnel and personnel is policy, but the latter of those two is the most important—personnel is policy."
Goeglein has some advice for voters next month.
"In our form of government, voting is the first duty of Christian citizenship. So it's very important to ask, 'What kind of country do we want in 50 years?' And I think we must ask what kind of personnel, and what kind of policies does this person—this governor, this senator, this president—bring with him or her to the office?"
Header Image: Patsy Lynch/MediaPunch/IPX