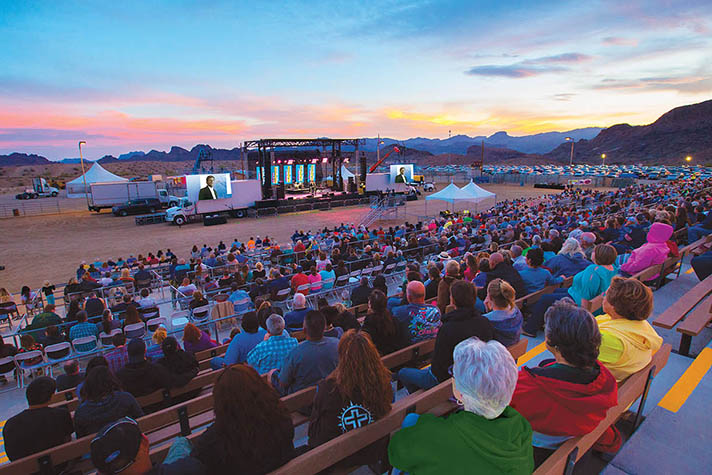 For Johanna Magdaleno, it seemed like God sent the Will Graham Colorado River Celebration to Lake Havasu City, Ariz., just for her.
She was thrilled that more than 5,000 attended the three-day event March 11-13 at the SARA Park Rodeo Grounds and that 497 responded to Will's Gospel invitations.
She considered it an unspeakable joy to work in BGEA's local office and with its co-labor team on-site, entering decisions for Christ into a computer database.
But, on a much deeper level, she encountered the redemptive touch of her heavenly Father through the Celebration being held in the town where she lives with her husband, Ruben, and their three sons, ages 9-13.
The fact that she and Ruben are together is like a miracle. They used to be hooked on methamphetamines, and both spent time in federal prison. Johanna accepted Christ in 2011 while incarcerated for felony convictions of credit card fraud and identity theft.
Now, thanks to the Lord's saving grace, she and Ruben each have a new identity in Christ.
Johanna was considered for the local BGEA office manager position, but wound up being hired as an administrative assistant. The woman hired as office manager, Mary King, turned out to be a former aide to Johanna's former defense attorney. Mary and Johanna quickly connected in Christ, and Mary helped Johanna get her criminal record expunged.
"I fell on my knees, and I just thanked God," Johanna said, adding that Mary cried and rejoiced with her.
On the same day that Johanna received that good news from the court, Mary worked her last day in the BGEA office, leaving to take another job. As Mary moved on, Johanna was promoted to take the office manager role for which she was originally considered—another blessing from her Father in Heaven.
The timing of Will's Celebration in Lake Havasu City coincided with college students coming to the area for spring break. In addition to parties and revelry, Lake Havasu has a history of great danger during the weeks of spring break. As Will told the crowds at the Celebration, some young people have died and never made it back home.
Hence, the urgency to bring the Gospel to town. Pastor Chris Blythe of New Hope Calvary Church in Lake Havasu was "all-in." He served as a counseling supervisor for the Celebration and also leads the "Pancake Village" ministry to students on the shores of the lake.
Each year since 2007, he and volunteers have served pancakes and water to college kids in need of nourishment and hydration to counter their over-consumption of alcohol. Mostly, however, they need the love, grace and mercy of Christ.
"If Jesus came to town on spring break, where would He go?" Blythe asked. "We just come and meet people where they are. We can't just sit on our blessed assurance. If we don't move, it's going to be too late."
Blythe saw many come to Christ by the lake during his daytime ministry and at the rodeo grounds during the evening Celebration meetings.
The Saturday night service was extraordinary for Stacie Webster, a co-leader of youth at the Lake Havasu Church of the Nazarene. She hoped to see just one of the middle-schoolers with her respond to Will's Gospel invitation. Instead, six of them between the ages of 12 and 14 went forward—five to receive Jesus as Lord and Savior and one for rededication.
"I can't even tell you what I'm feeling," Stacie said, overjoyed. "It's like a volcano just erupted in my heart."
On that same night, the Celebration became even more of a gift from God for Johanna and Ruben Magdaleno. The two oldest of their three sons, ages 13 and 11, also went forward to receive Christ.
"What better joy can a parent experience?" Johanna asked.
 ©2016 BGEA