In 1948, in the shadow of World War II, newlyweds Harry and Esther Snyder opened the very first In-N-Out Burger in the Los Angeles suburb of Baldwin Park.
The 10-square-foot stand wasn't much. But just two generations later, that little mom and pop business at the intersection of Francisquito and Garvey would be known as the origin of a multi-billion-dollar empire.
Amid post-war inflation and the threat of communist expansionism, Americans began to embrace the novelty of fast food. Quick, easy and tasty—fast food revolutionized the restaurant industry. But the Snyders weren't willing to sacrifice quality for speed; they prioritized both. Harry would visit the local meat and produce markets every morning, searching for fresh ingredients to serve customers that day. Esther helped in the stand by forming the meat patties and cooking the fries. She also did all the accounting for the business from their home around the corner.
After long days selling burgers, Harry would return home and hole up in the garage to work on a two-way speaker box that would allow guests to order and receive their meals without leaving their vehicles. The introduction of what we now know of as the drive-thru—the first in California—transformed In-N-Out's customer experience, making the fledgling burger joint truly worthy of its name.
And 73 years later, Harry and Esther's only grandchild, Lynsi Snyder-Ellingson, is committed to ensuring that In-N-Out holds tight to her grandparents' core values—quality, cleanliness and service.
Lynsi had always planned to carry on her grandparents' legacy, but she never could have anticipated the path that led her to taking over the family business.
As a young girl, her childhood seemed pretty normal. "I had friends," she told Decision. "I felt loved by both my parents; I had all the things I needed."
But at the age of 5, Lynsi's mother, Lynda, began to take her to visit her father in the hospital.
Lynsi was told that her dad was sick, but it wasn't until she was 11 that she put the pieces together and realized that the hospital she had visited her father in was actually a rehab facility.
At that time, Lynsi's uncle, Richard Snyder, was president of In-N-Out Burger and led the company through a time of rapid growth, expanding the chain from 18 stores to 93. But in 1993, Richard was tragically killed in a plane crash. Lynsi's father, Guy Snyder, became CEO and chairman of the board, and continued widening In-N-Out's territory.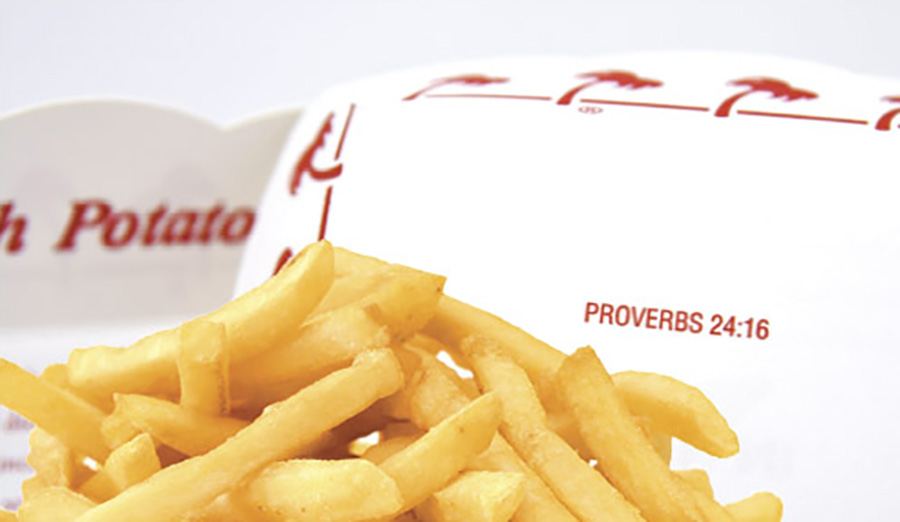 Guy had maintained his sobriety for a few years, but the stress of running the business from Southern California and commuting back and forth to Northern California where his family lived, on top of the grief over his brother's death, began to overwhelm him. He turned to drugs once again.
Lynsi's father's addiction, coupled with an extramarital affair, put a strain on her parents' marriage. They eventually divorced when she was 12.
Several years later, when Lynsi was just 17, her father died of congestive heart failure as a result of his excessive prescription drug use. He was 48.
"It rocked me to my core," she said. "I hadn't seen him for a while; he was in and out of my life because of his addiction. But when I was young, he was the parent I felt most bonded to. When he died, it felt like my best friend, my protector, my defender, my dad—whom I thought I was maybe going to get back one day through rehabilitation—was gone."
After his death, Lynsi tried to fill the void of his absence by seeking love and attention from others.
At 18, she married her high school sweetheart. But the marriage only lasted two years.
"I grabbed on to someone who wasn't right for me," Lynsi said. "I knew it, but I pushed it to the back of my mind and figured I'd deal with it later."
Lynsi had put her faith in Christ as a teenager, but she drifted away from her relationship with the Lord following the end of her marriage.
Divorced at 20 and feeling like the black sheep of her family, she quickly jumped into a new relationship and began partying, smoking marijuana and drinking excessively.
Over the course of a year, Lynsi fell deeper and deeper into sin, but the Lord didn't stop pursuing her. In fact, He used the movie "The Passion of the Christ" to get her attention and draw her back to Him.
As part of her decision to repent and recommit her life to God, Lynsi knew she had to give up the pot and alcohol. Yet she struggled to let go of the unhealthy relationship with her boyfriend.
But a few months after Lynsi turned back to the Lord, her boyfriend started going to church with her and eventually accepted Jesus. The two married soon after.
Unfortunately, Lynsi's second marriage didn't last either. "I have two precious children from that marriage, but six years later—another divorce," she said. "I couldn't have felt like a bigger failure at that point. I just couldn't recover who I was. I was so alone."
Lynsi married and divorced once more before concluding that men could not provide the love she desperately wanted—only God could.
"God took me to a place that I'd never been before," she explained, "and He showed me that in a time when I felt more alone than ever, He was there. And He'd been there all along … needing me to let go of that tangible person—it was my dad first, then it was the next guy, and the next guy. I was never willing to just let go to see that God had something better."
It was then that Lynsi vowed to put Christ first in her relationships.
When she met her now-husband, Sean, in 2014, things were "completely different from the start," she said. After their first conversation, they agreed to pray for each other and build a relationship based on friendship rooted in their common commitment to Jesus Christ.
"He wasn't a fixer-upper. I didn't feel like I had to change him, like I did the others—and we know that didn't work. He's a spiritual leader, and we were in agreement in so many different areas from the very beginning."
While Lynsi was learning to trust the Lord in her relationships, she was also learning to let God take the lead in her career.
At age 27, she became the president of In-N-Out Burger.
"Before my dad died, I did have other plans," she admitted. "Of course, he died when I was 17, so those plans didn't take deep root. But God knew I was called here. It hasn't been easy by any means, but I do feel that the Lord has created in me the strength and the skills to take on whatever comes my way."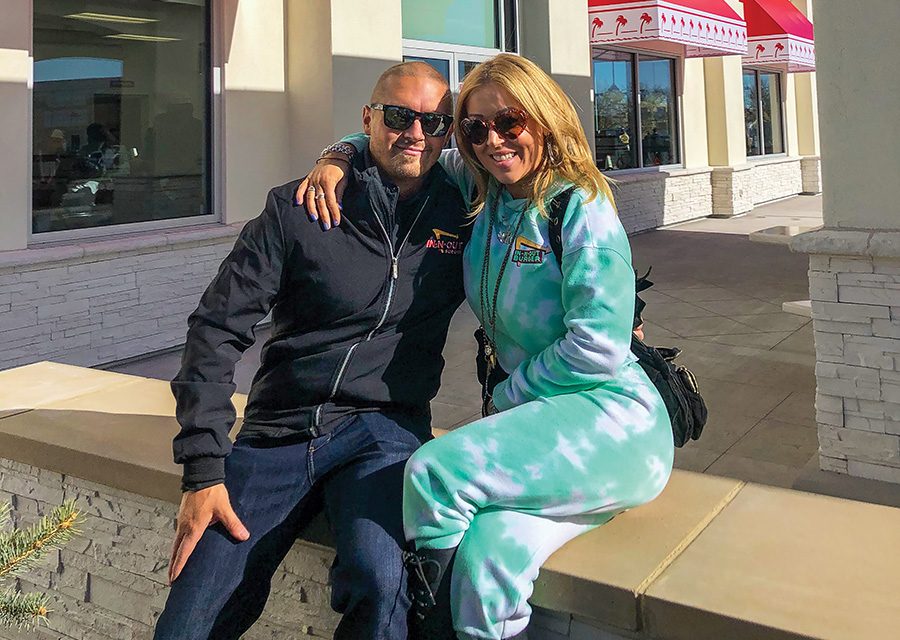 Even in times of despair, Lynsi wanted to find ways to glorify God. One way she found to do that through In-N-Out Burger was to continue adding Scripture references to the packaging. The concept was first started by her uncle Richard in the early 90s. Today, you can find John 3:16 on the soda cup, Proverbs 3:5 on the milkshake cup, Proverbs 24:16 on the fries container, Luke 6:35 on the coffee cup, Nahum 1:7 on the famous Double-Double wrapper and Revelation 3:20 on the hamburger and cheeseburger wrappers.
"I pray that those verses will influence people and get their attention, but also that they will give them hope," she said.
Lynsi and Sean are coming up on their seventh wedding anniversary. And while Lynsi is busy running one of America's most popular fast-food chains as well as raising four children, she makes time to partner with her husband in fighting against child abuse, substance abuse and human trafficking. Through the In-N-Out Burger Foundation and the Slave 2 Nothing Foundation, nearly $4.8 million was donated in 2020 to individuals and families who have been affected by abuse or trafficking.
Additionally, the two lead Army of Love, a ministry that serves as a helpline for people in search of love and encouragement and also equips Christ followers to use their gifts and skills to minister to those in need.
"I believe we are vessels that contain God's love, and it's our job to pour out that love on others," Lynsi said. "God has healed me, and I've learned to walk in His grace. Being a voice for those that can't speak, fighting for those who can't fight … God has given me a protective nature and a warrior soul. Being an extension of His love is always the goal."
Photos: Courtesy of Lynsi Snyder-Ellingson