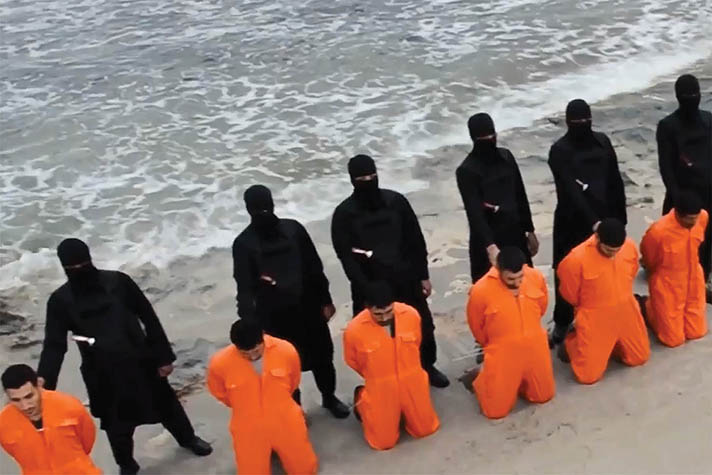 When ISIS terrorists detonated bombs March 22 at the airport in Brussels, Belgium, and at a subway station, it was yet another reminder of the Islamic group's violent methods and goals.
ISIS claims to have established a caliphate, or Islamic State, in Iraq and Syria. In doing so, it wants to incite jihad against everyone who does not share the radical group's beliefs.
And if achieving an expansive caliphate in the Middle East doesn't work out, ISIS would gladly settle for hastening the end of the world by instigating "the final battle between Muslims and the crusaders prophesized to be held at Dabiq in Syria," according to the group's official magazine.
ISIS bombings, beheadings, torture, rape and wanton killing of religious minorities led many religious groups, members of Congress and world leaders to urge the U.S. State Department to label the group's actions genocide. The European Parliament applied that label in February.
But it took a House Resolution, passed unanimously March 15, to force the State Department's hand, requiring a response by March 17. After the State Department initially signaled that it would not meet that deadline, Secretary of State John Kerry finally issued a statement that ISIS' actions constitute genocide.
"The fact is that Daesh [another name for ISIS] kills Christians because they are Christians; Yazidis because they are Yazidis; Shia because they are Shia," Kerry said. "Its entire worldview is based on eliminating those who do not subscribe to its perverse ideology."
Many welcomed Kerry's declaration. Nate Lance, advocacy manager for International Christian Concern (ICC), stated that his organization was grateful "that Secretary Kerry has decided to call ISIS for what it is: genocidal. Their killing, enslavement, human trafficking, rape and destruction of Christian and religious minority communities in Iraq and Syria can be classified as nothing else."
Still, Lance and others questioned why such extreme measures were needed to force the State Department to issue its statement.
"What took so long?" asked Franklin Graham, president of the Billy Graham Evangelistic Association and Samaritan's Purse. "The fact is, genocide has been carried out by Muslims for centuries. The Turks committed genocide against Armenians at the turn of the last century. There used to be a large Jewish and Christian population on the Arabian Peninsula, now Saudi Arabia. They're not there today—they have been exterminated or forced to leave over the centuries under Islam. Muslims throughout Africa and Asia continue to carry out genocide. Why? Because the Quran teaches followers of Islam to kill and destroy nonbelievers. This is what their prophet did, and true followers of Islam want to emulate their prophet. It's time our government recognizes it is Islam that fuels this hatred and death. Call it what it is."
Franklin was not alone. Retired Lt. Col. Ralph Peters said the Obama administration was basically "shamed" into making the genocide designation.
"This administration still romanticizes Islam," Peters said. "It still finds Christians somehow distasteful. It's almost as if the administration feels Christians have no real right to be in the Middle East. And Christians were there a long time before Muslims were—six centuries."
And there is no guarantee that the State Department's announcement will actually change anything, as officials pointed out that the genocide designation does not obligate the U.S. to take additional action against ISIS.
Christians Respond With Love
Where radical Islamists spread terror and destruction, followers of Jesus Christ respond with faith, hope and love. ICC's Lance pointed out that this loving response is a powerful witness. He knows one pastor who said an ISIS assassin was sent to his church to determine the best way to attack it. But the love shown by the congregation so impacted the man that he converted to Christ.
Emily Eisenman, 21, of Athens, Ga., lost her boyfriend, Belgian university student Bart Migom, in the blast at the Brussels airport. Migom was about to fly to the United States to visit Eisenman. In televised interviews, she spoke of Migom's Christian faith.
"Bart is a very godly man," Eisenman said. "He is a strong, godly warrior, and I think that's the title he would want everyone to know him by: that he loves Jesus with all of his heart and that wherever he is, he is completely safe because he is in God's hands."
Christians brought the love of Christ to those in Brussels who were grieving their losses and dealing with the horror of the bombings. At the direction of Franklin Graham, the Billy Graham Rapid Response Team's international consortium sent a multinational group of crisis-trained chaplains to Belgium after the attacks.
"We all grieve with our brothers and sisters in Belgium," said Jack Munday, international director of the Billy Graham Rapid Response Team. "Please join us in praying for the wounded, the survivors and the loved ones of those who lost their lives, as they travel through their journey of grief and mourning."
Chaplains prayed with and comforted mourners, while also helping local churches to offer hope in the midst of the crisis. During their deployment, chaplains prayed with more than 300 people, and they were able to lead four people to Christ.
They also traveled into a neighborhood that is more than 90 percent Muslim and operates under Sharia law. Chaplains joined with local Christians in the neighborhood in serving a Friday evening meal to about 20 homeless people, most of them Muslim men from a variety of countries. The men were unable to find permanent lodging because of the large influx of refugees over the past few months. A pastor shared the Gospel and explained Jesus Christ's death and resurrection to the men.
Back at the main memorial site in Brussels, chaplains found residents increasingly interested in talking about their thoughts, feelings and spiritual things.
"We couldn't even get off the streets today," said Chaplain coordinator Jeff Naber on April 5. "People wanted to talk. It's a very rich environment for sharing the Gospel. So many  people here don't know or don't believe in God."
Many Brussels residents expected additional bombings in the city, so chaplains asked believers to pray for peace in the city and for peace in the hearts of the people through Jesus Christ. ©2016 BGEA