Franklin Graham traveled to Moscow in July and met with Russian church and government leaders to discuss opportunities for preaching the Gospel together.
The visit coincided with the 1,033-year anniversary of the Baptism of Russia—the year Christianity became the official religion of Russia. Franklin was accompanied by Viktor Hamm, BGEA's vice president of Crusades.
One of the leaders was Metropolitan Hilarion, chairman of the Department of External Church Relations of the Russian Orthodox Church, who was celebrating his 55th birthday. Franklin presented him with a set of Bible commentaries. Metropolitan Hilarion, a Bible scholar with earned doctorates from Oxford, Paris and Moscow, is the author of some 40 books. He and Franklin discussed joint projects and the plight of persecuted Christians.
Franklin also met with the senior leadership of the Russian Union of Evangelical Christians-Baptists, which had initiated the invitation for him to visit. They thanked him and BGEA for their partnership in the Gospel over the years and discussed ministry opportunities.
Franklin spoke at an official reception with Orthodox and evangelical church leaders and government officials, including representatives of the Presidential Administration. As he interacted with church leaders, they shared how the Lord is working through their ministries. Eduard Grabovenko, head bishop of the Russian Association of Christians of the Evangelical Faith, said that in the past few months, they have planted nine new churches for young people in Moscow. Anatoly Vylegzhanin, deputy head of the Department of Internal Policy of the Presidential Administration of the Russian Federation, discussed the need to focus on youth and invited BGEA to partner with them.
In his remarks at the reception, Franklin said, "This is the time for the U.S. and Russia to stand together. We need to normalize this relationship with respect and dignity. We need to build bridges, pray for each other, visit each other often and work for peace. Christian leaders need to work together to help those who are socially deprived throughout the world, to help those who have been affected by the COVID-19 pandemic, wars, social unrest, natural disasters and economic hardship. Christian leaders need to stand together for persecuted Christians worldwide, for the sanctity of life and for traditional marriage, as defined by the Creator. The Christian message is relevant today as never before. It provides real hope in the person of Jesus Christ."
At the end of the reception, Franklin was gifted with a Russian samovar—a traditional urn used to boil water for tea.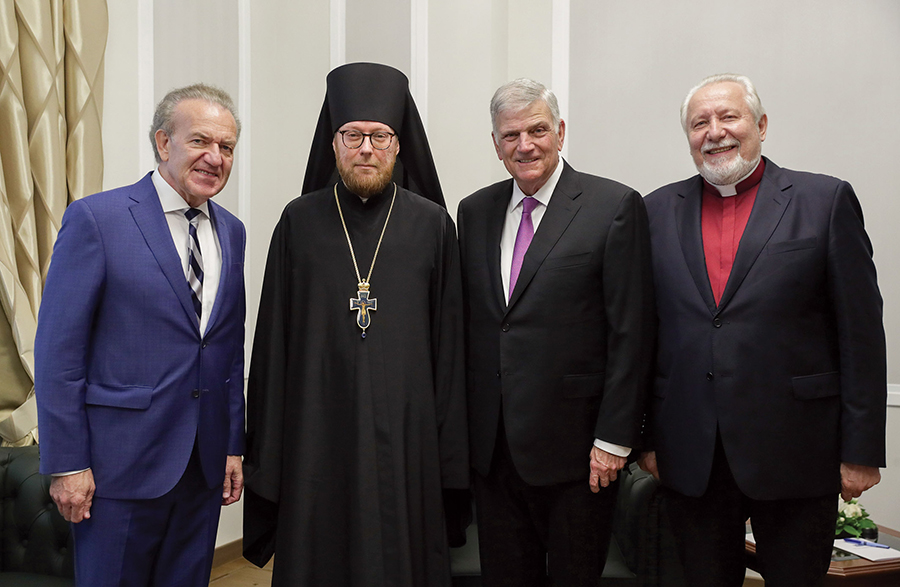 Franklin also met with Sen. Konstantin Kosachev, deputy speaker of the Federation Council of the Federal Assembly. Their discussion touched upon improving Russia-U.S. relations, traditional moral values and defending persecuted Christians worldwide. "Considering the respect that the Billy Graham Evangelistic Association has in the American Congress," Kosachev noted, "such meetings are a good opportunity for Russian senators to discuss topics related to restoration of Russian-American inter-parliamentary contacts, and 'to synchronize our watches' on matters pertaining to moral values for society."
Government officials thanked Franklin for his strong stand on traditional Biblical values such as sanctity of life and marriage. Traditional marriage as a union of a man and a woman is embedded in the Constitution of the Russian Federation, but the country is under tremendous pressure from The European Court of Human Rights to acknowledge same-sex unions. Sen. Kosachev officially invited Franklin to be part of the World Conference on Inter-Ethnic and Inter-Religious Dialogue, to be held in St. Petersburg in May 2022.
Franklin also held a two-hour meeting with the Honorable Vyacheslav Volodin, speaker of the State Duma of the Federal Assembly. Archimandrite Philaret, vice-chairman of the Department of External Church Relations of the Russian Orthodox Church; and the Reverend Sergey Ryakhovsky, head bishop of the Russian United Union of Christians of Evangelical Faith (Pentecostals), also attended.
Following the meeting, officials showed Franklin the main assembly hall of the State Duma, which was not in session. Franklin was invited to stand at the podium of the State Duma—the highest honor granted to a nonelected person. Standing behind the massive podium and looking across the empty Assembly Hall, where 450 elected officials pass laws, Franklin asked if he could pray for the relationship between Russia and the U.S.
Upon receiving permission, Franklin prayed: "Father, we thank You for Your Son, Jesus Christ. We thank You for 1,033 years of church history in this great nation. Father, we pray that You will strengthen this country. And we pray that You will strengthen the relationship between the United States of America and Russia. Father, we ask this in Jesus' Name—Your Son and our Savior and our Lord. Amen."
While in Russia, Franklin was interviewed on national TV Rossiya-24. TV anchor Anastasia Efimova asked him about a variety of topics, from COVID-19 vaccination to cooperation between the U.S. and Russia. Franklin took the opportunity to explain the Gospel clearly.
He also gave an extended interview to RT, a global television network that broadcasts in English, French, Arabic and Spanish. He discussed faith in God, international relations and the Christian response to the COVID-19 pandemic.
BGEA has been ministering in Russia for many years. In 1992, Billy Graham held a historic Crusade in Moscow, just a few months after the dissolution of the Soviet Union. In the years following, BGEA held some 100 associate festivals and more than 20 Schools of Evangelism and evangelism congresses; produced and aired some 950 Russian-language "Hour of Decision" radio programs; held national My Hope multimedia evangelistic projects; sponsored an Institute for Emerging Evangelists; dubbed and produced more than 20 BGEA films and video programs; and translated and published some 15 Billy Graham and Franklin Graham books. A Russian version of Decision magazine is produced and published in Moscow with original Russian-language content.
BGEA is working on a School of Evangelism to be held in Moscow in January, and plans are in the works to hold Schools of Evangelism across every one of Russia's nine time zones.
BGEA's Crusade team is working on a Festival of Hope with Franklin Graham in St. Petersburg, Russia, July 9-10, 2022, at the Ledovy Dvorets. Hundreds of churches are involved in prayer, training and mobilization.

Above: Franklin Graham prays at the podium of the State Duma in Moscow.
Photo: Viktor Hamm/©2021 BGEA