When 10-year-old Tony Perkins challenged his fifth-grade teacher's lectures about evolution, he had no idea where his unwavering Biblical convictions might take him. More than 40 years later, Perkins found himself on the phone with the White House interceding for an American missionary pastor's immediate evacuation from Turkey after his release from prison.
As president of the Family Research Council (FRC) for the past 20 years, Perkins' unrelenting advocacy for the sanctity of human life, Biblical marriage and religious liberty continues to elicit the ire of Washington, D.C.'s political establishment, the legacy media and LGBTQ activists around the country.
For example, the left-wing Southern Poverty Law Center has labeled FRC a "hate group" for years because of its defense of Biblical marriage and Judeo-Christian values. And in August 2012, when a gun-wielding gay rights activist shot FRC's building manager at its D.C. headquarters, the gunman, who is serving a 25-year prison sentence, confessed that he planned to kill everyone in the building.
The day after the non-fatal shooting, Perkins held a press conference outside FRC's office. "We were not going to be intimidated," he told Decision. "We were not going to be silenced. We were going to continue, no matter what, to speak the truth to our nation's capital, and that's what we've continued to do."
The 60-year-old's mission to influence the country's key policymakers and powerbrokers through a Biblical worldview comes at a time when cancel culture has unleashed a full-fledged assault on American's First Amendment rights. And looking back on his life, Perkins sees how God was preparing him for such a time as this. Perkins enlisted in the Marine Corps after high school and later became a police officer, television news reporter, state legislator, and pastor—all roles that serve him well in leading FRC.
Meanwhile, as the mainstream media increasingly marginalizes Christians and their Biblical convictions, Perkins is taking his message directly to the people through his Washington Watch broadcast which airs every weekday on DIRECTV, Christian streaming channels and nearly 800 radio stations across the country. "We want to make sure that Christians don't feel isolated, but they know that they are right, because they are in alignment with Scripture," he said.
Similarly, when serving as chairman of the U.S. Commission on International Religious Freedom, Perkins was with Andrew Brunson in Turkey on Oct. 12, 2018, when a judge unexpectedly released the American missionary pastor after two years of imprisonment under false charges of espionage and attempting a coup against the Turkish government. And that's when the White House answered Perkins' phone call request for an emergency evacuation flight back to the United States.
"[Before] the last 10 years, I never envisioned that we would be fighting for religious freedom in America, and that's really where this battle has turned to. We are defending the first freedom, because from that we derive our ability to advocate for everything else we believe in."
Perkins' unflinching resolve, however, is rooted more in his pastor's heart for shepherding the flock than his military and law enforcement training. He faithfully leads a weekday devotional video on his website based on a two-year chronological Bible reading program. And in 2016, when flooding devastated Baton Rouge, Louisiana (and destroyed Perkins' home), he led the second-largest Baptist church in the area, as its interim pastor, to partner with Samaritan's Purse through a rebuild effort in the region. That outreach resulted in some 100 baptisms of new Christians over six months.
"My wife will vouch for this:It's hard for people to believe, but I do not like conflict," he said. "I'm really conflict-averse, but I cannot tolerate that which is wrong."
As a 6-year-old, Perkins witnessed the power of the Gospel when his unchurched parents knelt together in their living room, near Cincinnati, and prayerfully committed their lives to Christ with the pastor of a small Presbyterian church where he had attended Vacation Bible School for the first time. Then about a year after Perkins became a Christian, he couldn't remain silent when his fifth-grade school teacher began espousing his belief that humans evolved from apes. "No, that's not what my pastor says," Perkins retorted. "That's not what the Bible says."
Perkins' frequent objections to his teacher's lectures about evolution repeatedly landed him in the principal's office. But by the end of the school year, the principal had sided with Perkins, and the teacher's contract was not renewed for the next year.
"I was just standing for His truth and God honored His truth, and I've seen that over and over," Perkins said. "I've seen that same pattern emerge throughout my life. Reluctant confrontation which leads to conflict, consternation, but God always steps in, and right prevails."
A week after graduating from high school in Oklahoma, Perkins, who had been preaching at nursing homes since he was 15, headed off to Marine Corps boot camp in San Diego, California. A brief stint as a prison guard in Louisiana compelled Perkins to enroll at Louisiana State University. But when finances got tight, he opted to reenlist for three years of active duty with the Marines and later completed his college degree online with Liberty University.
Perkins left the Marine Corps to manage the federal government's anti-terrorism training unit in Louisiana for five years. Then in the summer of 1992, during a pro-life demonstration in Baton Rouge, Perkins, who was a reserve officer with the local police department, was again challenged to stand by his convictions.
"I saw the use of excessive force against peaceful pro-life protesters, and I spoke out about it," Perkins said. When the police chief told him to stand down on the matter, Perkins instead provided his own video footage of the incident to a local television station.
The police department subsequently suspended Perkins, but the TV station offered him a job as a political reporter. "I started covering the legislature and I began to see how things were so wrong," Perkins recalled. "And this was at the same time that Louisiana was introducing gambling into the state, and it was so corrupt. Eventually, our governor and others went to prison, and I'm watching all of this as a reporter, and so that's part of what brought me to be open to running for office."
A year after being elected to the Louisiana legislature, Perkins authored and helped pass the Covenant Marriage Law in 1997—the first of its kind in the nation—requiring pre-marital counseling, banning no-fault divorce and limiting grounds for divorce to abuse, infidelity, felony conviction or abandonment.
As Perkins championed a Biblical perspective for life, marriage and family during his two terms in the Louisiana legislature, the national media took notice. So did Focus on the Family President James Dobson.
Following a failed bid for the U.S. Senate in 2002, Perkins accepted Dobson's invitation a year later to lead FRC and immediately withdrew his candidacy for state insurance commissioner in Louisiana.
Over the past two decades, Perkins and his staff at FRC have worked tirelessly to educate, equip and empower a grassroots movement of evangelical churches around the country to advocate and vote for Biblical values in political elections. And increasingly, Christians are answering God's call to serve in elected offices at the local, state and national levels of government.
"I've watched this progression over 20 years, and that's encouraging because that tells me that God is not finished with America," Perkins said. "Because when God gets done with a city or country, He pulls people out; He doesn't send them in. He's continuing to send men and women of deep, abiding faith, and we're kind of a catalyst for that."
Perkins remains grateful for the faithful prayers and advocacy of legions of pro-life warriors over the past five decades, which culminated in last year's Supreme Court ruling that abortion is not a constitutional right. And he's also thankful for the strategic role FRC played in opposing President George W. Bush's nomination of Harriet Miers for the Supreme Court in 2005 because of her ambivalence about Roe v. Wade.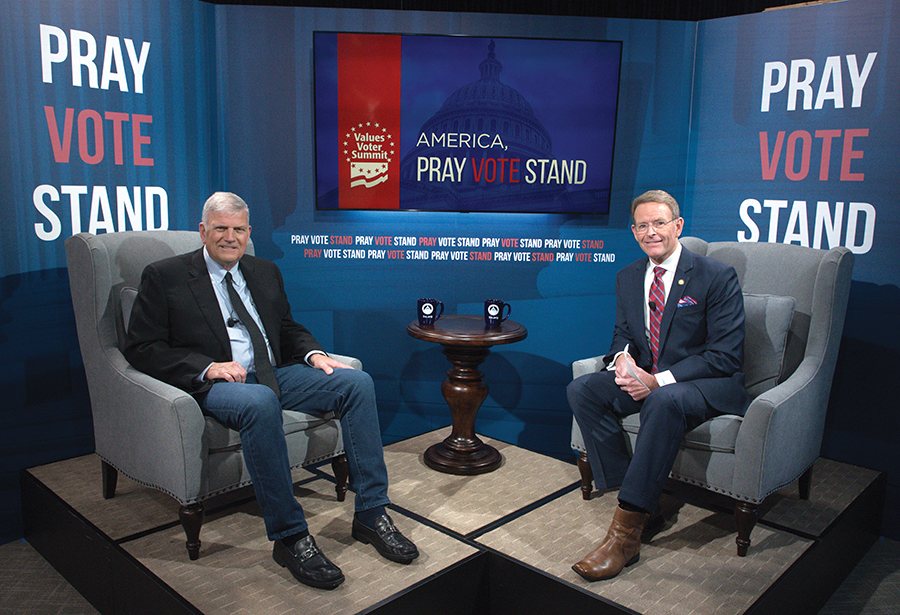 "We led an effort against a Republican president," he said. "It was very unpopular, but he had to withdraw her nomination as a result of that opposition. Well, the replacement was Samuel Alito, who wrote the opinion in Dobbs. I feel convinced that had we not opposed Harriet Miers, we probably would not see the overturn of Roe v. Wade."
And after nearly 37 years of marriage to his wife, Lawana—whom he met on the last day of a retreat for college students in Glorieta, New Mexico—it was a congratulatory phone call from one of their five children following the Supreme Court's abortion ruling that Perkins cherishes.
"It was encouraging for me to know that my kids understood what their sacrifices helped bring about," he said of their support despite his demanding schedule that often keeps him away from home.
Citing Ephesians 6, Perkins fully acknowledges that the real battle in the culture is spiritual and not political.
"But we're called to love in the midst of these battles," he said. "And so, I constantly challenge my team that we're to speak the truth from a redemptive heart. It's not to win a debate. It's to win hearts and minds. And oftentimes you're going to face ridicule and rejection, but that's been the history of the church.
"There's not a political solution to this. What we're doing politically is simply to give the church the room and the protection to do what only it can do. We're fighting for religious freedoms—so that followers of Christ can freely live out their faith." ©2023 BGEA
Photo: Mike Kepka/©2023 BGEA