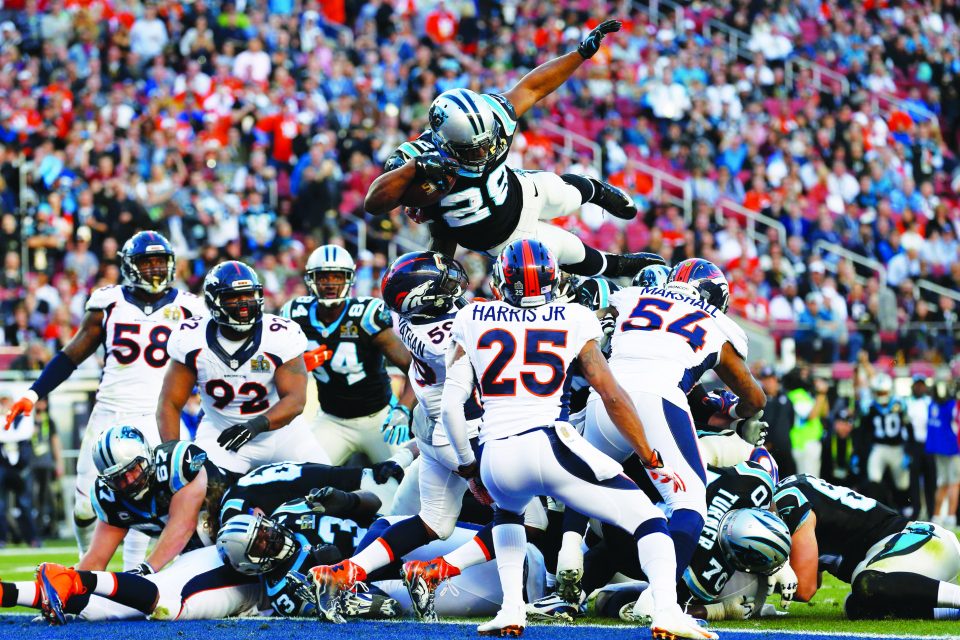 Decision covered four days of media interview sessions before Super Bowl 50 in the San Francisco Bay area, talking to members of the Denver Broncos and Carolina Panthers about their faith in Christ.
Panthers' GM Finds Peace in Christ
Dave Gettleman Shares His Journey to Becoming a Messianic Jew
As general manager of the Carolina Panthers, Dave Gettleman is respected throughout the NFL for having a keen eye for talent, borne out of his meticulous evaluation of prospects' playing skills, character and temperament.
In three years on the job, he's helped build the Panthers into one of the NFL's elite teams. Though they lost Super Bowl 50 to the Denver Broncos, 24-10, they finished the season with a 17-2 record and have high hopes for the future.
Gettleman, 65, describes himself as extremely methodical and intentional about whatever he does in the scouting and evaluation process.
And he took a similar approach in his spiritual journey to becoming a Messianic Jewish follower of Jesus Christ.
"I never doubted the existence of God, and I never doubted His omnipotence, but it was hard because for years Jews have been called Christ-killers and persecuted like all get-out," Gettleman told Decision during a half-hour interview five days before the Super Bowl.
"People would say, 'Dave, you're part of the chosen people.' I'd say, 'Chosen for all that? Thank you very much, but let them choose somebody else.'"
Born into a conservative Jewish family, Gettleman was bar mitzvahed and attended Hebrew school. He learned to read and speak the Hebrew language.
He became casual in his practice of Judaism during his college days, attending temple mostly only on holidays celebrating the Jewish feasts.
Then he met the woman who would become his wife, Joanne, in 1983 and married her the following year. She had been raised in the Christian faith and helped him open his mind and heart to exploring the claims of Christ.
The process lasted for 22 years.
Along the way, the Gettlemans attended several Messianic and denominational evangelical churches. He recalls the time a Presbyterian pastor complimented him on his deep involvement in the church but asked the probing question: "What's holding you back?"
Subscribe to Decision
Get your own subscription, or renewal, or bless someone by giving Decision Magazine as a gift.
Subscribe Now
Gettleman recalls responding: "There's two basic things. If I come to faith, when my time is up on earth, I worry that I'm never going to see my parents because I don't know that they came to faith. And the second thing is, if this is real, if Yeshua (Jesus) is the Messiah, then I've got to change a whole lifetime of thinking.
"So if you look at it from that standpoint, that's a lot to wrap your mind around."
A major turning point came in February 2004 when Gettleman, then working for the New York Giants, attended a debate in New York City between Michael Brown, a Messianic Jewish scholar and author, and Jewish Rabbi Shmuley Boteach.
"The place was packed, and probably half the people there were Jews," Gettleman said. "Michael presented the Gospel in such a way that was crystal clear and so compelling that I noticed many looks of concern in the audience."
Gettleman's exploration was also sparked when he and his family began attending the Beth Messiah congregation in Livingston, N.J.
"I walked in there and it screamed, 'Jew!'" Gettleman said. "There was an ark, a Torah, men with yarmulkes and tallis. It was almost like that gave me an ability, a freedom, to give it serious thought and to say, 'Wait, there may be something here.'"
Gettleman was amazed by the descriptions and prophesies about Yeshua in the Tanakh (Old Testament), especially Isaiah 53, which describes His sacrificial death on the cross with great specificity.
"It's so powerful," Gettleman said.
So in 2005, at age 54, he repented and put his faith in Yeshua as the promised Messiah who died and rose again for the forgiveness of his sins, to give him eternal life.
"It's given me such a sense of peace, a sense of calm that I didn't have before," Gettleman said.
He believes it was God's plan to bring him to the Panthers from the Giants in January 2013, long after he had envisioned becoming a general manager.
Gettleman is a humble leader, consistently giving his predecessor, Marty Hurney, credit for leaving him with a strong roster. Gettleman chose to keep the head coach Hurney hired, Ron Rivera, despite that fact that most GMs insist on hiring their own coach.
Gettleman said he loves being in Carolina and feels like "a proud Papa" to the players who far exceeded expectations this past season.
For all that he's accomplished, he gives God the glory.
"It's exciting for me to follow the Lord," he said. "He's truly blessed me."
©2016 BGEA
Broncos' Colquitt Wants Full Focus on God
Punter Aims to Kick and Live with Eternity in Mind
In the biggest game of the season on the NFL's grandest stage, with more than 71,000 people attending in person and another 167 million viewers tuned in for the most-watched broadcast in television history, Denver Broncos punter Britton Colquitt focused on an audience of One as he played in Super Bowl 50.
It meant a great deal to him that his wife, Nikki, and their three young children (ages 2 ½ weeks to 4) were there, and that his parents and siblings were also watching and supporting him.
As much as he wanted to make them proud, and as much as he preferred cheers from the crowd rather than boos, he didn't kick with any of that as his first priority.
Through trials and triumphs, Colquitt has learned the importance of keeping his life and career singularly focused on God.
"It's real easy to get distracted," he said. "It's easy to say, 'I've got to please all these people.' But when it comes down to it, if He's your only audience, it's not about performance or anything like that. It's about your heart.
"You can turn [playing football] into an act of worship because He's called for everything we do in life to be a matter of worship, including sitting at the table having dinner with your family."
Colquitt, 30, feasted on the opportunities presented to him in Denver's 24-10 Super Bowl win over the Carolina Panthers on Feb. 7 at Levi's Stadium in Santa Clara, Calif.
It's extremely rare for a punter to do his job so well that he gets a higher grade for his performance in the Super Bowl than a future Hall of Fame quarterback, but that's exactly what happened to Colquitt.
Sports Illustrated's Peter King, one of the most respected journalists covering the NFL, named Colquitt—not Broncos quarterback Peyton Manning—the game's top offensive player. King was certain he'd never before given such a distinction to a punter.
Colquitt averaged an impressive 45.9 yards on his eight punts and kicked the ball away from Carolina's speedy punt returner Ted Ginn Jr. so effectively that Ginn had a meager two yards on returns for the game.
Punting—as well as knowing Christ—is a family heritage for Colquitt. His father, Craig, punted for the Pittsburgh Steelers' Super Bowl championship teams of the 1970s. His brother Dustin fills the role now for the Kansas City Chiefs.
Though they've each had highly successful careers, they readily proclaim that only God provides what football and championships could never deliver.
"When it's all said and done, these things are going to be gone," Britton Colquitt said. "What matters is [eternal life] and what we're doing in this life to prepare for that." ©2016 BGEA
Carolina's Stewart Finds Balance in Jesus-Centered Life
Jonathan Stewart leaped from 1 yard out and literally soared over the Denver defense into the end zone for Carolina's only touchdown of Super Bowl 50.
Stewart, a Pro Bowl running back for the Panthers, couldn't have made the play without the proper balance, and he says balance is essential in life.
"If you don't have God in your life, this world can get ahold of you and choke you out," said Stewart, who calls Jesus "my centerpiece, my backbone."
"In our position (as pro athletes), a lot of people depend on us, not just to win games but to be role models and to be an inspiration."
Stewart received Jesus as his Lord and Savior in the fifth grade. He said he desires to live wholeheartedly for God and believes an important part of that is relying on the finished work Christ accomplished on the cross and avoiding a pressure-filled, works-based legalism.
"I think He just wants us to really and genuinely love Him and to share that with others," Stewart said. "It's really just being who you are and letting people see the light of God in you." ©2016 BGEA
Denver's Virgil Green: 'Christ has Everything You Need'
Within hours of the Broncos' Super Bowl win over Carolina, Denver tight end Virgil Green posted on Twitter: "All Glory to God!!!!"
"Without Him, I couldn't stand," said Green, a key run blocker for the Broncos.
Green believes that without the Lord's intervention, he wouldn't be in the NFL. He was told he might never play football again after undergoing microfracture knee surgery in college to address a degenerative cartilage condition that's usually found in much older 
athletes.
His knee is now strong and sturdy. The recovery process helped him develop a love for Psalm 121:1-2 because He can emphatically say his help comes from the Lord.
"The Lord means everything to me," Green said. "I like to work with kids and tell them: 'You don't have to follow what the world wants you to do. Christ has everything you need.' That's what I stand firm on." ©2016 BGEA