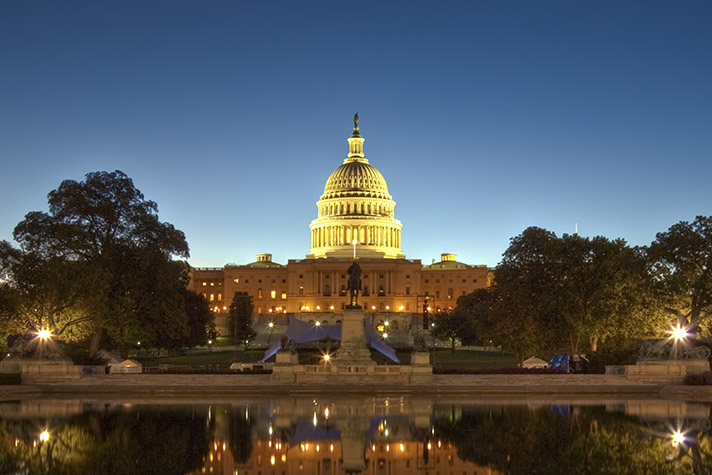 When Franklin Graham spoke on the historic Boston Common during the Decision America Tour Aug. 30, he echoed a message he's been giving since the 50-state tour began: Your vote counts. From the White House to the mayor's office, from the Senate to the school board, every vote counts. Every vote.
As the Nov. 8 election approaches, that advice is increasingly apt.
By the time readers open this issue of Decision, the first presidential debate should have been held and the contest between Donald Trump and Hillary Clinton should be in full battle mode.
The polls have heaved and pitched from a decided Clinton lead to a slight Trump lead, depending on which poll one is following. A CNN/ORC poll released last month figured a Trump lead of 2.5 percentage points over Clinton (with a 3.5 percent margin of error), and as much as a 5-point lead in the battleground state of Ohio. Contrast that with a Washington Post/ABC News poll several days later showing Clinton with a 5-point lead. Between now and election day, the polls could sway in either direction.
Clinton, plagued by a cough during campaign speeches and diagnosed with pneumonia and dehydration after abruptly leaving a 9/11 remembrance ceremony, is also fighting a public relations battle over her alleged mishandling of classified records as secretary of state.
Trump, no stranger to controversy because of a habit of indelicate statements about his critics and political opponents throughout the campaign, hired a new campaign manager, Kellyanne Conway, who has experience helping candidates hone their message. In the few weeks following Conway's hire, Trump appeared to be speaking in more measured, deliberate tones.
No reasonable person would desire a replay of the 2000 presidential election, when "hanging chads" on Florida paper ballots left the closely contested race in litigation for several weeks. But it's a case in point: Every vote counts.
Perhaps nowhere beyond the White House are the stakes higher this election than in the U.S. Senate, where 34 of the 100 seats will be up for grabs (24 GOP- and 10 Democratic-held seats).
The Senate's slim pro-life majority will slip away with the loss of five seats (four if Democrats win the White House). If that happens, the type of setbacks the high court has dealt to social conservatives will likely continue.
Of those 34 Senate seats, at least a dozen are considered winnable for either party. Acknowledging that BGEA does not endorse any candidate or political party, here's a rundown of Senate races in those dozen states, plus several other potentially significant races of interest to Biblically informed voters.
THE TIGHT RACES
FLORIDA In this swing state, incumbent pro-life Sen. Marco Rubio is in a close race with Patrick Murphy, a two-term Florida congressman who has backing from the abortion lobby. Rubio has a 100 percent favorable rating from the National Right to Life Committee and the Family Research Council. Murphy has the endorsements of NARAL Pro-Choice America and the Equality PAC, an LGBT-focused political action committee. USA Today says a Rubio defeat could be the deciding factor in swinging the pendulum of the Senate leftward.
NORTH CAROLINA North Carolina Sen. Richard Burr, a dependable pro-life voice in the Senate, is facing a former state representative, Deborah Ross. Burr has a 100 percent favorable rating from National Right to Life.
Ross has the endorsement of Emily's List, an influential abortion lobby political action committee (PAC). Ross formerly led the state chapter of the American Civil Liberties Union.
Also in North Carolina, liberal activists have targeted Gov. Pat McCrory, a social conservative known widely for his unwavering stance on HB2, the much-publicized transgender bathroom law. McCrory faces a challenger in Attorney General Roy Cooper, who has criticized HB2 as bad for the state's economy and has said he would not defend it as attorney general.
PENNSYLVANIA Pro-life Sen. Pat Toomey faces a stiff challenge from Katie McGinty, a former environmental policy advisor to Al Gore and a supporter of abortion rights. While Toomey is considered a dependable pro-life vote in the Senate, with a 100 percent rating from National Right to Life, McGinty is striking a different chord, drawing heavy support from the Emily's List PAC and an endorsement from the Planned Parenthood Action Fund.
WISCONSIN The Wall Street Journal says Sen. Ron Johnson is "one of the year's most vulnerable" conservative Senate candidates. He has been a stalwart defender of life, but he faces a challenger with name recognition: Russ Feingold, who served in the Senate until 2009. Johnson has a 100 percent favorable rating from National Right to Life. Feingold, meanwhile, was a staunch advocate for abortion on demand as a senator, even voting against the Partial Birth Abortion Ban Act of 2003. Feingold is endorsed by NARAL Pro-Choice America.
IOWA Sen. Chuck Grassley, who has a 100 percent favorable rating from both National Right to Life and the Family Research Council, faces Patty Judge, a former lieutenant governor who has the endorsements of Planned Parenthood, Emily's List and NARAL Pro-Choice America. Grassley has won by convincing margins in recent years, but 2016 is expected to pose more of a challenge.
NEW HAMPSHIRE According to ConservativeIntel.com, pro-life Sen. Kelly Ayotte's chances of winning are directly tied to how well GOP presidential candidate Donald Trump does in the Granite State. She faces popular liberal Gov. Maggie Hassan. Ayotte has a 100 percent pro-life rating from National Right to Life, while Hassan, a defender of abortion on demand, has the backing of the Emily's List PAC and NARAL Pro-Choice America.
OHIO Sen. Rob Portman, who touts a strong pro-life record, faces a tough test against a former Ohio governor, Ted Strickland, a staunch abortion rights supporter. Portman's 100 percent favorable rating from National Right to Life is a contrast to Strickland, who told a Cleveland Plain Dealer reporter that if a nominee for the Supreme Court voiced opposition to abortion rights, it would be "a total disqualifier." Strickland has the endorsement of NARAL Pro-Choice America and the Planned Parenthood Action Fund.
INDIANA Two candidates seek to fill the Senate seat left by the retiring Dan Coats: current Congressman Todd Young, a Marine who is a social conservative, against former Sen. Evan Bayh, a center-left candidate with strong name recognition. Young has a 100 percent voting record from National Right to Life. Bayh has supported abortion rights in the past, garnering a 50 percent rating from NARAL Pro-Choice America.
MISSOURI Incumbent Sen. Roy Blunt, a pro-life leader in the Senate, is facing a challenge from state Secretary of State Jason Kander, a 35-year-old war veteran who has backing from the Planned Parenthood Action Fund and NARAL Pro-Choice America. Blunt is chairman of a Senate subcommittee that oversees the departments of Labor, Health and Human Services, and Education.
COLORADO Incumbent Sen. Michael Bennet is a staunchly pro-choice liberal facing pro-life challenger Darryl Glenn, an El Paso County Commissioner. If elected, Glenn would be the first African-American elected from Colorado to either chamber of Congress. Glenn has the endorsement of National Right to Life.
Bennet, meanwhile, promptly criticized the 2014 Burwell v. Hobby Lobby Supreme Court decision that allows closely held private businesses to opt out of the HHS abortifacient mandate under Obamacare because of religious beliefs. Bennet has the endorsement of NARAL Pro-Choice America.
NEVADA Sen. Harry Reid, a longtime liberal leader in the Senate, is retiring. Conservatives are pushing hard to help Congressman Joe Heck, a physician and Army reservist, win the seat over a former state attorney general, Catherine Cortez Masto. Heck is endorsed by the pro-life Susan B. Anthony List, earning that while casting votes for the Pain Capable Infant Protection Act and for defunding Planned Parenthood. Cortez Masto has support from NARAL Pro-Choice America. To win, Heck would need to overcome a slight Democratic majority electorate.
ARIZONA Longtime pro-life Sen. John McCain is in a tight race with Congresswoman Ann Kirkpatrick. The National Organization for Women (NOW) PAC endorses Kirkpatrick. She has opposed parental notification laws for minors seeking abortion and "promoted lesbian rights by cosponsoring numerous pieces of legislation that protect and extend the rights of the LGBT community," according to NOW. Meanwhile, McCain has a 100 percent favorable rating from both the National Right to Life and the Family Research Council.
OTHER RACES TO WATCH
OREGON Mark Callahan, who describes himself as "100 percent pro-life," is challenging liberal incumbent Sen. Ron Wyden, one of the Senate's most enthusiastic supporters of Planned Parenthood funding. Callahan is endorsed by National Right to Life. Wyden's endorsements include Population Connection, a Washington, D.C.-based pro-abortion group that aims to "educate young people" about family planning and "unsustainable population growth" through a K-12 curriculum.
TEXAS Houston-area voters will decide one of the nation's most interesting U.S. House races. Pro-life candidate Lori Bartley is challenging a longtime abortion-on-demand supporter, Congresswoman Sheila Jackson Lee. Both women are African-American, and both are expected to make appeals to black churchgoers. Bartley says on her website: "I believe in the sanctity of human life, from conception to natural death." Jackson Lee, however, has a 100 percent lifetime voting record from NARAL Pro-Choice America. She opposed traditional marriage legislation and supported the repeal of the military's "Don't Ask, Don't Tell" policy. ©2016 BGEA