Grammy-nominated artist Ellie Goulding is threatening to back out of her halftime performance at the Dallas Cowboys' nationally televised Thanksgiving football game unless the Salvation Army, a Christian organization, makes a "solid, committed pledge or donation to the LGBTQ community."
Traditionally, the Cowboy's holiday halftime show kicks off the Salvation Army's annual Red Kettle Campaign, which begins on Thanksgiving Day and runs through Christmas Eve.
Just days ago, Goulding posted a positive endorsement of the charity on her social media accounts.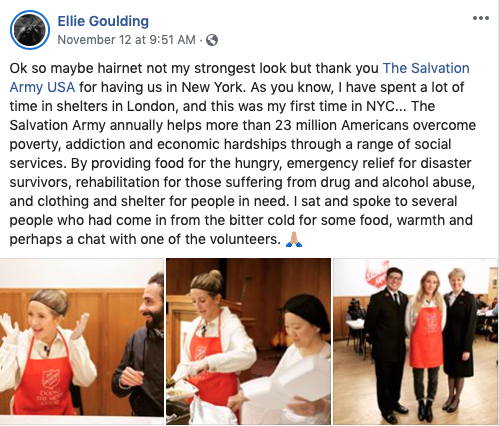 But after facing backlash from fans about the Salvation Army's Biblical stance on marriage, Goulding offered an ultimatum.
"Upon researching this, I have reached out to the Salvation Army and said that I would have no choice but to pull out unless they very quickly make a solid, committed pledge or donation to the LGBTQ community," she wrote in a statement. "… My heart has always been in helping the homeless, but supporting an anti-LGBTQ charity is not something I would ever intentionally do."
Franklin Graham came to the Salvation Army's defense: "To try to bully any organization because they are based on Christian principles is wrong. Her demand and attempt to intimidate was nothing more than activism run amok. I'm sure there are hundreds of other qualified, talented singers who would love to perform at this halftime show."
What Goulding failed to mention in her statement was the Salvation Army's commitment to serve everyone, regardless of sexual orientation.
"With an organization of our size and history, myths can perpetuate," said David Hudson, the national commander of the Salvation Army. "An individual's sexual or gender identity, religion or lifestyle has no bearing on our willingness to provide service. We stand firmly behind our mission to meet human needs in His name without discrimination."
In fact, Madeline Fry, a commentary writer for the Washington Examiner, offered an example of a gay rights organization in Illinois encouraging local LGBTQ individuals to take advantage of the Salvation Army's services after the organization's leadership visited their local charity.
"Given this information and the sincere, earnest efforts by the staff and leadership at our local Salvation Army, we feel comfortable recommending that members of our community support our local Salvation Army," the organization said. "We urge members of our community who are homeless or in crisis to seek assistance from Safe Harbor and Salvation Army's other services."
"Too bad no one drew Goulding's attention to that," Tony Perkins, president of the Family Research Council, commented in his Washington Update blog.
"I don't know about you, but I've never heard of a 'hate group' feeding, housing and treating 23 million people a year," said Perkins. "What I have heard are plenty of liberals willing to let families starve in the name of a 'fairness' they don't practice."
Later in her article, Fry clearly laid out Goulding's predicament:
"The leaders of the Salvation Army may hold private religious beliefs, but by all accounts, that doesn't stop them from serving any people in need. Though Goulding may worry that associating with an international charitable organization could be bad for her brand, the outrage seems based on her own misunderstanding and willingness to believe random people on the internet.
Fry added: "If Goulding still performs to raise funds for the Salvation Army, she will simply be helping millions of people find food and shelter this holiday season. And if she doesn't, she won't."
Photo: Rodolfo Sassano/Alamy Stock Photo