It's been three months since confetti rained on Michael McDowell in Victory Lane at the Daytona 500. Yet, he still has to pump the brakes on his emotions when reminiscing about winning The Great American Race—his first victory in 358 NASCAR starts.
A fiery-crash finish among front-runners Joey Logano and Brad Keselowski—on the final lap of the Feb. 14 race—propelled McDowell's No. 34 car from third place to first while edging out reigning Cup champion Chase Elliott.
"Brad started spinning right, Joey started spinning left, and there was just enough room for my car to squeeze through," McDowell said in the post-race press conference. "It was like the seas parted, and I was able to drive through the middle."
McDowell's takeaway from his "Red Sea moment," however, is more about God's faithfulness en route to his capture of the checkered flag on, arguably, the most revered and celebrated racetrack in the world.
"Considering the whole journey to winning the 500, I never felt like, 'Finally, I did it,'" McDowell told Decision. "I knew that God did it. I didn't do anything. I understand it's a big deal, but it's also a big deal when God provides off the track."
In a sport driven by bumper-banging, fender-bending and side-swiping at speeds of nearly 200 miles per hour, this 36-year-old NASCAR Cup series driver has garnered a reputation for putting Christ first during his 14-year career.
But McDowell's pursuit of racing started in a different direction.
Growing up in Glendale, Arizona, he was on a fast track toward life in the fast lane. He started competing as a 3-year-old on BMX bikes. Throughout his childhood, he piled up local, regional, national and international championships at every level of go-kart racing. His older brother partnered as his chief mechanic, and his parents were also his wheels to the track nearly every weekend of the year.
During McDowell's blue-collar upbringing, God was rarely mentioned. A strong work ethic, competitive spirit, respectful attitude and responsible disposition were held in high esteem. But while grinding obsessively to be the best on the go-kart track, McDowell's slow turn toward Christ began when he learned at a friend's funeral that Heaven was not an award for being good.
Soon after, a preacher's message about grace and God's offer of a "fresh start" and "clean slate" with Jesus drove the 18-year-old to study the Bible for the first time.
"And as I dug in more and more, God just revealed His truths to me," McDowell said. "The God of the universe pursued me in a way that only He could."
After moving with his live-in girlfriend, Jami, from Arizona to the Charlotte area to train as a stock car driver, he began attending a Bible study group at a new church. Before long, he and Jami both trusted Christ as Savior, which set them on a whole new course in obedience to God's Word. They were married not long after, in 2005, and followed in baptism.
"Baptism for us was that symbolic act of coming out of the water and dying to self, and dying to sin and coming to life in Christ, and being new and clean and fresh," he said.
McDowell's transition to stock car racing appeared seamless. In 2007, he won Rookie of the Year honors in the Automobile Racing Club of America. But the next year, his life was turned upside down—physically and spiritually—the day before the second race of his NASCAR Cup series career at Texas Motor Speedway.
That's when the 23-year-old lost control of his car and accelerated into a safety barrier wall at more than 100 miles per hour during a pre-race qualifying lap. The crumpled race car erupted into flames and rolled like a barrel, flipping nearly a dozen times across the racetrack before landing upright.
"It was nothing short of miraculous that I walked away," McDowell recalled. "From that day forward, I was like, it's not about me. It's about making Jesus known. That was a transitioning point for me in my faith journey, where my career became more about living out my faith."
For the next 10 years though, he struggled to secure his lane in NASCAR, bouncing from one under-resourced team to another. When McDowell failed to qualify for a race, he often worked as a motor coach driver or consultant for other teams in the hunt for a championship just to stay relevant in the sport. That might explain why his favorite Bible verse is James 1:2-3: "Consider it pure joy, my brothers and sisters, whenever you face trials of many kinds, because you know that the testing of your faith produces perseverance" (NIV).
Before joining Front Row Motorsports (FRM) in 2018 as the full-time driver of the No. 34 Ford, McDowell considered walking away from his lifelong pursuit of racing. Since then, however, his trajectory on the NASCAR circuit has risen with team owner and fellow Christian Bob Jenkins and primary team sponsor Love's Travel Stops.
"It was hard and there were times when it really sucked, but God was shaping me and molding me and allowing me to have such great moments in life, even though the career wasn't great," McDowell said. "Helping people come to the Lord and discipling, it was just so good."
Billy Mauldin, CEO of Motor Racing Outreach, an evangelical ministry to NASCAR teams during their 36-race season, says the McDowells have been committed to the ministry since joining the NASCAR circuit and now serve on the organization's board of directors.
"He's very transparent with regard to his faith," Mauldin said. "He's very outspoken and very bold and very passionate about his walk and his family's walk with the Lord and the spiritual well-being of the entire NASCAR community."
McDowell acknowledges that his personal convictions have cost him "millions of dollars, no doubt about it."
"I missed so many opportunities because I wouldn't drive something because of the sponsor," McDowell said. "So many good opportunities that would have changed my career.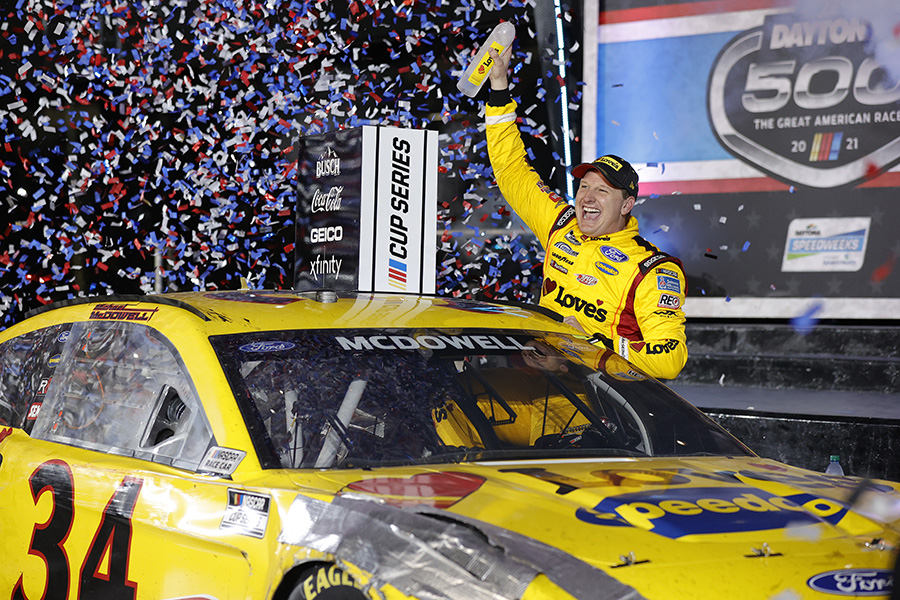 "No regrets. I think that your regrets in life are going to be being disobedient to what God's called you to do. I just know what I was called to do and not do."
Having amassed seven Top-10 finishes in 20 races at Daytona International Speedway throughout his NASCAR career, McDowell excitedly anticipated this year's Daytona 500. But his pre-race prayer was unlike any other he had ever prayed.
Fighting back tears in a conference room at the FRM shop in Mooresville, North Carolina, McDowell read the prayer he journaled on his phone after reading the Gospel of Mark's account in chapter nine about a father's request for Jesus to heal his son.
"I do believe, Lord. Help me to overcome my disbelief," McDowell wrote regarding his chances to win the most coveted race of the season. "Jesus, You're the healer, provider. Help me believe that today all things are possible through You. All things. … Rest for my soul, for my wife's soul. Victory in this race, safety in this race, I know that You hold it in Your hands. Guard my heart, soul and mind. Give me the faith that can move mountains so that You can be honored and glorified."
Nine hours after the green flag waved to start the race—including a nearly six-hour rain delay—McDowell found himself in a strangely familiar position coming out of Turn 3 on the final lap shortly before midnight. "I knew where I needed to be and I knew what I needed to do, and I feel that's supernatural too, like God had prepared me for that moment," McDowell said. "I pushed Brad. Brad crashed Joey. Everybody should be mad at me, but they're not."
After the race, Logano, who had led the final 25 laps, had this to say about McDowell's home stretch maneuver: "If we couldn't win, I'm really happy to see McDowell win this thing. He's a great guy, a great person, a good leader in life and has helped me a lot in my life, so it's very cool to see him win the Daytona 500."
McDowell likens his legendary victory to God blessing him and Jami with three biological children while experiencing a seven-year international adoption process, spanning three continents, before welcoming home their fourth child.
"I feel so grounded in the truth that the big deal about winning the Daytona 500 is that God allowed me to experience it, and that God is faithful and that He walked with me through the whole process. God was good before the victory and, personally, I didn't need it.
"God's given me a platform. It's not for me to be famous, and it's not for me to be successful, and it's not for me to cash in on. It's for me to share His goodness and faithfulness."
Photo: Thomas J. Petrino/©2021 BGEA