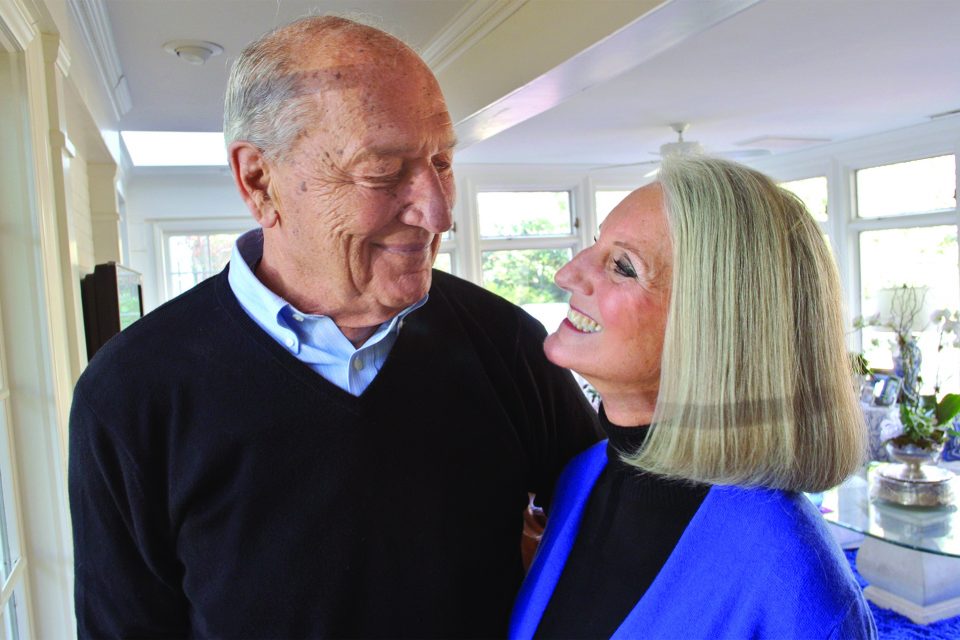 This article was originally published in Decision magazine in March 2015. Danny Lotz passed away on August 19. Please pray for his wife, Anne Graham Lotz, and the entire family.
Danny Lotz can still hear the coach's words, even though it has been 63 years: "Dan, next Saturday, you're going to start on the varsity team."
A freshman at Northport High School in Northport, Long Island, New York., Danny had loved basketball since third grade. He was known as one of the best players in New York, and now his coach had recognized his skill. He ran home to tell his dad.
John Lotz had equally weighty words for his son.
"Well, that's great, Dan, but you can't play next Saturday."
"What do you mean?"
"That's your time to go to the Bowery Mission," John said. "It's your time to play the trumpet."
Danny recalls the story while sitting on the couch across the room from his wife of 48 years, Anne Graham Lotz, in their north Raleigh home.
"You're kidding," he told his dad, in bewilderment.
But John Lotz, a street preacher in New York City, was every bit as passionate about his family's weekly ministry at the Bowery Mission in Times Square as Danny was about playing varsity basketball. So on Saturday night, after a miserable week, Danny went with his dad and three brothers to the mission.
"That night an invitation was given," Danny said. "And a big old Army sergeant, dressed in an Army uniform, came forward, crying like a baby. Dad called me out from the pulpit, out of the choir loft, and I got on my knees with this guy and prayed with him."
On the way back home that night, John Lotz stopped the car on the 59th Street Bridge and looked at his third son.
"What are you, a dummy?" he asked, in his thick New York accent. "Do you think God gave you basketball abilities so you could be a pingpong player?" Then his voice softened. "Seek ye first the kingdom of God and His righteousness, son. God will take care of you."
A light came on for Danny.
"God became the Lord of my life that night," he says. "It's amazing. Just that one trip across the bridge and my dad saying that verse. And what a true verse that is. 'And all these things shall be added unto you.'"
At 78, Danny can look back now and see all the wonderful things God added. Not only high school varsity—once his coach came up with a workable schedule—but college basketball, at the University of North Carolina at Chapel Hill, the No. 1 team in the nation. The team went on to win the National Championship game against the Kansas Jayhawks in 1957, Danny's sophomore year.
"We won that game in triple overtime," Danny says, a twinkle in his eye.
The next year, after a broken leg forced him off the team, Danny sensed God leading him to start the first North Carolina chapter of the Fellowship of Christian Athletes in Chapel Hill, through which he met his wife, and both his daughters met their husbands. And perhaps his greatest legacy is the loving and heartfelt ministry he has had to men, through Bible studies in Raleigh and Chapel Hill.
One of his dear friends, Albert Long, the only four-sport letterman in ACC history, is one of many men who came to faith in Christ through Danny's ministry.
"I went with Danny and his brother John to my first FCA conference in Henderson Harbor, New York," Albert says. "And on the way, we got into a discussion about drinking."
Albert said, "Guys, you show me anywhere in the Bible where it says you shall not have a good, cold beer after a nice softball game and I'll quit drinking beer.'"
Danny's answer was solid.
"Albert, I can't show you anything in the Bible specifically about that, but I can quote you three verses of Scripture." He quoted Matthew 18:6, Mark 9:42 and Luke 17:2, which say if you cause a little one to stumble, it will be worse than having a millstone around your neck and being dropped into the deepest part of the ocean.
"I didn't have any idea what that meant," Albert recalls. "But four days later, I committed my life to Christ, and a beer has not touched my lips since that weekend."
Danny first laid his eyes on Anne Graham at an FCA conference in Black Mountain, N.C. Danny had enlisted in the Air Force and had been granted a month's leave to help set up FCA's national conference. It was June 1965.
"I was sitting in the audience the first night, when I saw the most beautiful girl in the world walk by," he said. "I didn't know who she was. But I could not keep my eyes off her."
A couple of nights later, he learned that not only was she the second daughter of Billy and Ruth Graham, but that Billy Graham himself had called and asked FCA leader James Jeffrey if there was a suitable Christian young man at the conference that Anne could date.
"Daddy hadn't been around much when I was dating," Anne recalls. "And he noticed that I had gone out with several different boys over about a one-week period. I wasn't really in a dating relationship with any of them. I was just having fun." Then, with a grin, she adds: "My mother was fine with it, but it made Daddy a little nervous."
Danny, 11 years Anne's senior, made his interest known to Jeffrey.
"It was between me and Steve Sloan, who was a great quarterback at Alabama," Danny says. "But Steve was engaged, so I was the one left."
Danny picked Anne up the next day and brought her to the FCA camp. He returned her to her parents' home by her 11 p.m. curfew, and he sat up until 2 a.m. talking with her mother.
On their third date, over a chocolate ice cream soda, in Denver, Colo., where Mr. Graham was having a Crusade, Danny told Anne he was in love with her and wanted to marry her.
"May I pursue the relationship?" he asked.
"It's a free world," Anne said. "You can do what you want."
"I wasn't too encouraging," she grins. "I wasn't in love with him."
Danny had always been a hands-on father to son Jonathan and daughters Morrow and Rachel-Ruth, but that role increased as Anne's work with Bible Study Fellowship required more and more of her time.
Rachel-Ruth recalls that her dad could hardly wait to come home from work every day to play with her and her siblings. He taught them baseball, basketball and football and even built a tennis court in their backyard.
Danny practiced strong discipline with his children, but he could also show mercy. Rachel-Ruth remembers the time she slammed the glass door on her sister, Morrow, and it broke. Afraid, she went to her room and hid. Her heart pounded when she heard her dad coming up the stairs. When he opened the door, he said, "Rach, do you know the meaning of grace?"
"I think so," she said.
"Well, I am going to take you and buy you some ice cream."
"I have always remembered that," she said. "It has been a reminder to me to show grace to my own kids. And in a very small way, it serves as a reminder of the grace that Jesus Christ has shown to us through His death on the cross."
Danny has spent his life showing God's grace and extending generosity to others.
"When I first came to Raleigh, I was with the Navigators ministry," says Jim Young, a close friend who attends Danny's Friday morning Bible study.
"Danny became my dentist and through the years, all the way up through his retirement, he never let me pay for his services," Jim explains. "And I'm certain I'm not the only one. Even now, when we go out to lunch, it is a battle to get him to let me pay."
These days, the men Danny has mentored have ample opportunity to minister to him. A diabetic since age 50, Danny now takes dialysis three days a week. He has lost some of his hearing in one ear, and he has neuropathy in both legs, requiring him to use a walker much of the time.
A team of his friends picks him up for dialysis in the mornings and brings him back home in the afternoons. Albert Long drives him to the annual FCA conference in Black Mountain every summer, where they talk about some of the sports greats they have had the opportunity to meet. Names like Bobby Richardson, Tom Landry, Dave Dravecky and Tony Dungy.
Danny's faith has never wavered throughout his illness. He thrives on his family, his Bible studies, the special love he shares with his friends, and the promise of Heaven. But he knows he must first finish the game of life.
"You're in overtime right now," Jim tells him. "There's still a game to be won and there's still minutes to play. So we've got to keep going."
Which brings Danny back to one of his favorite Bible verses:
"And I am sure of this, that he who began a good work in you will bring it to completion at the day of Jesus Christ" (Philippians 1:6, ESV).
"God's not finished with me yet," he told the men at one of his Friday morning Bible studies in January. "He's not finished with any of us." ©2015 BGEA