Imagine you have a job, a calling, to advocate for the religious freedom and free speech rights of millions in our country and around the world. Very few people hear about the death threats you and your clients receive, the baseless cancel-culture schemes, the personal attacks and social media vitriol. Your job is to help millions live freely, even when most have no clue about your work in the ideological trenches or the historic, life-changing difference of your mission.
The incremental success of your mission enables voiceless unborn persons to live peacefully in the womb, fulfill dreams and bless others. The success of your mission allows women's shelters to safeguard women, churches to worship, ministries to help refugees and the homeless, parachurch ministries to openly share the Gospel.
Because of your tireless work, international disaster relief ministries can operate by deeply held beliefs while assisting the most vulnerable places on the planet ravaged by war, famine, disease and disaster—all the while, sharing real hope through Jesus Christ. Your mission protects individuals who honor the Word of God and desire to live out their faith obediently, day by day, to the glory of God. And finally, imagine that your mission protects the freedom of countless others to share the Gospel of Jesus Christ and make disciples as He instructed in Matthew 28.
Yet, we don't have to imagine. This calling actually exists with nonprofit legal advocacy ministries that protect our freedom to live according to our Biblical convictions and share the hope of Jesus Christ. These unsung heroes come in the form of Alliance Defending Freedom (ADF), Becket Law, First Liberty Institute, Liberty Counsel, the Thomas More Society and Pacific Justice Institute, just to name a few. They generate historic, life-changing wins in the highest courts of law, legislatures and the court of public opinion. Their hard fought, incremental wins produce religious freedom protections that last for generations. In addition to life in the womb, they protect prayer, free speech and expression, families, marriage, women's privacy, fairness in sports, and parental rights. They help the faithful fulfill their mission without having to betray deeply held Scriptural convictions or bow down to leftist, secular mandates. Their eternal impact cannot be overstated. And it comes at a cost.
These peaceful, steadfast, winsome warriors—with Christlike attributes to love opponents while disagreeing with them—often pay a price. In a recent meeting with supporters and staff, one CEO gave thanks for historic, hard fought judicial victories and noted with humility and authenticity how meaningful, life-changing wins more than make up for the death threats and hate group labels.
At Yale Law School in March 2022, the Federalist Society scheduled a bipartisan panel discussion with a liberal atheist and a conservative Christian agreeing on the importance of free speech. Sounds uncontroversial enough, yet protesters harassed and threatened ADF lawyer and panelist Kristen Waggoner, who had to be escorted to safety by police. "It was disturbing to witness law students whipped into a mindless frenzy. I did not feel it was safe to get out of the room without security," Waggoner told the Washington Free Beacon.
One of the beautiful aspects of the Yale Law panel was its discussion of a case about a Georgia college student who shared his faith on campus until his speech was shut down by college officials. ADF, the American Humanist Association, and several progressive groups all supported the free speech of the student. As the panel espoused the value of free speech, mob intimidation and threats began. Waggoner later tweeted: "My hot take: good lawyers win with civility & persuasion, not physical intimidation and threats of violence. We aren't afraid to engage with people and ideas we disagree with. Apparently, many of the students missed this lesson." Unsurprisingly, less than one year after her deliverance from the Yale mob scene, Waggoner bravely returned to speak at Yale Law School.
Legal clients willing to stand for life, religious freedom, free speech, Biblical marriage, women's sports and parental rights also pay a price. They lose jobs, revenue, grants and businesses, while enduring death threats and draconian fines. Often berated in the media, they frequently are dragged through litigation—bouncing from one court to another—for up to a decade. One religious freedom client receiving death threats had to constantly alter her daily routine, including her commute to work. Her employees stepped up to ease the burden, answering harassing phone calls, including death threats. Another client, after threats on her life, had her family sleep on the floor below window level for safety.
The Downtown Hope Center, a faith-based women's shelter in Anchorage, Alaska, faced progressive media attacks following a legal complaint from the Anchorage Equal Rights Commission after the shelter referred an inebriated, injured man—claiming to be a woman—to the hospital, even paying for his taxi ride.
The women's shelter existed to protect homeless women, many who had been physically and sexually abused. Meanwhile, city officials attempted to force this man into a shelter for hurting and vulnerable women. Sexual progressives excoriated the Downtown Hope Center and many tried to damage the reputation of the shelter. Eventually, ADF won in federal court, and the city agreed to end its attempt to force men into women's shelters.
In January, entire NFL football teams fell to their knees in tears and prayer, sports commentators prayed on live television, and a nation united in desperate intercession for the life and recovery of Buffalo Bills safety Damar Hamlin. The world seemed to forget that a Washington state school district fired a football coach for his brief, quiet post-game prayer on the field with no coercion of student-athletes.
School administrators first told Coach Joe Kennedy to stop bowing his head and taking a knee at the 50-yard line and later said it is OK to pray as long as no one sees him. First Liberty Institute painstakingly stepped in to educate the school district on a proper understanding of the U.S. Constitution. It took six years of legal wrangling before the U.S. Supreme Court re-educated the school district that the Constitution does not require schools to suppress all religious expression by school employees.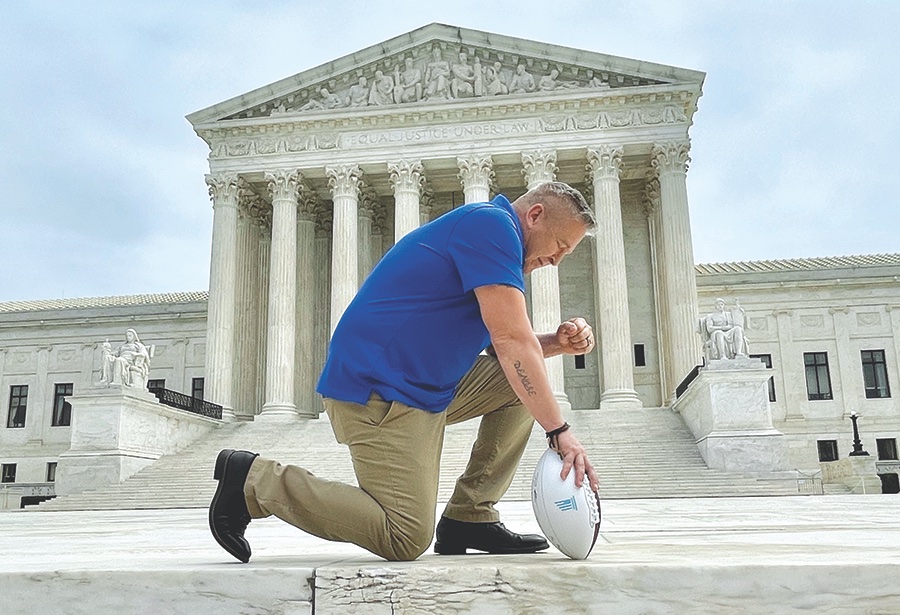 These unsung heroes contending for the faith have a greater impact than most understand. Becket Law spent years, including many trips to the Supreme Court, to protect a group of nuns from the government's attempts to force the charity to include abortion drugs in their health plan. Legal advocates fight for the rights of Christian ministries to operate by Biblical standards, including the ability to hire staff who share their faith and uphold their mission.
They fight for nurses, doctors and other medical professionals to care for patients without betraying their conscience by joining in abortion or toxic hormone and surgery treatments for people fighting a psychological gender disorder. They fight for the safety, fairness and privacy of women and girls who lose athletic championships or scholarships because others pretend a man is a woman.
They defend free speech in education, in the workplace, and in the life-changing, existential work of discipleship. And in so doing, they help facilitate the work of evangelism.
Though these legal advocates may go unrecognized and unappreciated, their impact is immense. These unsung heroes deserve our encouragement, gratitude, prayers and support as they work in the trenches earnestly contending for the faith. We must remember, they faithfully fight for all of us. ©2023 BGEA
Todd Chasteen serves as vice president of public policy and general counsel for Samaritan's Purse.
Photo: Courtesy of Alliance Defending Freedom