For more than a decade, The King's Kitchen has been delighting diners with its locally grown Southern cuisine at the corner of Church and Trade streets in Uptown Charlotte, North Carolina—a location emblematic of Chef Jim Noble's divine calling to nourish the soul and feed the hungry.
All the proceeds from Jim's nonprofit restaurant help fund his ministry outreach to those cowering in society's shadows because of poverty, addiction and homelessness.
At 65, Jim says his life is proof in the pudding that with God all things are possible. The former industrial engineer and furniture salesman became a gourmet chef in the early 1980s after reading Julia Child's "Mastering the Art of French Cooking." Wood-fired kitchens, fried chicken and a European-style market and bakery have distinguished Jim's restaurants from a smorgasbord of local eateries.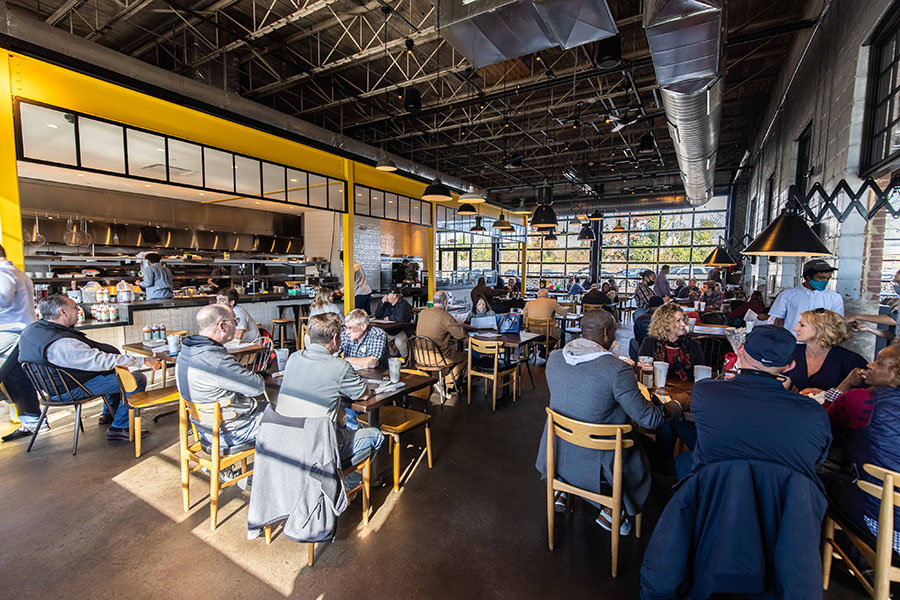 Before opening Noble Smoke in 2019 off Charlotte's Freedom Drive, he crisscrossed the Carolinas and Texas, taking cues from renowned barbecue pitmasters. Jim's unique style of barbecue—staples including chicken, pork ribs and beef brisket—-comes with sides such as pan-fried green beans and corn or pickled veggies.
The High Point, North Carolina, native's dedication to his culinary craft and expanding restaurant presence, through catering and online ordering, garnered him recognition in the Charlotte Observer in 2017 as a "local Charlotte food legend." 
His fidelity to God's Word, however, has also attracted his share of critics. LGBTQ activists called for boycotting Jim's restaurants in 2015 when he co-signed a letter to the Charlotte City Council opposing an ordinance allowing transgender people access to restrooms matching their gender identity or preference.
Yet with Jim's envied status in the highly competitive restaurant business, his secret to success is not hidden under any bushel basket. "Most of these ideas come from God," he says. "He shows me things. I give Him credit for it. If we allow God to flow through us, He is much more creative than we are, and He'll show us things we can't even imagine."
For example, when the governor shuttered dine-in restaurants for the first half of 2020 to help mitigate the spread of COVID-19, several of Jim's restaurants across Charlotte offered curbside pickup while making more than 150,000 free meals for school-age children and their families devastated by unemployment and lockdowns caused by the pandemic.
"We're dealers of hope," Jim says. "That's not wishful thinking. Bible hope is intense, joyful expectation of good. That's what faith works with."
Jim and Karen, his wife of 32 years, know what it's like to feel hopeless. After enduring four miscarriages, Karen gave birth to their second daughter, Olivia, in March 1993. Two weeks later, the Nobles' joy quickly turned to despair when their newborn daughter contracted a viral infection in her brain that nearly took her life. At the time, doctors provided little optimism for Olivia's future.
"We had no hope," Jim recalls. "If I'd had all the money in the world, I couldn't have bought what she needed." 
Grieving over Olivia's plight, Jim, then 38, was driven to God's Word and—for the first time—repented of his sin and surrendered his life to Christ. The one verse that radically changed his life was Jesus' declaration in John 14:12:
"Truly, truly, I say to you, whoever believes in me will also do the works that I do; and greater works than these will he do, because I am going to the Father" (ESV).
Now in her late 20s, Olivia is confined to a wheelchair, but she has far exceeded doctors' expectations and is passionate about her faith in Christ. Recalling how God healed his grandfather of polio and a speech impediment before calling him to be a preacher, Jim says he continues to pray and believe that God will enable Olivia to walk one day. He also points to God's faithfulness to answer his prayer for a son after Karen experienced two more miscarriages. 
While Jim draws a lot of inspiration as a chef from family recipes passed down for generations, he never imagined he would follow in his grandfather's footsteps and become a pastor. But founding Restoring Place Church in 2011 from a Bible study group at The King's Kitchen became the next step of obedience to God's will for his life.
"They get a meal, but they come to hear the Word because they've now begun to have hope in Christ," Jim says of those who come to The King's Kitchen weekly Bible studies. On Sundays much of his Uptown congregation is bused to the Charlotte-Mecklenburg Dream Center where Restoring Place Church meets. "They're expecting God to answer their prayers," he says.
Jim's holistic approach to ministry includes equipping the forgotten and marginalized with life skills, job training and opportunities to work among nearly 300 employees in his restaurants throughout Charlotte and Winston-Salem, North Carolina. And their training goes even deeper. "We're going to train you how to follow Jesus," Jim says. "We're going to make disciples of you. If the Gospel is true, it will work for them as much as it will work for anyone else."
Need proof? Meet Joanne Lowry.
"In April 2010, the cops knocked my front door in," Joanne says. "I was running a full-blown crack house. We were dealing dope and everything."
Several months later on New Year's Day, Joanne repented of her sins and committed her life to Christ at the end of a church service. Shortly thereafter, she started attending the weekly Bible study at The King's Kitchen while on probation.
"And there I saw a sign that said, 'Wanted for the Kingdom of God: prostitutes, pimps, gang bangers, drug addicts,' and it just went on and on, and I'm thinking, I'm almost all of those. What do you mean I'm wanted for the Kingdom of God? And it's like God was saying, 'You come as you are and we're going to take care of all these things.' Thank God there was somebody bold enough to put that sign on the street so a girl like me would know that she could belong to the Kingdom of God.
"When you talk about 'for the Kingdom of God,' Jesus' Word says He didn't come to save the righteous. He came for the outcast. When I saw that sign in front of the church, I'm like, 'So that's who You came for, Jesus. You're not waiting on me to clean myself up.'"
Ten years later, Joanne is a Bible college graduate and works full time with the Charlotte-Mecklenburg Dream Center, another ministry Jim founded, located across the street from two of his restaurants off Freedom Drive—Noble Smoke and Bossy Beulah's Chicken Shack.
For the past five years, Joanne has led the Dream Center's Adopt-A-Block volunteer outreach in the J.T. Williams neighborhood every Saturday by providing children's activities, free food and helping spruce up the landscape. "I know the depths of the fear and just the burdens of being in that environment and not knowing how to get out," Joanne says. "And this just opens a door to carry the Gospel into every single household out there."
In the Reid Park neighborhood, Jim says the Dream Center's Adopt-A-Block initiative has resulted in an 80% reduction in reported crime in the area.
"We believe God lives in us," Jim says. "And when we go into a neighborhood, His presence makes a difference in a place. We just walk and serve these neighborhoods. On Sunday mornings before church, which now meets in the Dream Center, I walk around the sanctuary and claim it for God. We do the same thing in the neighborhoods we go to."
Kevin Williams, logistics manager with BGEA's Rapid Response Team, has served with Jim's Adopt-A-Block outreach, which he describes as "salt and light" to Charlotte-area neighborhoods. "What they are doing is the epitome of the Body of Christ, when we truly meet those in their deepest and darkest times of need," Williams says. "They're doers of the Word."
Jim says he longs for the day when all the redeemed of the Lord will gather around His table in Heaven for what the Bible describes in Revelation 19:9 as the marriage supper of the Lamb.
"The best world-renowned chefs can't touch what God can cook," he says. "I mean it's going to be a phenomenal day."  
Above: Chef Jim Noble sees his restaurants as a means to serve the Lord Jesus Christ by ministering to the needy and making disciples.
Photos: Thomas J. Petrino/©2020 BGEA