For nearly 10 minutes people continued to come to the front of the stage inside the International Convention Center in Newport, Wales. Franklin Graham had just concluded his sermon about a blind beggar named Bartimaeus who had trusted Jesus to heal him.
As more and more people spilled into the aisles, rounds of applause erupted throughout the cavernous arena. Then dozens prayed in unison to repent of their sins and trust in Jesus as their Savior and Lord. As soon as Franklin finished leading the prayer, the near-capacity crowd of 3,200 whistled, screamed and shouted in jubilation, for nearly 30 seconds, over those who had made decisions for Christ.
"If you prayed that prayer and you meant it, let me tell you something: Your sins have been forgiven," Franklin said, encouraging the more than 200 people assembled near the stage. "You're forgiven. … God has forgiven you and He's erased the record. He's cleansed your record. Guess what? He's written your name now in another record. It's called The Lamb's Book of Life. Your name is now recorded there because you belong to Him."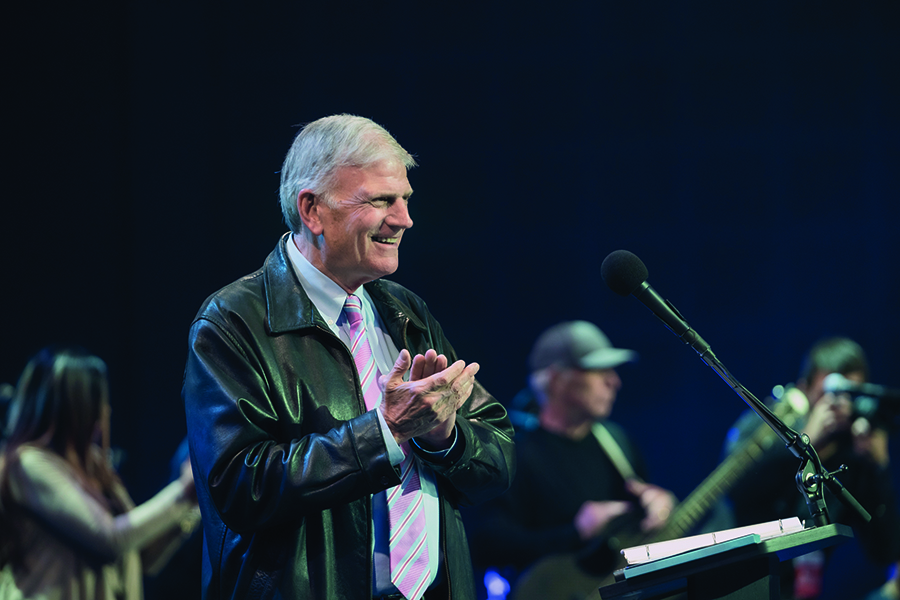 Among the crowd of people gathered May 21 in front of the stage stood two men in their 20s. Both wept as they professed their faith in Christ. When Pastor Wade McLennan approached the men to collect their decision cards and pray with them, he introduced Joseph and Mark to each other.
"You're now brothers and belong to the same family," McLennan told the men. Describing the episode later, he said, "To my surprise they both greeted each other and then spontaneously hugged. This is so like Jesus, who takes complete strangers and makes us family, with Him and with each other. Hallelujah!"
For the past four years, McLennan has been fervently asking God for a harvest of souls in South Wales. The Chicago native is the founding pastor of New Hope Community Church in Cardiff, the capital city of Wales, which is also home to five universities with international students from around the world.
Inspired by Franklin's refusal to relent in the face of COVID delays and local government opposition to his four-city God Loves You Tour across the United Kingdom, McLennan's church is hosting a 15-day evangelistic tent meeting this summer to rally the region for worship and to equip them in sharing the Gospel.
"Tonight, lives were transformed because of Franklin's perseverance," McLennan said. And he's hoping and praying the soul harvest continues throughout the summer in the city he's called home since 1996.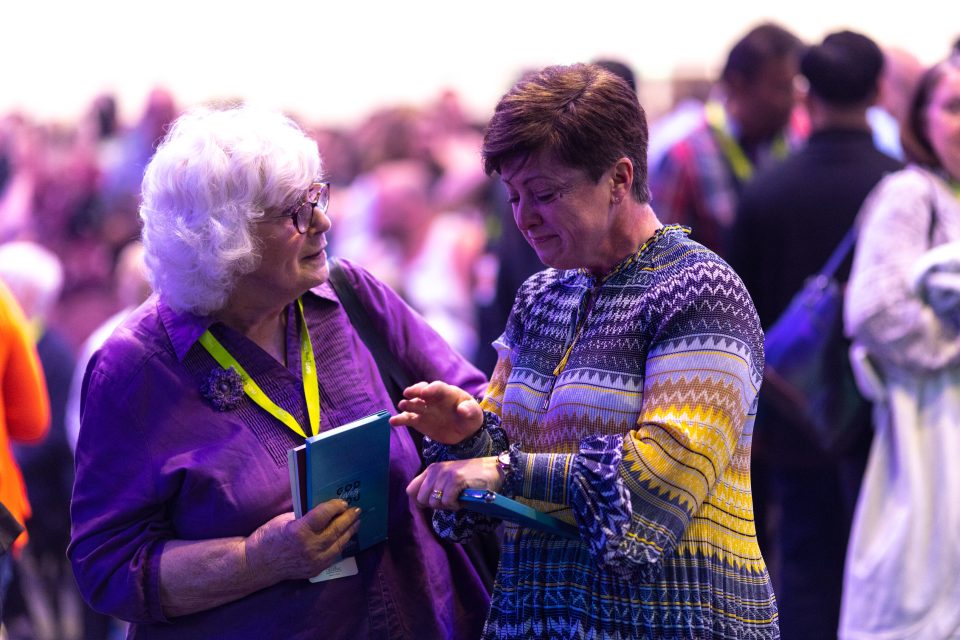 For David, a Hungarian truck driver from Oxford, England, the hour-and-a-half drive, with three of his brothers, to see the Newsboys in concert for free was an offer he couldn't refuse. But it was the Holy Spirit's conviction of his sinful actions of viewing pornography on the internet that compelled the 25-year-old to repent and recommit his life to Christ.
"I want a better connection with God, and I want to get closer to Him," David said.
While serving on the prayer and evangelism teams and singles ministry at The Warehouse Church in the Pillgwenlly community of Newport, Caren Williams said her church's attendance has nearly quadrupled to 250 since the end of the COVID lockdowns.
"We've seen healings, people being set free from addiction, broken hearts mended," she said. "God is moving powerfully in our church."
And God is working in Caren's own family too, as evidenced by her 16-year-old son's recommitment to live for Christ. "This is a huge answer to prayer," she said. "God is just so faithful. My prayer was that God would move powerfully tonight and that men and women and boys and girls would come to know Him, even for the first time."
Photo: Matt Rath/©2022 BGEA