The state of Iowa, with its expansive corn fields and windmill farms, is ranked one of the most relaxed states in the country. When the fields are harvested, residents in some rural areas can see points of light as far away as 20 miles.
But Christians here worry about what many Iowans cannot see—their need for a personal relationship with Jesus Christ. That's why, after 25 years of praying, they invited the Will Graham Celebration to come to the capital city of Des Moines Oct. 1-3.
And Gregory Owens, for one, is glad they did. At 42, Gregory was released from a two-year prison sentence in June. And he was one of the first to come to the front of the Wells Fargo Arena to receive Christ on Friday night, Oct. 1.
Will had preached a powerful sermon about Barabbas, the prisoner in Matthew 27 whom the crowd chose to set free instead of Jesus. Will told those attending that we're all sinners in need of a Savior, and Christ has paid the price for our sins, just like He did for Barabbas, who was a murderer and a thief.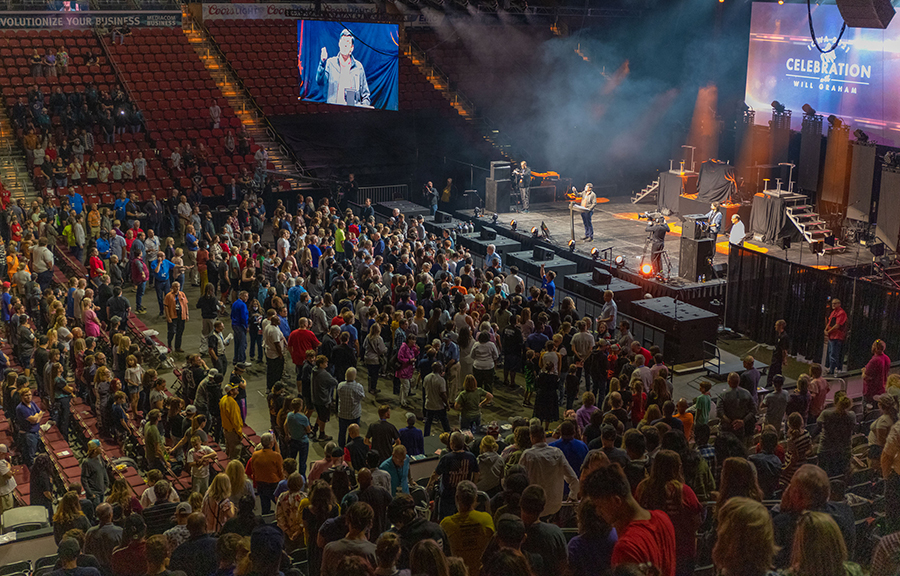 "I was in prison for drugs and theft and an abundance of things," Gregory said. "Now I'm ready to allow Jesus in my life to be my master. I'm ready to trust Christ to give me the strength and courage I need to be a better husband and dad to my wife and son."
In this "Field of Dreams" state, the economy is strong, based largely on agriculture, insurance and manufacturing. Actor John Wayne was born here, Ronald Reagan got his start in radio here. Even sliced bread was born in Iowa. But peace is still elusive, as in the rest of the world.
Why? "Because the world cannot produce it," Will said. "Peace only comes from one place, and that's Jesus. You may not even believe in God tonight, but I'm here to tell you God knows everything about you."
This lack of peace is what sent Mike Schreurs and his wife, Linda, across the state in 1996 to pray at courthouses in all 99 counties, asking God for souls. When Linda died of pancreatic cancer three years ago, her friend Donna Johnson took up the mantle, and that started the chain of events that led to the Celebration. And now, in this season of harvest in Iowa, with the combines and tractors going strong in the fields, God is having His own harvest.
"As it says in the Book of Revelation, the bowl was full of the prayers of the saints and was poured out," said Greg McCall, who along with Donna co-chaired the prayer committee. "That's exactly what's happening this weekend. Hundreds of hours of prayer have been offered up before the Lord for the salvation of the lost. He's heard them all."
And counselors were ready.
"Every time I get to do something for the Lord it's like winning the Super Bowl for me," said Scott West, from Des Moines. "My spirit just leaps with joy knowing that someone went from death to life and will be in Heaven, that I'll see them again, and we'll live forever."
Terry Williams and his wife, Ashley, both renewed their commitment to trust Christ. They received Christ when they were dating but had drifted back into worldly things, including drugs for Terry. Ashley came to the event ready for a change.
"I'm tired of living the way I've been living," she said. "I feel good now. The chains are broken."
During the Saturday KidzFest event, Donna, the prayer committee co-chair, extended the reach of the Celebration beyond the arena when she sent videos to her grandchildren, who were unable to attend. Her 7-year-old granddaughter, Grace, in Texas, was really excited.
"She said 'I wanna be there. Why aren't we there?'" Grace's parents knew the Lord but they had been letting the demands of life keep them from going to church. After Grace's response to the video, they took her to church the following night. "I can feel God's presence," she said. "Can you feel it, Dad?" Her parents have recommitted themselves to regular church attendance.
"That's the power of KidzFest," Donna said.
The songs of Go Fish, along with the Quest Video presentation starring Will Graham as Mr. Graham, had the KidzFest audience on the edge of their seats. And when Will emerged from behind the curtain wearing the same outfit that Mr. Graham wore in the video, the crowd was ripe for his presentation of the Gospel.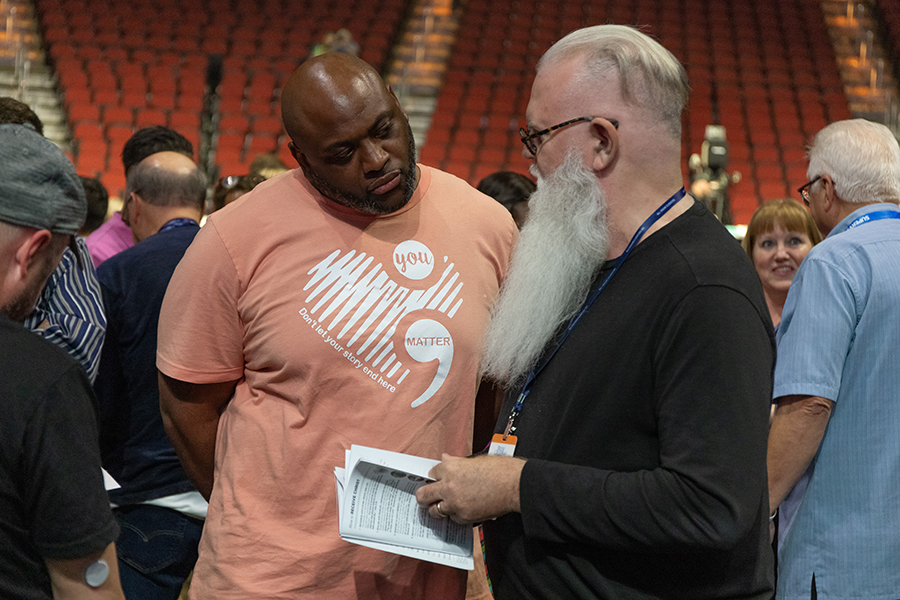 Carolyn Dehoogh expected to counsel one child at the invitation, but she encountered a group of 10.
"One by one, I asked, 'Do you want to ask Jesus to forgive you and to change your life forever?' And the answer was, 'Yes,' 'Yes,' 'Yes!'"
But the biggest yes of the children's event may have come from the oldest inquirer. Seated in the lower bleachers, an 87-year-old man named Russ said yes to a personal relationship with Jesus—surrounded by his wife, daughter and his son, who had been praying for him for decades.
Normally a talkative guy, Russ simply said "Yes" when the counselor asked if he had prayed to receive Christ. But the yes was without hesitation, and it was echoed in the hearts of his family.
"It's pretty cool that, after praying for my dad all these years, God allowed it to happen when I was standing beside him," his son said.
Close to 4,000 attended the event, and more than 20,000 watched via livestream. Almost 500 made decisions for Christ at the arena, with 159 more online.
Seven-year-old Ibrahim Sackel who came to the arena with his mom, may have best expressed how it felt to receive Christ.
"Jesus comes to your side," he said.
Whether you're age 7 or 87, it is good to have Jesus by your side.
Photos: Ron Nickel/©2021 BGEA